It's been a cold, miserable weekend in the nation's capital - complete with a comfortable loss by the ACT's adopted AFL side, GWS. In years previous I would've been grateful to be able to watch Canberra play and travel out to Manuka Oval, bit with tickets jumping to $60 per person and cash a bit tight, it has been a much harder sell this year.
The Raiders, on the other hand, journeyed to the sunshine state to experience an anomaly known as "warm weather". I'm not sure what that's like this time of year.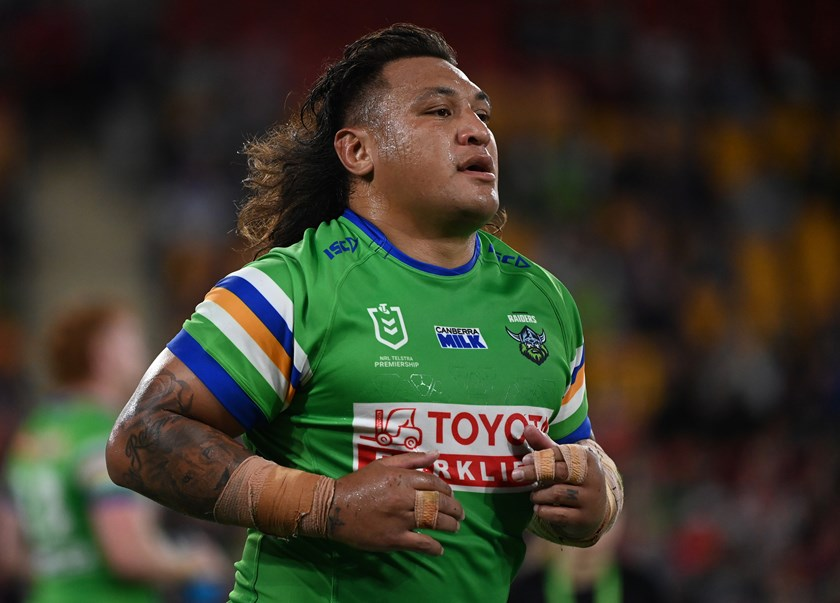 Infact, every team in the NRL travelled to Brisbane to partake in "Magic Round" - a wonderful idea where every team plays. Except Newcastle this year, because it's their turn to be the red-headed stepchild until we add an 18th team to the competition.
Magic round has its history in being blatantly ripped off from the Super League's "Magic Weekend", which is the same idea, only in England, therefore it's rubbish. The idea was so lucrative, this year the AFL copied it and hosted it in Adelaide, calling it "Gather Round".
The only difference between Magic Round and Gather Round is that because AFL games go for a longer period of time, there's double bookings of AFL games on every given weekend. Which means that for a round where every team plays in the same location every year, the scum get herded into terrible suburban grounds. Like GWS, having to play Hawthorn in the Adelaide equivalent of Sieffert Oval.
The suck-cocks at AFL HQ called it a resounding success, because all the dirty VIC sides that were running well got to play at a proper stadium. Well, this week you got to learn how an organisation that doesn't pander to American audiences operates a joint round.
Kind of. My one criticism of Suncorp Stadium is the most important criticism - that the ground is awful, even when a single game is played on it, let alone eight. That won't, and shouldn't, stop the NRL, but it bears mentioning that the ground is a factory for knee injuries.
The good news for Canberra, is that they got to be the appetizer on Friday night and so got first use of the swiss cheese - erm, ground.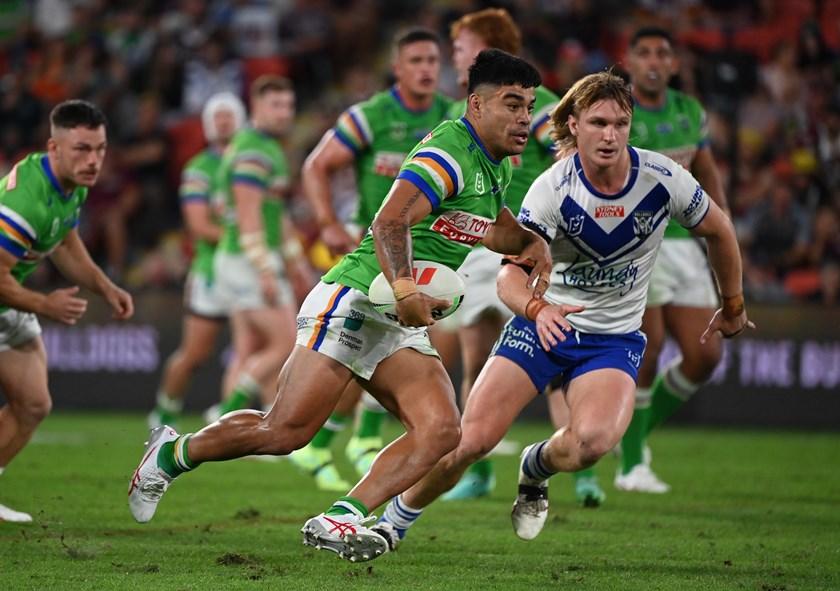 I had mixed emotions coming into this round. Historically, the Raiders struggle to back up after emotionally-charged performances. The expectation was that they would beat the Bulldogs, but it would be a nervous affair with drama aplenty.
And so it came to pass.
Early signs looked promising - especially after Jordan Rapana squeezed in between four Bulldogs to dot down in the first minute. Despite the Bulldogs hitting back shortly after, the Green Forward pack rolled up its sleeves, and delivered a platform to run in three unanswered Canberra tries.
It wasn't long after Hudson Young crossed in the 26th minute that Canterbury discovered its (near) winning strategy. Give it to Matt Burton and let him obliterate the Raiders' back three with an endless barrage of steeden-shaped artillery. It bore fruit immediately, as Jake Averillo swooped on a 500LB explosive, palming off Xavier Savage to score in the corner.
At half time the Raiders were up by four points. Despite the close scoreline and Canberra's apparent refusal to employ any defensive measures to handle Matt's munitions, I wasn't concerned.
My lack of concern was further justified as Air Rapana and Jarrod Croker further extended the margin, on the back of tough work from Tapine, Horsburgh and Saulo. Even Papa, after struggling early in the piece, had some quality line-bending touches, giving Canberra's bus-driver, Jamal Fogarty, plenty of room to work his magic.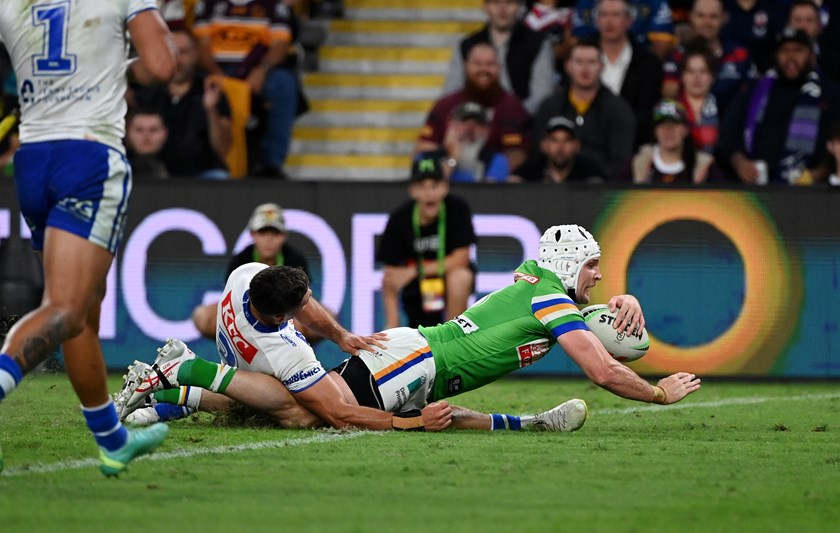 Then things started to get... weird.
First, the officials called back an Emre Guler four-pointer as a result of a questionable forward pass. In response, Matt Burton loaded another high explosive shell into his leg-cannon, and Jake Averillo was there to seal the deal again.
The second incident was somehow worse. Jack Wighton was ruled to have a secret hand in his forehead - so instead of Xavier Savage racing away to add the extras, the Bulldogs got the ball back. In the ensuing set, Matt Timoko had a rush of blood to the head and annihilated Hayze Perham microseconds before he touched the ball, leading to a penalty try.
Unfortunately the Bulldogs had timed their comeback poorly, and ran out of time in the middle of the field. Game, set, match, Canberra.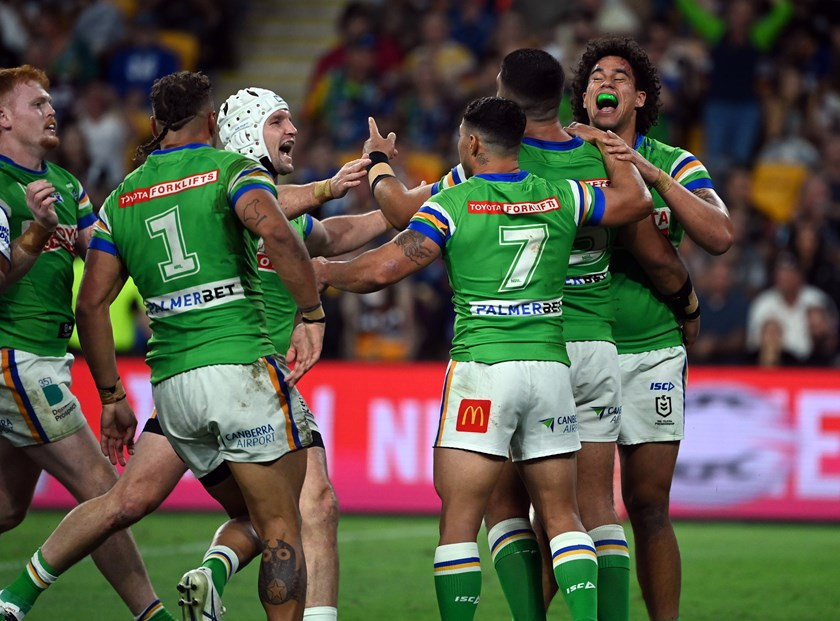 Somehow, despite Suncorp stadium being a graveyard for the Raiders for the best part of a decade, in the last three years, it's proven to be a happy hunting ground. In the last three years, Canberra has won four of its five games, including big scalps against the Sharks and Broncos.
As a dyed-in-the-wool green-eyed monster, getting the two points makes me happy. But it wasn't all cold sunshine and frozen rainbows for the Raiders.
You can get irate as much as you like about the potential 12 points taken from the Raiders, and the ensuing Bulldogs points. But the scoreline on the night, said Canterbury was within a hair's breadth of giving Ricky and his Raiders something to remember them by.
The courageous choice to let Matt "B-52" Burton carpet bomb the everloving snot out of the back three, followed by the bomb defusal strategy of "just let it bounce, bro, it'll be fine" led directly to points on several occasions. In the end, Canterbury's decision to let someone else kick it for a change was their undoing when kicking it from the midfield. Close-range kicking proved to be deadly against Canberra's up-and-in defence as well.
No doubt Canberra will be hoping to improve their defensive efforts in future rounds. This will, of course, run the risk of over-correcting, resulting in mediocre attacking efforts, or conceding tries via altering their defensive structures. Fun times ahead.
Doom and Gloom about getting caught on the winning end of a shootout, there was plenty to like about the Raiders' attack, which seems to be on the improve. Against the Dolphins and Bulldogs, Canberra has posted more than 30 points, which puts them in the driver's seat to win games - even if they're shootouts.
I'd like to mention standout performances again from Matt Timoko and Sebastian Kris, but this week was the Corey Horsburgh show. Horse, Big Red, whatever you want to call him, he was a wrecking ball against the Bulldogs' pack, threatening offloads, swallowing up meters, and giving the Raiders backline plenty of room to work in.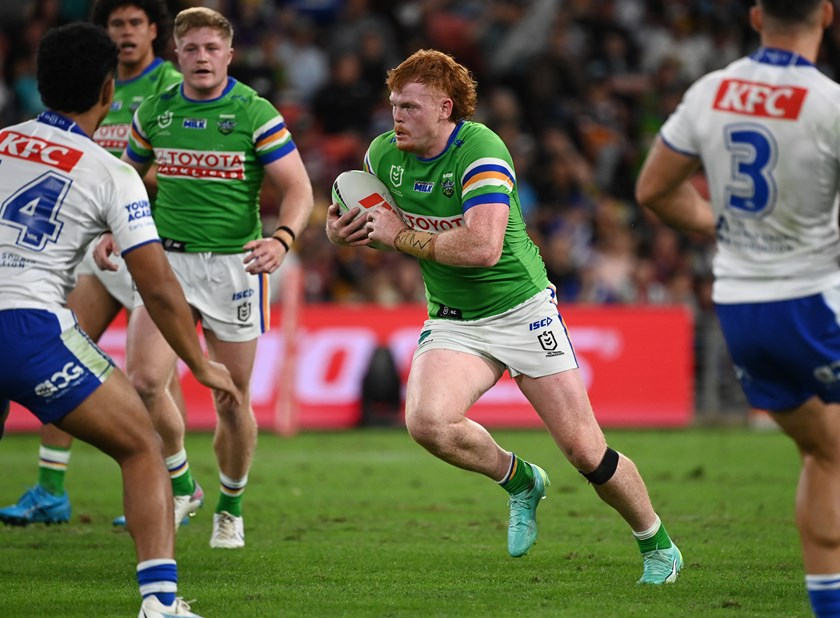 Whispers abound of a potential Origin berth for Big Red - and if it's made the mainstream media, it won't be long before it reaches the ears of Queensland selectors. We're in the territory of this year being a career year, provided he can maintain form. Unlike NSW, QLD picks on performance, not loyalty - but look out if he cracks that side.
But it wasn't just Horse putting in work. The entire engine room was cranked up to eleven. It would be hard for me to say either of Joe Tapine or Josh Papalii have been at their best over the past fortnight, but it seems the warm weather, dry track, and reasonable surface gave them licence to roll up their sleeves and power Canberra into strong attacking positions.
Overall, whilst it's not ideal to be involved in a shootout, better to be on the winning side of a shootout and keep pace with the top teams. Every win, we are a little bit closer to the top-four side Ricky promised the fans, and we creep closer to #croker300.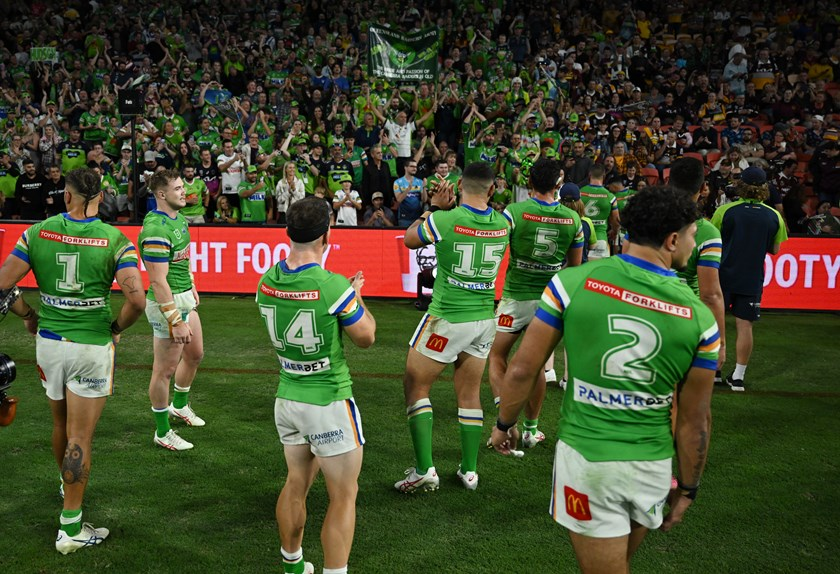 This week sees Canberra return home, and a real test in Parramatta. With Josh Hodgson returning to Bruce Stadium and playing his first game at the venue since R1 2022. Despite a slow start, the Eels have finally managed to get going, and the fearsome men from the ACT will require a special effort to send Brad Arthur's men packing.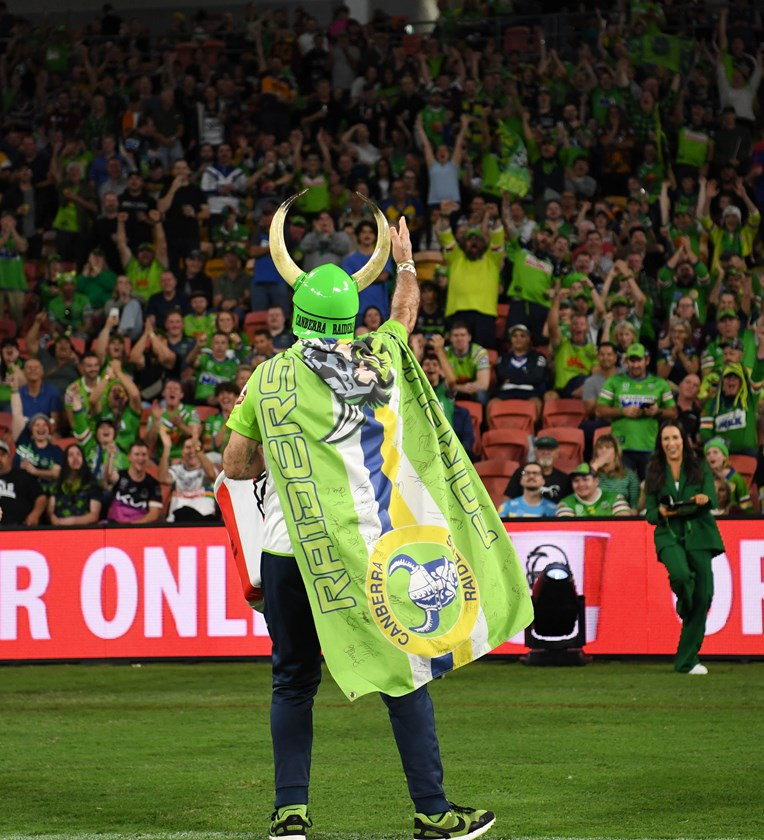 Catch you next time,
Vulkan
Did you like this article? Did you hate it? Go over and keep the discussion going on the official Vulkan's Corner facebook page! - whilst you're at it, leave a like!