Sorry for putting this article out so late, my household was blessed by a different shade of green. In this case, the shade was nurgle green, as we were struck down by a variety of hideous gifts of that particularly revolting god.
This is my punishment for getting angry about Angron being a sook in the latest round of World Eaters lore. That's right, we're cross-promoting Warhammer 40k in an article intended for sportsball readers. Twice, in fact.
Leaving all of that aside, our story picks up after magic round on Friday night. The Raiders snuck home by four points after Matt "B-17 Flying Fortress" Burton completely demolished Canberra's back five. In fact, it was only the Bulldogs' decision to let someone else kick on the last set that allowed the Green Machine to sneak home. Canterbury's insistence on fairness meant that instead of a piece of ordinance, Xavier Savage instead got to catch a football.
As the lads boarded the plane to return to the nation's capital, I observed (on time, on monday, for once) that the lads would need to do a lot better defensively this week. Particularly with Parramatta on their way to town, keen on kickstarting their own season after a lacklustre start to the year.
Unfortunately for Parra, Mitchell Moses, the Eels' bus driver, bumped his head in Brisbane. Under the new rules for concussions, he would be unable to take the field. It would be up to young Jakob Arthur, son of Brad, to take up the fight for the Blue and Gold.
It would also be Josh Hodgson's first visit back to the nation's capital, and promised to be an emotionally charged game.
To make things harder for the Eels, the Raiders declared this game would be old boys day. There have been some very famous (and very big) scorelines put on by the Raiders when the veterans come to town. Including the 60-6 assblasting Canberra handed Wests in 2016.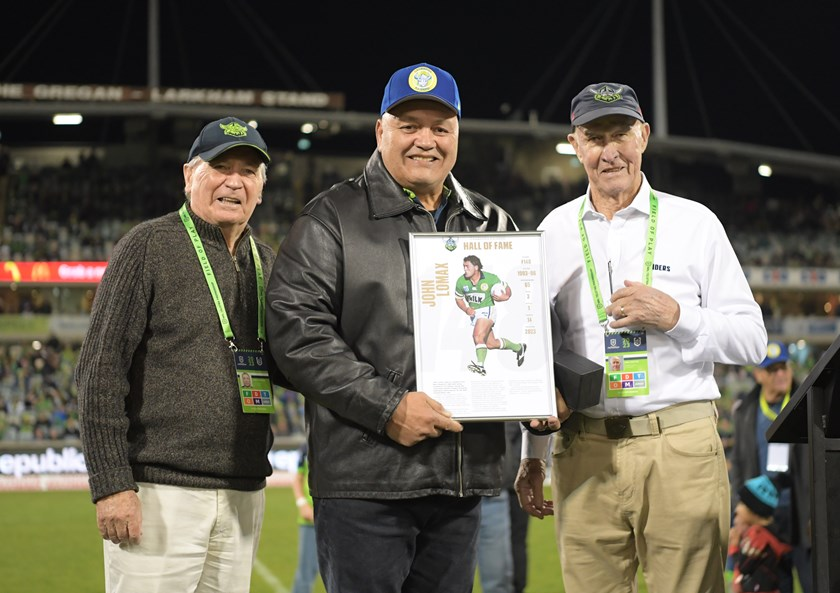 Now, to be clear, I did not expect Canberra to win. Whilst the bitter memory of the semi-final loss to Parramatta had largely faded, the last time the Eels came to down, without Mitch Moses, Canberra lost a close, grindy game. Despite the start to the year Brad Arthur's men have had, and Canberra's rising fortunes, a painful loss is only eighty minutes away.
Both sides had a tepid first half. Lots of tough carries out the middle, seemingly feeling each other out. Neither side wanting to commit to risky attacking options on a dewy pitch. Despite a Jack Wighton 40/20, Canberra killed their momentum on more than one occasion with early errors, and certainly allowed Parramatta to punish slow decision making with strong reads on attacking kicks. Both sides traded penalty goals, and the game descended into a set-for-set slugfest.
It would be remiss of me not to mention that Cory Horsburgh did what he so often does, and decided he wanted to kill Ryan Matterson in the 22nd minute. Replays would show that he was provoked by Josh Hodgson, but a punch is a punch.
As Big Red trotted off to the sinbin, head planted firmly in his hands, the hears of the faithful began to sink. Visions of Parramatta running in a mountain of points began to manifest in their minds.
To make matters worse, Zac Woolford bumped his head in a tackle and was subbed off. It would later emerge he failed his HIA, and would not return. Tom Starling would have to see out the rest of the game.
Yet, with absence of Mitch Moses to drive the bus and Dylan Brown struggling to be the big wheel at the cracker factory, the Eels struggled. In 10 minutes of advantage, Parra's efforts delivered a single try from Ryan Matterson's crafty grubber at the posts, allowing J'maine Hopgood to sneak in for a four-pointer.
That blew the starting whistle on "the rest of the game", and Canberra began to tighten up after that. Four minutes later, Canberra marched down the field, spread left, and Albert Hopoate hit back for the Green Machine in the corner. As per usual, Jarrod Croker unholstered his sniper rifle and knocked the conversion over, ensuring both sides would stay level at the half.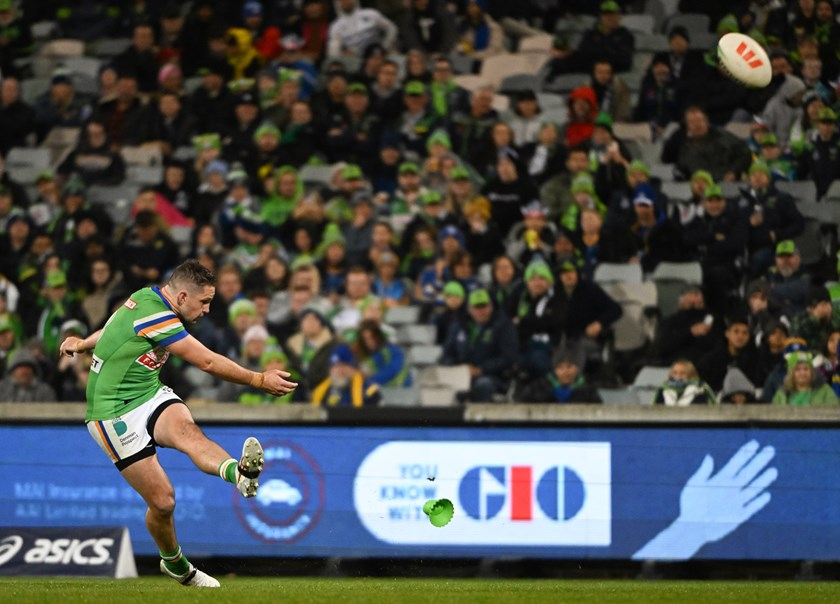 Both sides played better in the second half, however it was the Raiders who warmed up first. On the back of a penalty, Canberra rolled downfield and Tom "The Pocket Rocket" Starling rolled a cheeky ball through the front line for Hudson Young.
Then, Matt Timoko flashed through the front line, as he so often does, and Jamal Fogarty placed an inch-perfect grubber for Seb Kris to flash through. In the space of five minutes, Canberra had taken the game by the scruff of the neck, and now Parramatta were playing by Raider rules.
The game wasn't over by any stretch, though. Against the run of play, Parramatta scooped up an errant Jack Wighton grubber - and in a combined move that took the Eels 95 meters, ex-Raider Bailey Simonsson scooted over in the corner. The angle proved to be too much for Clint Gutherson, though, and the way back got a little bit more difficult.
Despite the momentum swinging back Parrmatta's way, their attack struggled. Canberra's defence wasn't really put under extended pressure. the Eels struggled to put together repeat sets, conceded cheap penalties, and didn't have Moses' traditionally strong kicking game to build repeat sets and force errors from the Raiders' back five.
A Jakob Arthur penalty on the goal-line let Jarrod Croker kick the lead out to eight points. Unfortunately, Canberra was unable to shut up shop, as Maika Sivo gave the Eels a sniff for the last ten minutes, landing in the same place Bailey Simonsson did.
Before the Sivo chant could begin in earnest, the game effectively ended in the 75th minute after Jordan Rapana tapped a Jamal Fogarty bomb over Sivo to Matt Timoko.
Game over.
The Eels didn't fire a shot after that. There was a break down the right hand side from another errant grubber, this time the break ended in horrific fashion after the second kick went into the first row of the stand. After having an average go all night, this caused King Gutho to lose his mind, throwing his hands up in frustration.
And as Gutherson knocked on in front of the Eels posts with thirty seconds to go, one final exclamation mark was put on the game.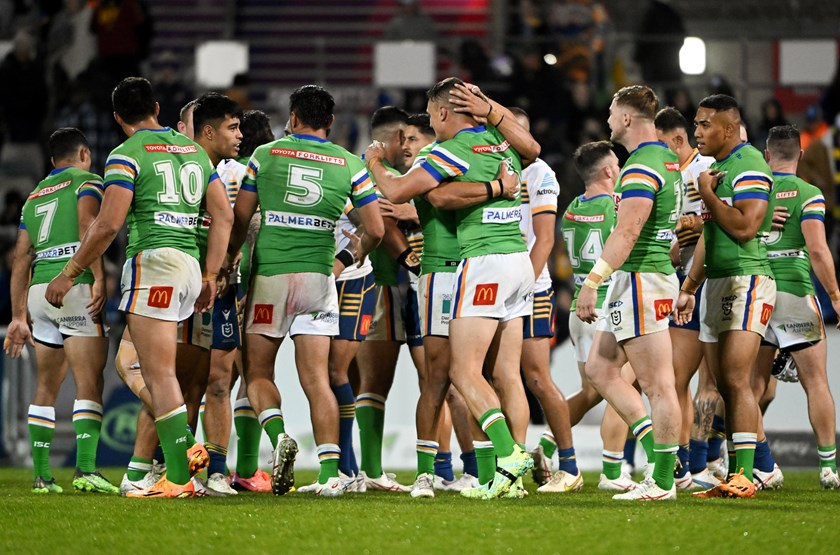 Five straight for Canberra.
We've got a long way to go in the season. And the first four weeks certainly demonstrate that the difference between winning and losing is very narrow.
Since Jarrod Croker has come back into the side, and Jamal Fogarty has been handed the keys to the Green Machine, it seems we're finally starting to get our own back. For now.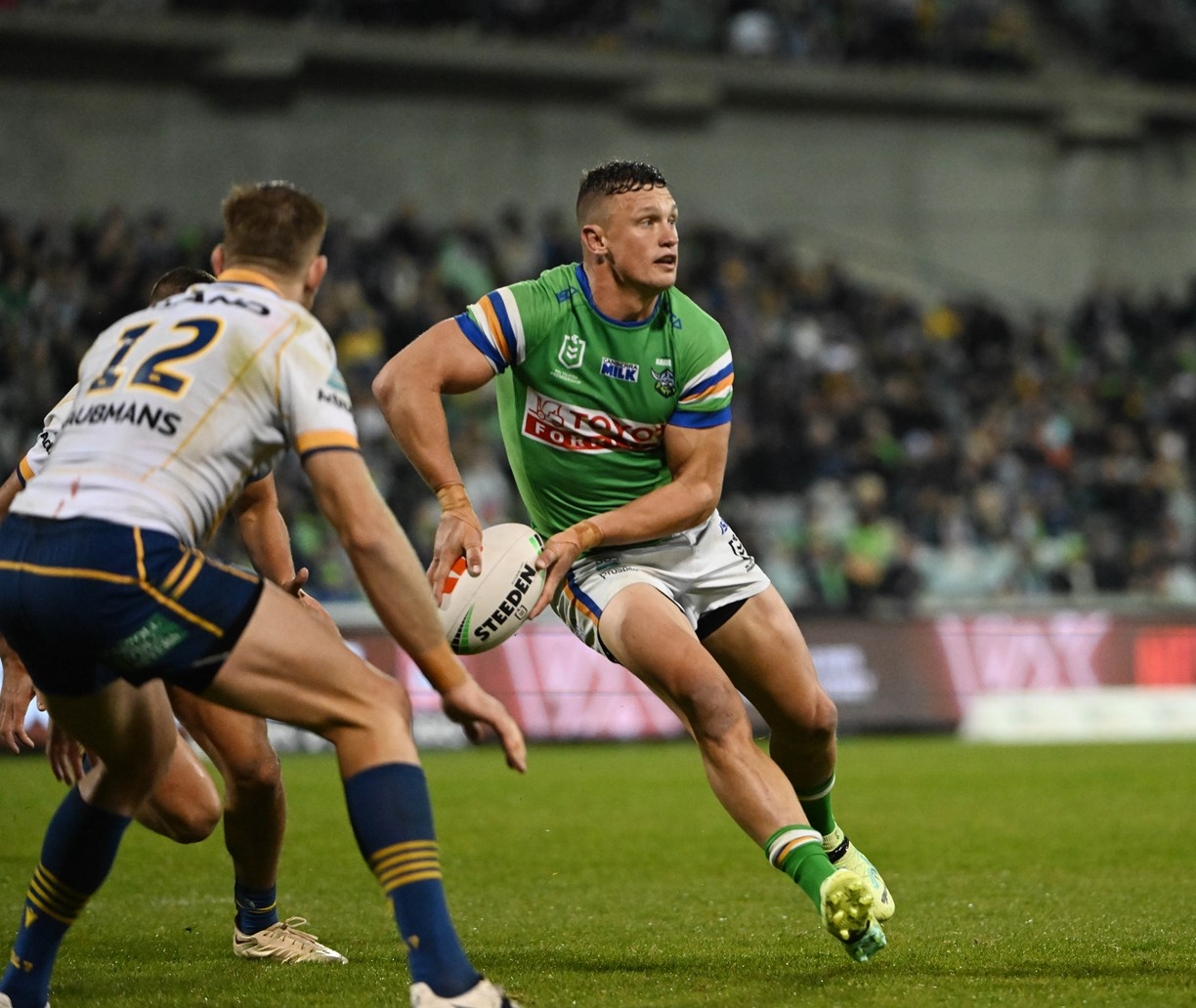 This week highlights an improved defensive effort - although how much of that is Parramatta not having anyone to drive the bus, and how much is Canberra's defence, I don't know. Certainly, the Raiders were not challenged in the air and conceded no repeat sets. Anyone will tell you when your opposition never gets more than a handful of tackles in your red zone, makes defence light work.
Having your opposition concede ten penalties is insane, though, and absolutely helps your cause.
There's also the adaptability of the Raiders' red zone attack. Faced with up-and-in defence, and a forward pack to match their own, Canberra shifted gear to attacking grubbers, which paid dividends. Three tries from kicks displayed their efficiency with the boot against an unsuspecting opponent.
I took a break last week from singing the praises of the Raiders outside backs. But it's back to situation normal this week. Matt Timoko had an outrageous game again. Tackle breaks, line breaks, tough defence, strong attack. He did it all, and powered the Raiders out of their back third, along with his partner in crime, Sebastian Kris.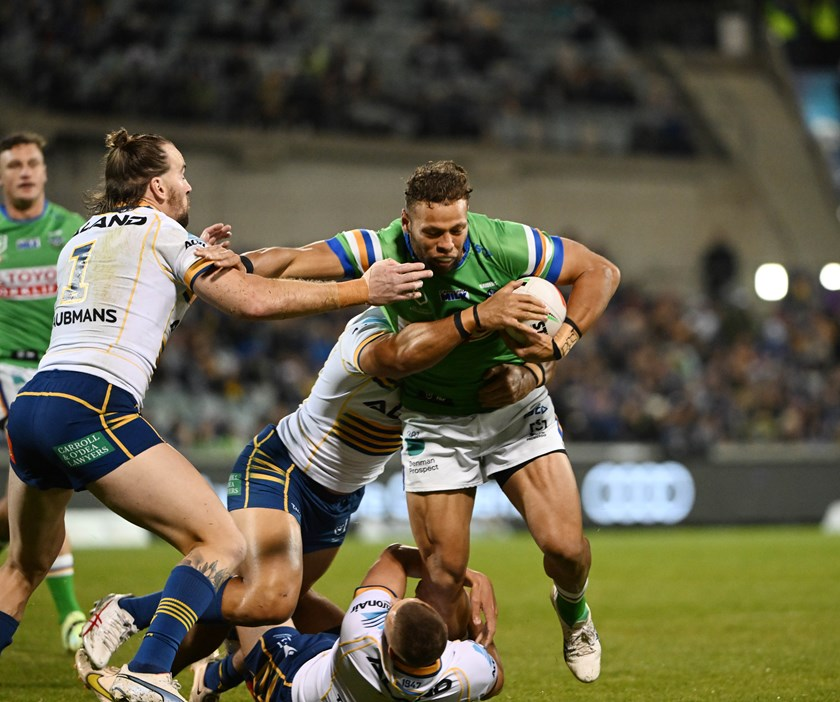 It's official now - Seb Kris owns that jersey. Xavier Savage has returned from injury, and can't even crack a wing spot. That makes me nervous for the future, as I think the X-man is a big part of it. But I wouldn't be surprised if he gets hacked off and leaves, if faced with the prospect of spending another year behind Jordan Rapana, Albert Hopoate, Nick Cotric, and even Harley Smith-shields.
Semi Valemei has already had enough of being stuck, and has chosen to seek greener pastures elsewhere. I cannot blame him, and hope he succeeds in North Queensland.
Elsewhere on the park, Corey Horsburgh continues to do good work in that 13. For anyone that knows me, they know I am in no place to lecture Big Red on getting caught in the moment and getting angry. In particular, who am I to judge for his decision to get one back on the gentleman who gave him a lisfranc injury.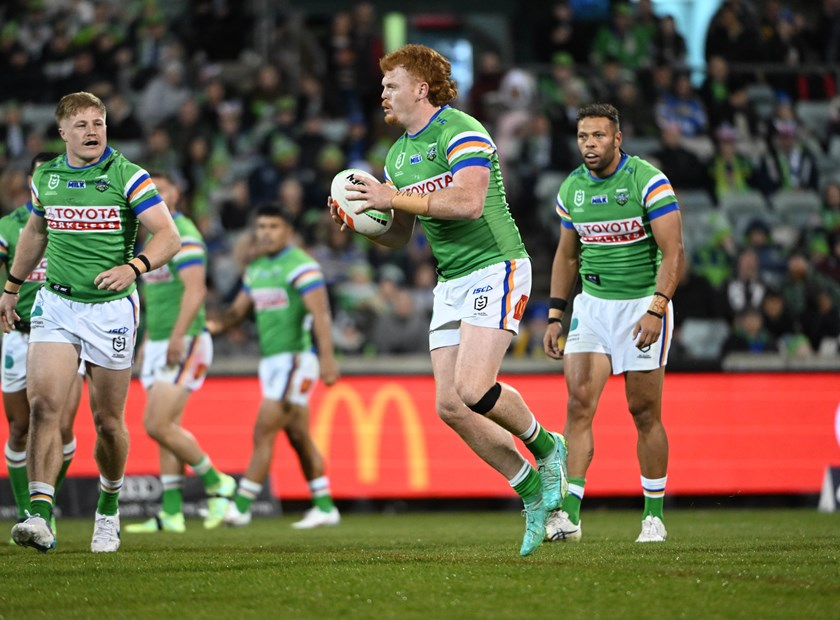 The gutless wonders calling him a crybaby on the internet, clearly have no idea what it means to feel your blood run red. The same passion that makes Corey a great forward, sometimes causes him to lash out. I get it. It might keep him out of a Queensland Jersey, which would be a shame, but being binned in Origin is a big deal. He was lucky it didn't cost Canberra the game, but unlucky in that neither Matterson or Hodgson got binned.
On the subject of Josh Hodgson, I know I'm supposed to be cranky - particularly due to his role in baiting Corey into taking a swing at Ryan Matterson. But, despite the puff piece about his massive arms in the pre-season, and all the talking about how his best football is yet to come - I just don't see it.
I've pointed out in the past how he was a god in the rake position. Throwing dummies, rolling grubbers past unsuspecting fullbacks, and turbo-charging Canberra's forward pack. A natural leader with the respect of the dressing room, the Raiders' success lived and died at the man with a plan at the nine.
His heroics against the Panthers in the semis will live on forever in my memory, and more importantly, enshrined in this blog.
Then came the first of three ACLs. And the slow, miserable decline.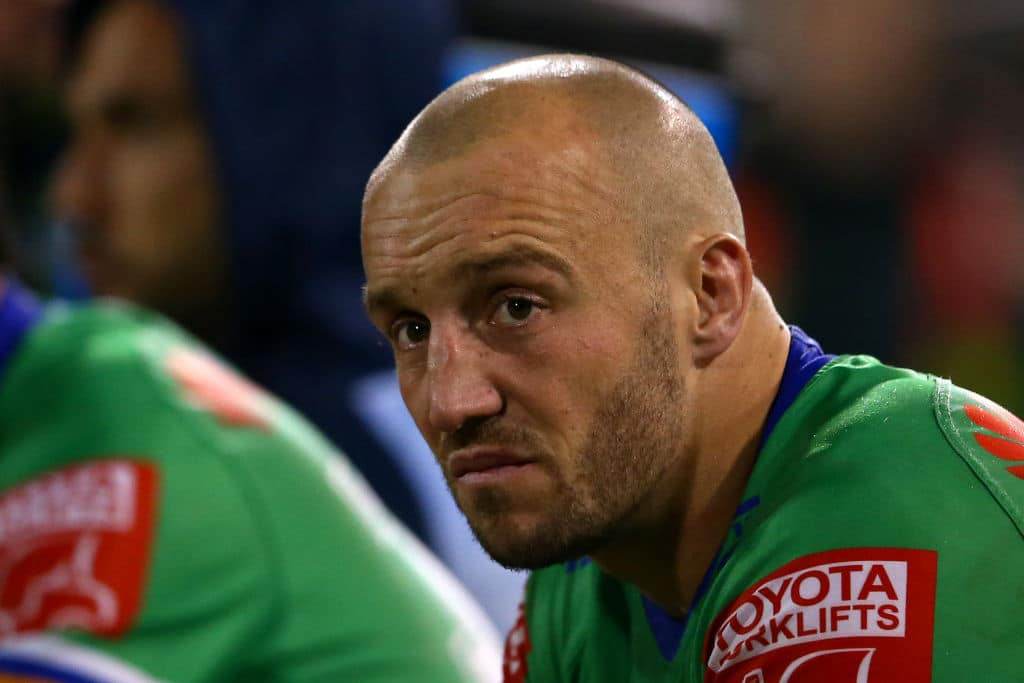 I can still remember in 2021, after the Raiders squeaked out a win against the Titans. Michael Ennis singing his praises about being the "best number nine in the world." But everyone could see it just wasn't there anymore. When things got ugly with the english contingent, and he ended up in the papers, it was clear he was heading for the door.
And so he landed at Parramatta to replace Reed Mahoney. It was touted as an upgrade, but anyone who watched Canberra for an extended period of time knew it wasn't. The Eels' struggles this year go beyond one position, and they have haemorrhaged talent from '22 to '23. But Josh Hodgson, sadly, is the past, not the future.
I'm not sad it's ending, I'm happy Josh Hodgson got his time in the sun with Canberra. And there's a little nugget inside of me that hopes he turns it around at Parramatta.
Elsewhere around the grounds, Anthony Griffin has officially been shown the door by the Dragons. Not much to say about this one, it's a case of everyone getting mud on their shoes.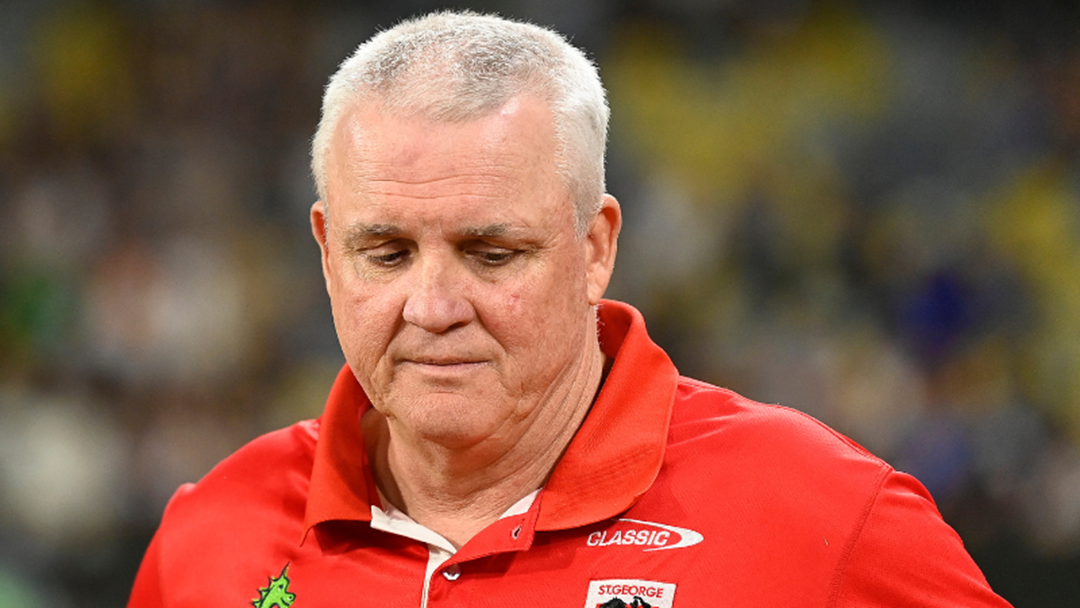 Anthony Griffin is a proven loser at coach, sadly. Until Anthony Siebold showed up at Brisbane, he held the dubious honour of only one of two coaches (the second being Ivan Henjack) to miss the finals at the helm of the Broncos.
He had a winning hand with the Panthers, only to be pushed from the carriage when Phil Gould wanted Ivan "Villain" Cleary back at the helm.
Finally, he took control of a middling St. George side and proceeded to run it into the ground. The culture of the place declined significantly, leading to the infamous "Weekend at Vaughny's" incident.
Tangentially, who remembers when Paul Vaughn was really good - I do, and it was when he was part of a boom rotation with Shannon Boyd. Both left for dollars enormous and faded into irrelevance. No, I'm not bitter.
This may result in players landing at the Raiders from St. George. Ben Hunt famously and unsuccessfully tried to anchor his contract to Griffin, and vague threats about "not starting over" in the media tend to suggest he'll be looking elsewhere next year. There's an outside chance he's in green in 2024.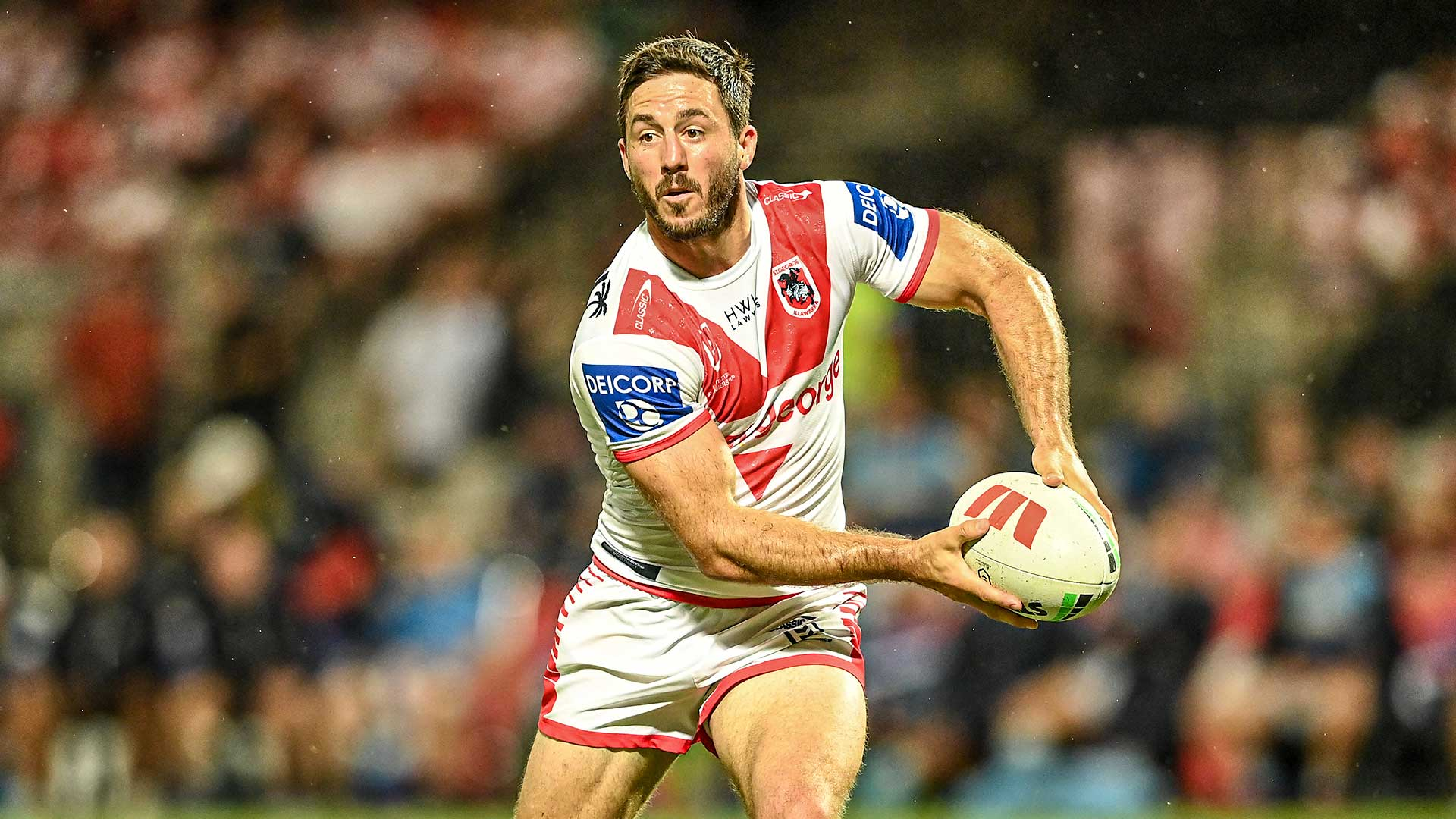 To close the loop in this somewhat, I don't know who will coach St. George and I'm not really fussed. It sounds like the club administrators have a share in the club's poor performance. If rumours are to be believed, their decision to not attend Ben Hunt's 300th game dinner, suggests to me that they do not have the self-awareness to steer the ship effectively.
Have fun on the rocks, I suppose.
This week sees the Raiders back at home to take on the Sea Eagles. Apparently the article about Josh Schuster struggling triggered the "implosion" clause at the club, as they've struggled for weeks on end. But with the Raiders on the rise and Manly on the wane, there's always room for an upset.
Unbelievably, we are so very close to the top four side Ricky promised fans at the end of 2022. Now, it's time to see if that's true.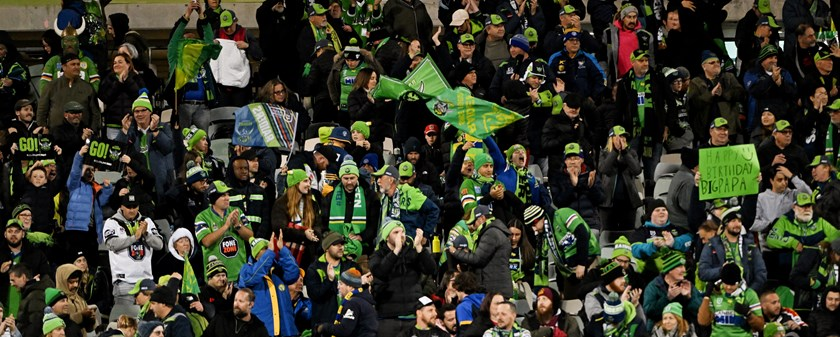 Catch you next time,
Vulkan
Did you like this article? Did you hate it? Go over and keep the discussion going on the official Vulkan's Corner facebook page! - whilst you're at it, leave a like!