See above title.
I have been threatening to make a rugby-league related column for a number of years and something has always gotten in the way. Effort, other things I want to write about, a worry that my fanbase will desert me when they realise I wasn't quite as nerdy as they thought.
But after gathering with some mates at the pub after the abovementioned round one, I thought "bugger it, why not?" As I've not made particularly clear in the past, I've thought about sports journalism from time to time and I do creative writing as a hobby, not a job. So I'd like to take it on to see if I can't do a better job than some schlep at the roar, or write something a little less dramatic and filled with hot takes than the crap regurgitated in the daily telegraph.
So I nicked the NRL's thumbnail (and I'll steal some action shots from the Raiders later, tee hee) and here we are. My (extremely biased) write-up of the Raiders first game of 2021. Assuming NRL.com doesn't show up with a lawsuit and I enjoy writing this, I'll try and cover every game of the season.
One thing I don't want to do is reinvent the wheel. My hypothetical reader is here because of my perspective and my presentation, not to have facts regurgitated. What you will find in here is not a blow-by-blow, agonising retelling of the game. What you'll find is a series of snarky personal opinions under templated subheadings, with a lead-in paragraph or two (or in this case, more like seven). The NRL has got you covered for match highlights, over here.
So let's get into it, shall we?
Green Machine Slow to Start, Becomes Steamroller in Second Half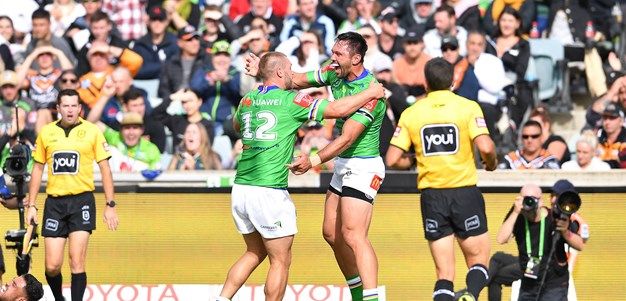 At the midway point of the first half, the Raiders attack seemed clunky and there were plenty of lateral meters on offer. Though they were able to hold Wests to a single try, it was clear that cobwebs had settled in. Josh Hodgson seemed to be lacking his creativity, instead giving way from giving slow service from dummy half, frequently arresting attacking momentum.
Nevertheless, the rust and cobwebs were eventually blown out and the floodgates opened, starting with an excellent try to Ryan James not far past the start of the second half (more on that later.) The West Tigers should be applauded for their firm defence up to the 60th minute, eventually the class of the Raiders shone through, with standout performances from the forward pack.
As it turns out, this problem was not unique to the Raiders this round. The Panthers and Roosters also experienced similar problems with slow starts, error-prone attacking shapes and general rust. This pundit would be nervous if it was just the Raiders, but I don't think we'll see this as a continuing trend. I'm sure I won't have to explain to anyone what happens if this turns out to be a thing all season, when slow starts and cobwebs end up providing a proficient team like Penrith or Sydney with a mountain of possession in prime territory.
No Sign of Second Year Syndrome For Williams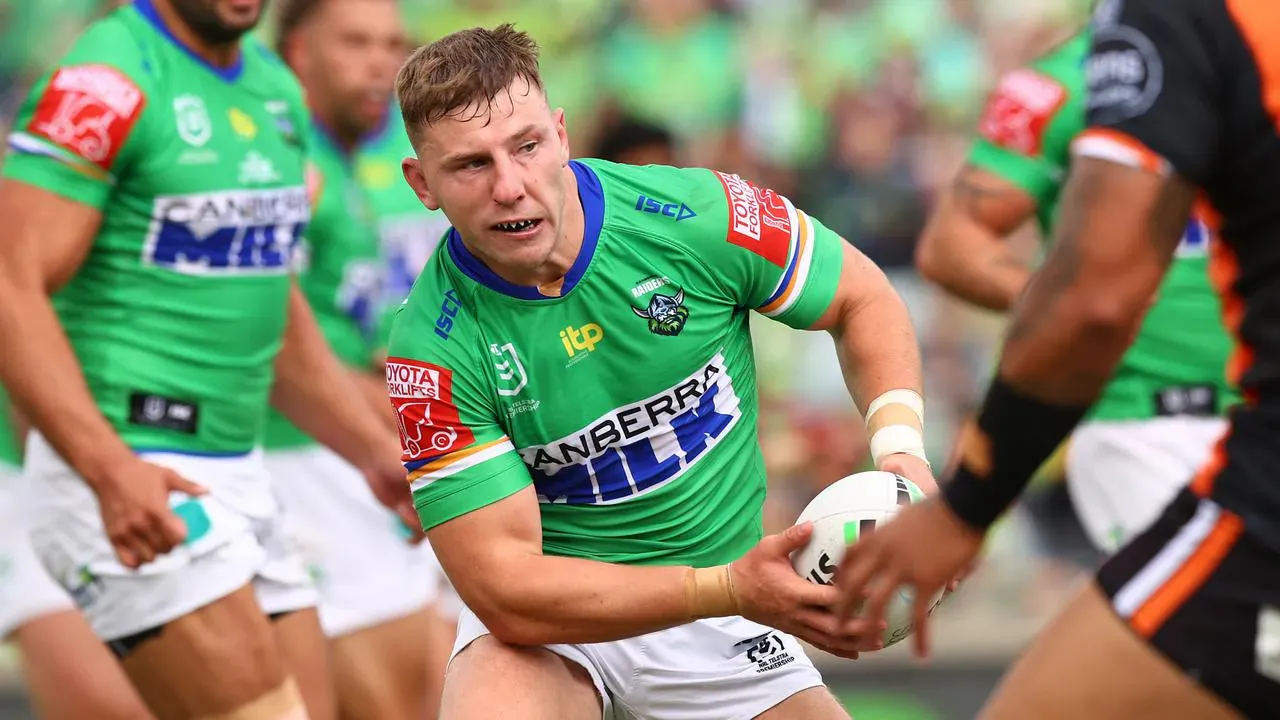 It has only been one game, but it appears the man they call 'The Shark' has more to deliver this season. Last year, Williams proved an exception to the rule of English backs, becoming an unpredictable, yet stable attacking force for the side. It appears we'll get more of the same this year, but more refined with a year of experience. Already working well with Wighton, if the integration of Hodgson back into the side goes smoothly, the attacking potential of the Raiders could be potent, indeed.
King James Delivers on Debut
You heard me - bugger off, Lebron James. Canberra will only hear about one King James this season, and it's Ryan James. Managing to escape the game without a knee injury and scoring a momentum-swinging try, it's good to have the new King James in the capital. I look forward to what he achieves with the Raiders this season and in future. I will make an offering to the football gods before each game to protect his ACL, as a third will likely spell doom for his career.
It seems the forward pack responded to Ryan James' try, as they mentally shifted gear and moved into a more physical, 'up the middle' style of play in the second half, which gave the Raiders the edge and ultimately, the two points.
Raider Forwards Pillage the Tigers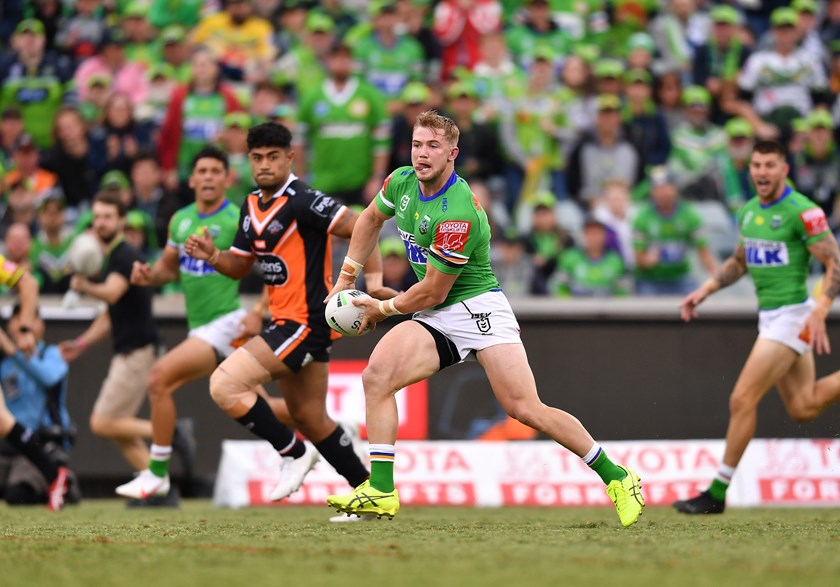 A slow start eventually gave way to some brutally efficient power running in the middle, from folks like Hudson Young, the Ryans and Big Joe. From the moment James crashed over, like flicking a switch, the entire pack lifted and then proceeded to punish the Tigers. The second half was spent running straight, hard and with immediate impact, laying a platform which was then skillfully exploited by Hodgson, Williams and Wighton.
All the time last year spent gaining experience has paid off - and whilst teams will be prepared for Josh Papalii, I am not certain they will be ready for the rest of the experienced, skilled and brutally direct Raiders forwards. Infact, I will go so far as to say I hope the rest of the league is not prepared.
The Review Process is Trash
I'll preface this by saying that Rugby League is not a perfect game. It never will be. The players aren't robots, the referees are trained professionals and with every profession, mistakes get made. I have zero issue with the officiating of games, as much as I'd like to whine and gripe, referees should be held as sacred, less we are left with no-one to officiate our games.
If the bunker made me mad before (it didn't), then this new system is infuriating. Instead of the referee going to the bunker in case of indecision, a try can be reviewed in the ensuing stoppage and the outcome reversed. I'm not sure who thought that was a good idea, but they're an idiot. Time will tell if I'll think any different.
The Parting Shot
There are two key components of the West Tigers that I want to dig into.
The first is Luke Brooks. This is what Wests Tigers fans were waiting for, all pre-season? This is Luke Brooks 'unleashed', is it? Kicks out on the full, momentum-killing errors, rubbish offloads and no direction in attack? Don't read newspapers, kids, because you might start to realise that what makes it onto the front page has no basis in reality. I hope for his sake that he finds a purple patch in a fortune cookie, otherwise it's going to be a long season (again) for the Wests Tigers playmaker.
The second, which admittely is a low hanging fruit, Joey Leilua. I read his fairfax article about how he was out to prove Ricky wrong. Well, in the first minute Leilua had a verbal stoush with former teammates and things only went downhill from there. Errors aplenty, junk offloads, all the sort of try-hard things he was famous for when he wore the Green Jersey.
If Joey's aim was to prove Stuart correct, he did that in spades, as he actively worked against his own team thanks to a personal vendetta that he has done nothing but vindicate since leaving. Maybe Joey should do what I never can and just let it go.
Vulkan Medal Points
Yeah I have my own zero-credibility award only for Raiders players, what of it? I have two tiers, which will be self explanatory.
Man of the Match - Ryan James (2pts)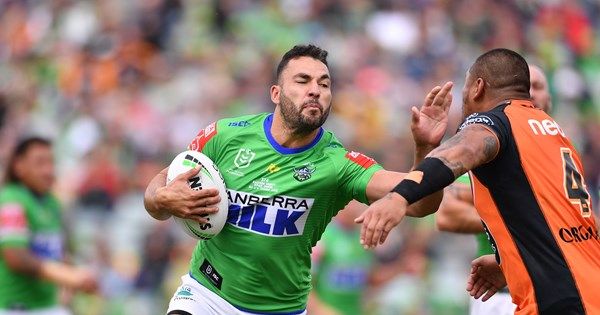 I'd be lying if I said I thought more than thirty seconds about this, or indeed about writing this article or infact anything. The fact is that King James had an outstanding day on the park. A shaky start thanks to being nervous about his knee was soon put to bed. He then knocked down the front door of the Tigers in the second half, resulting in the forward pack of the Green Machine roaring into life.
Le Hidden Gem - Sebastian Kris (1pt)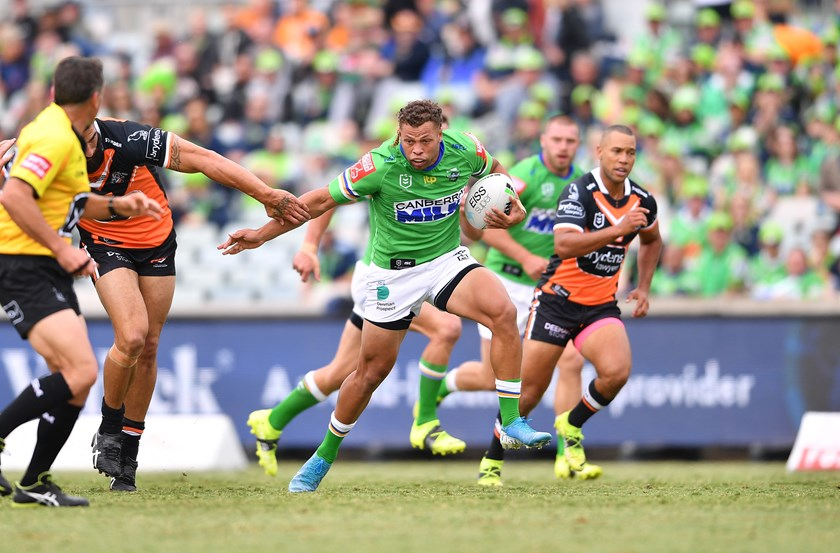 Seb Kris has had limited game time since his debut. It's a shame he'll lose his spot when Jarrod Croker comes back, because he had a fantastic day today. Kris is young, has speed to burn and is strong as an ox. He showed today what he was capable of in the first half, busting through the Tigers line and being cruelly denied by the bunker. I hope he finds a spot to slot in somewhere in the side in the future.
Catch you next time,
Vulkan
Did you like this article? Did you hate it? Go over and keep the discussion going on the official Vulkan's Corner facebook page! - whilst you're at it, leave a like!