I didn't check the odds before the game, so I don't know if this outcome was expected. I certainly didn't expect it. Yes, the Eagles had key outs, but that hasn't stopped other footy teams from blowing Canberra out.
The Roosters spring to mind in that regard, those bastards.
Now I could nitpick and fuss, but at this stage in the season, I'll take what I can get. The good chemicals don't care who the Raiders play against, only that they win. It was a complete performance by 2021 Raider standards. After the shellacking from the Gold Coast, you would've expected the Raiders to go into their shell and just let Manly roll them. Apparently not.
I heaved a weary sigh of resignation when Dylan Walker cruised over untouched, managing to score even after falling over. Other, softer footy teams would've folded in that moment and yet the Raiders didn't.
Which is a good sign going forward. If all (or, most) players are prepared to dig in, knowing their season is probably over, the intent is there and that's a good sign for the Raider faithful. It's not likely to last, considering Manly had key outs to their three best players (arguably) - but you take what you can get when your season is circling the drain.
Outside of an eyes-up attitude, it was a very workman-like performance from the Raiders. Canberra rolled through the middle, leaving the Manly defensive line easy prey for Sam and Matt. And sometimes, you don't need a flashy super-player, you just need a team that can click - and click, the Raiders certainly did.
The Parting Shot
Oddly enough, I have very little bad to say about Manly. They're playing exciting footy this season, their players (with the exception of DCE, who used Gold Coast as a pivot point for a longer payday) seem reasonable people.
We're not talking about bad old evil Manly from the dark times. We're talking about Milquetoast Manly that destroys teams and gets on with the job. They do a good job keeping the flame of footy alive on the Northern Beaches, which is important.
And also I have a lot of time for Des Hasler, who is one of the game's true characters and understands his role as partway coach and partway entertainer. His labelling of the Referees as "Voldemorts" is an iconic piece of rugby league history, and I'd love for Dessie to come and coach the Raiders one day.
...wow, that's not vicious at all. I'm getting soft.
Vulkan Medal Points
Man of the Match - Sam Williams (2pts)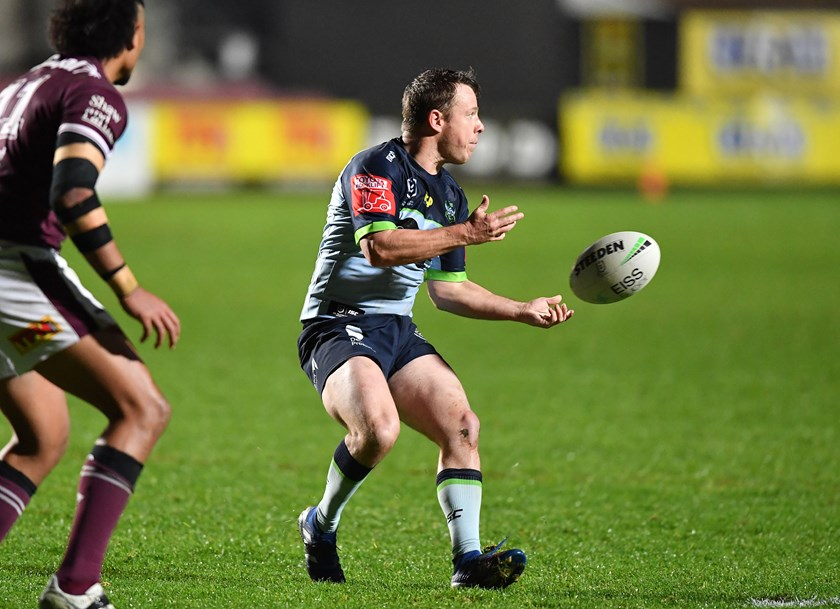 Honestly, who else could it be. Yes, Sam is not a triple-A halfback. No, he never will be. But he's one of Canberra's favoured sons and when he's on his game, as he was on Thursday night, he's dangerous. He cut the middle of the Manly defensive line apart as they underestimated him and he used Matt Frawley's kicking game like a weapon to jam an elite forward pack right down Manly's throat.
As one of Canberra's favoured sons, I hope at some point it comes time for him to take up the coaching mantle and steer Canberra on to victory from the coaching box.
Le Hidden Gem - Matt Frawley (1pt)
Ball. On. A. String.
Three forced dropouts, two hundred and forty kick meters, worked his guts out in the middle. Just like his halves partner, "Frawls" is not a superstar, but sometimes you just need someone ready to go with his head screwed on tight. Step up and recieve your prize, Matt.
So that was the Raiders - this week promises a winnable game against Cronulla, but we're a long way from being safe. A small miracle, and Canberra may yet play finals football.
Catch you next time,
Vulkan
Did you like this article? Did you hate it? Go over and keep the discussion going on the official Vulkan's Corner facebook page! - whilst you're at it, leave a like!