It's been a long week and I've been crook as a dog. If it wasn't for my commitment to phone in a rugby league column every week, timeframes be damned, I wouldn't bother machine-gunning 1,000 words on "Why Da Raidurz R Gud".
So with a rock in my throat and limited sleep, I present to you, my poorly thought out article on the Raiders' R17 win against the chooks.
But first, because I'm writing this on a Thursday, I can talk a little bit about the week that was. Specfically, Reese Walsh getting rubbed out for three games because he called the ref a "c**t". Great job, you entitled little shit, enjoy missing Origin 3 - I hope Kalyn Ponga buys himself something nice with the 50k payday you would've gotten if you weren't such a dickhead.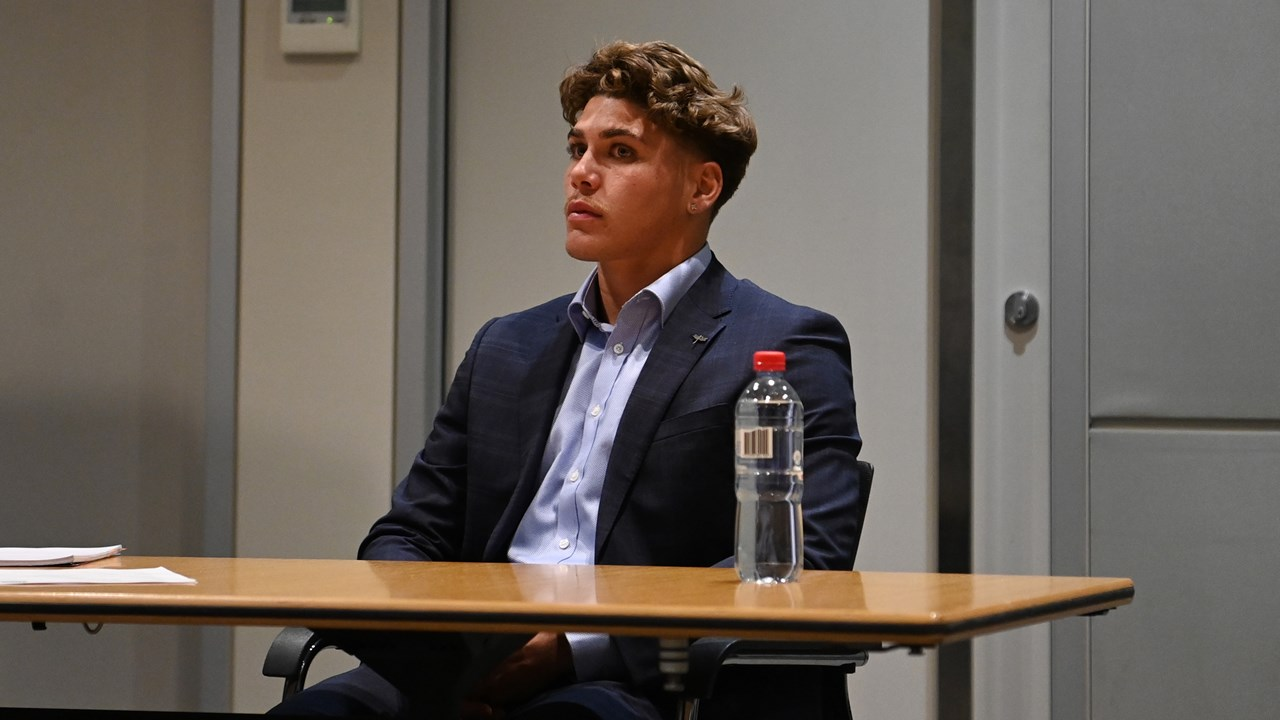 Reese nearly got away with it too - he convinced all his Queensland mates to come down and give evidence that he'd sprayed Patrick Carrigan instead of the ref. They cooked their stories together, and then David Fifita accidentally told the truth instead of a lie, and the whole story fell apart.
When I was a teenager, I told a bare-faced lie to my Dad and he was so angry he literally shook with rage. Then four blokes from the sunshine state lied to the football version of my dad and no-one seems to give a shit. Four blokes who play for the same rep team cooked their story. Together. In a proper court of law, that's perjury. What the actual fuck.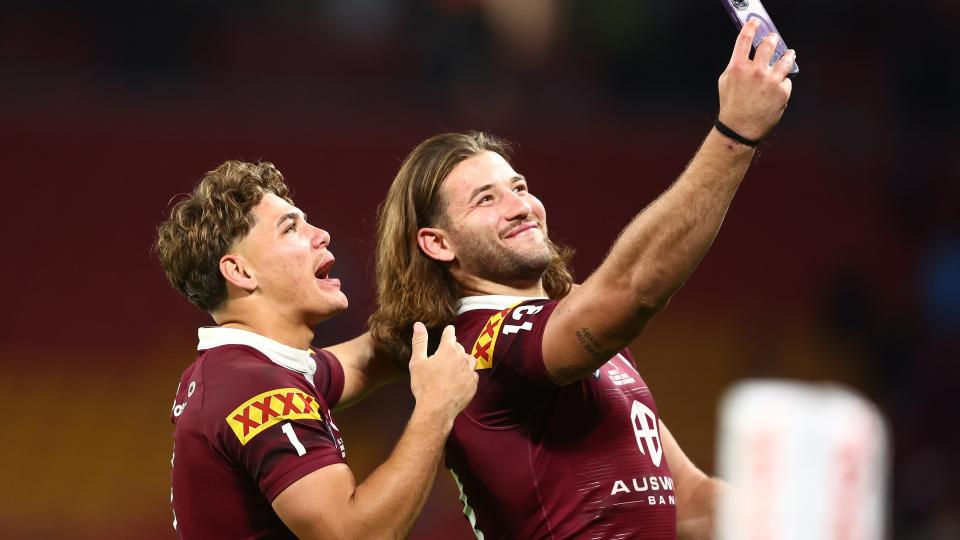 I'm glad he didn't get off. If there's no referees, there's no NRL. Simple as. Grassroots footy is already struggling for match officials. People seem to think referees and match officials are like Lizardmen - they just spawn fully formed. Well, as cool as that would be, as a long time fan of Lizardmen (not Seraphon, go away, GW) that's not what happens.
I mean, maybe if Ashley Klein was a Saurus Warrior and had an obsidian club to enforce his will on the footy field, no-one would spray him anymore, because they'd get two attacks at strength four for their trouble.
But I digress. Raiders v Roosters.
The Raiders, coming into this game, and really, this season, were in a strange place. This wasn't a must win for them, but I don't like the Roosters for obvious reasons, and the Raiders had just been belted by fabulous mullet man Dallin Watene-Zelezniak. And also Shaun Johnson, I guess.
Ricky promised we were a top four side, his holiness Jarrod Croker returned to lead us to the promised land, and since then we've lost two games in humiliating fashion to Manly and the Warriors.
The sins of those games (plus the Penrith massacre whilst Jack Wighton was suspended) mean that despite sitting in the top eight, the Raiders have a hefty negative differential. They are also the only team in the top eight with a negative differential. Until they start treating teams to a bit of the 2016 razzle dazzle, a 5th-8th finish is most likely, or an unceremonious ejection to the wastelands of 9th-12th.
For the Roosters? Well they've gone from solid world-beaters to solid mediocrity. James Tedesco, hot off of having a terrible origin performance, has slid from the top of the footballing world into the dumpster, and Sydney's best player is now... Lindsay Collins?
Boyd Cordner, is that you?
It looks like after Brandon Smith shot his mouth off in a preseason podcast eighteen months ago, he's turned out to be a bust, and Joseph Suaalii is on his way back to Rugby Union for fat stack$. The net result is the chooks sliding into mediocrity faster than... something that slides really fast.
And so as both sides ran out onto the mostly empty venue of Accor Stadium, the stage was set for... a football game.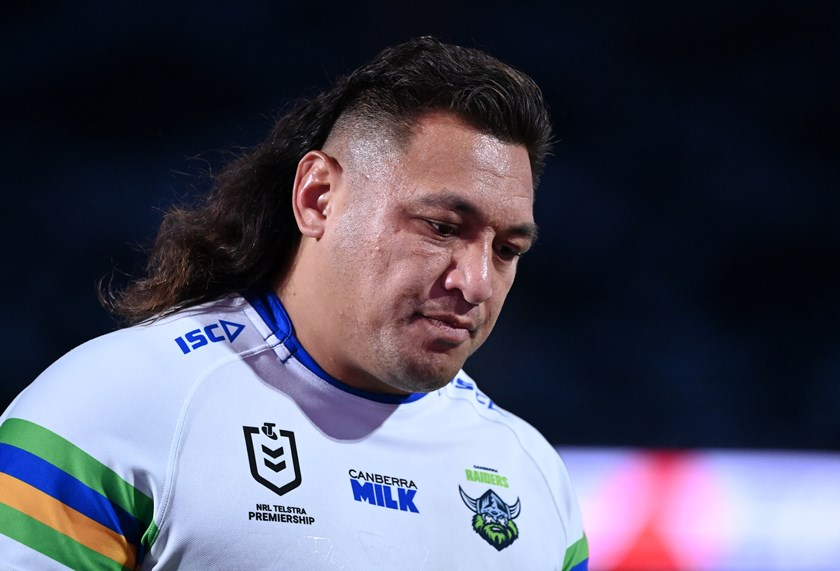 Just a quick tangent before we talk about the game. In a metropolitan city, on a Sunday night, in their brand new, state-of-the-art stadium, managed... 13,000 people.
We're lead to believe this is Sydney's too big to fail, marquee club, beloved by the people of Bondi. The Raiders have a higher average attendance in a city a fraction of the size, and outnumbered the Roosters supporters on their own turf, despite ostensibly being three hours down the road.
Explain to me how this club deserves a new stadium when they can barely fill it an eighth of the way. Absolutely pathetic, do better, Sydney.
The game itself was a tale of two halves. Initially, the Roosters were full of running and energy, and had the better of the opening exchanges. Despite this, they struggled to convert their advantage into points, and it was Canberra who was first on the board, after an offside let the green messiah kick a penalty goal.
Little by little, the Raiders equalized set meterage, and Jamal Fogarty opened the bomb bay doors, roosting an absolute nightmare ball. Jack Wighton then proceeded to out-jump James Tedesco, before bumping him off and scoring next to the posts.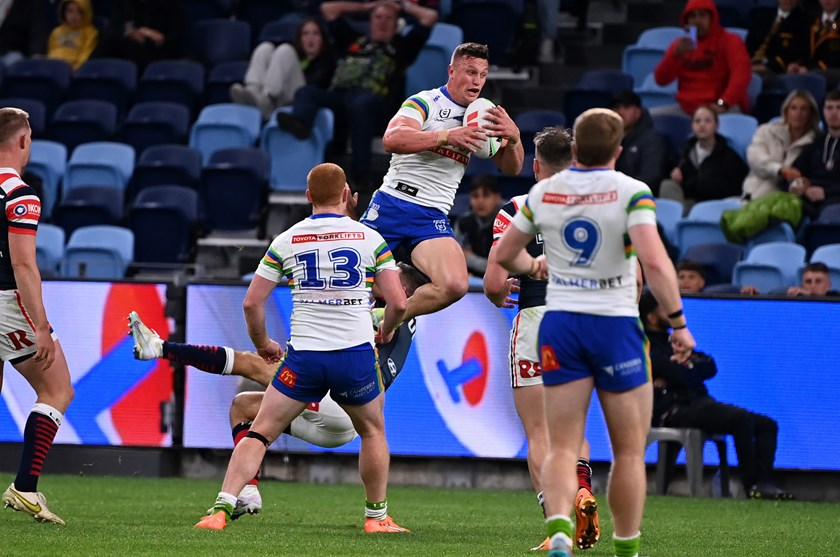 Oddly, Jarrod failed to kick the conversion.
So the Raiders were off and running (and kicking). Then, Jarrod Croker found a gap on Sydney's right edge, and Hudson Young stormed through the gap before flicking the ball to Albert Hopoate. Jarrod Croker then kicked the conversion, from a tougher angle. It's a strange old game.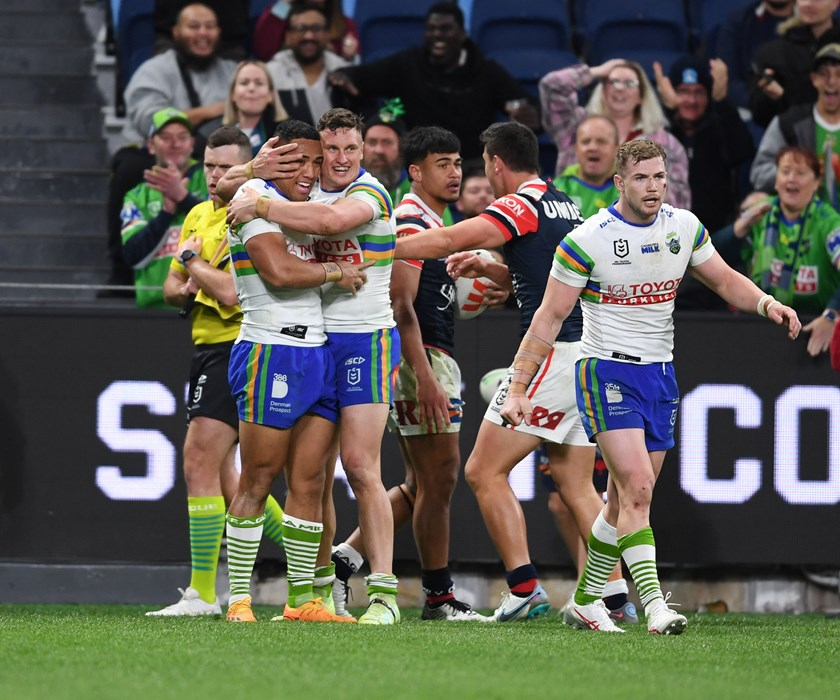 Apart from letting Jack Wighton pick his pocket, James and the Roosters were not playing poorly, but they had not converted their opportunities into points. No-look passes were going over the sideline, set-ending kicks were being placed from the midfield, and Canberra were defending their errors.
And then again, Jamal Fogarty chose violence with another high explosive round. James Tedesco was outjumped again, and Matt Timoko scooted into the garden of eden to slam the ball down and put the Raiders 18 points up. Game wasn't gone, but Sydney were well and truly out of it.
And then, seemingly out of nowhere, Joey Manu phased through four Raiders to score under the posts and the gap narrowed to twelve points at the halftime break.
Much to scream for in Green, but you just had to wonder if the Raiders were going to capitulate in the second and let the Roosters storm home.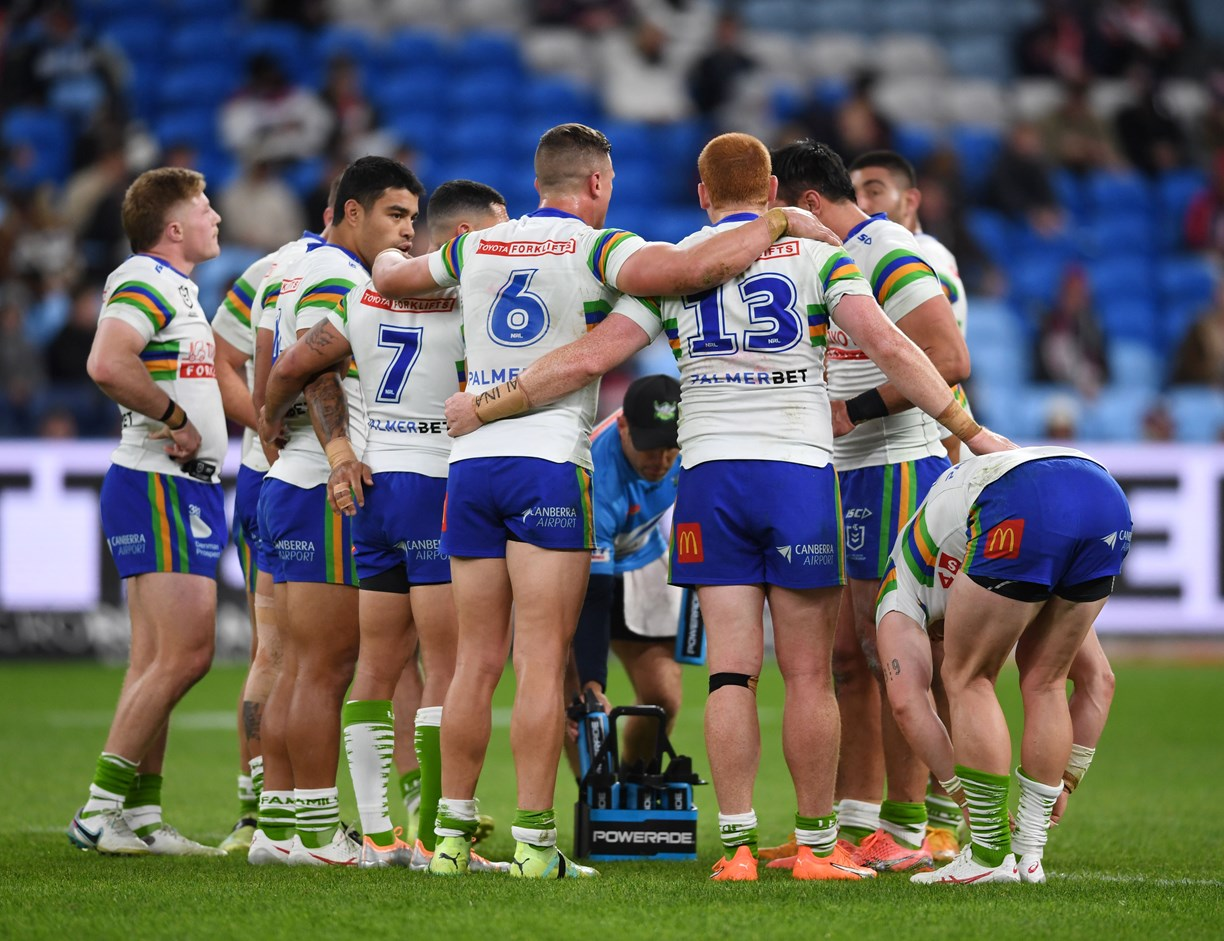 Viewers had just two minutes to find the answer - Joey Manu scored again and the lead narrowed to six. Apparently whoever spoke in the huddle after that galvanized the Raiders to dig deep, and the game returned to a set-for-set grind, which evened up. Jarrod Croker bolted on an extra two points to put the margin to eight, which would be all the difference in the end.
The game ground on for another twenty perilous minutes until Lindsay Collins, fresh from running over hapless NSWelshmen, proceeded to barge down the front door and bring the blokes from Bondi within two points. However, Canberra was able to hold on. It nearly looked like Tedesco was in for the game winner, until he dropped the ball, which everyone watching from home got to see in painful, excruciating slow motion.
Game, set, match, Raiders.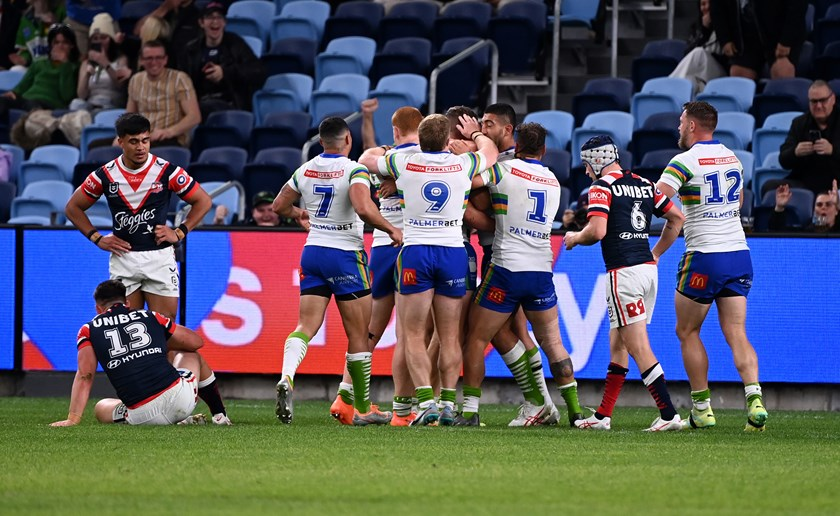 Once again the Raiders faded out and barely fired a shot in the second half. If the Raiders ever manage to consistently play complete games they'll go to a grand final. As it stands, they just have so much variance.
Seb Kris is clearly our fullback going forward, which sucks because he picked up another niggle. Turns out running like a maniac into the oncoming traffic has its price. His inability to finesse the ball is made up for by the fact that he is tremendously strong and is not interested in doing anything other than running hard and powering the Raiders forward.
He is named to play this week, so we'll see how that shakes out.
Otherwise, everyone from Canberra played well enough. It was by no means a perfect performance, but you take what you get to scrape by. If you scrape by enough, you may eventually get enough confidence to actually play a complete game of football. The Raiders completed at above 80%, ran for almost 1,800 meters and made fewer errors than Sydney, which are all positive signs.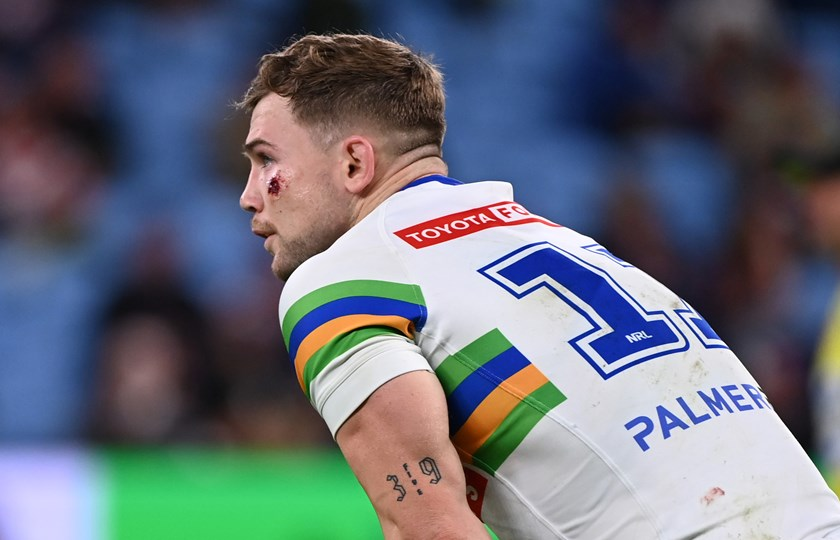 As for the Roosters - I dunno, feels like the butcher's bill for their success has been due for awhile know. Trent Robinson is an all time great coach and will no doubt negotiate the chooks through these rough seas, as he has in the past.
But it's not up to me to cheerlead for them - every footy team that ends up in the swamp of mediocrity is an easybeat for the Raiders.
Just one parting shot for Victor Radley. Aka, Victor the Inflictor. You're a grub, you've always been a grub, it's going to cost you a contract, and I'll be glad to be there when it happens. How dare you dog-shot the green messiah.
This week sees the Raiders back at home to take on the Titans. Normally, that'd be a good thing - but the last two games at home have been lost in embarassing fashion. I am very much hoping it does not become three from three.
Although, the Raiders are favourites for this game. That does not bode well.
Catch you next time,
Vulkan
Did you like this article? Did you hate it? Go over and keep the discussion going on the official Vulkan's Corner facebook page! - whilst you're at it, leave a like!