If a week is a long time in Rugby League, six months is even longer.
It's well documented where the Raiders were at the start of the season. They had run out of gas at the end of 2021 and got thumped, but they were a good footy team.
Then the dark times came. Form issues, confidence issues, trouble in the locker room. The unceremonious exit of George Williams. Curtis Scott (allegedly) punching someone's lights out at a local night spot. Little things, like dressing room rumours, passive-aggressive instagram posts and Josh Hodgson choosing to go to the media.
(As a tangent of sorts, I don't like Kokomos - it's not a nice place to go out to eat.)
The losses piled up, the news articles came out and one pundit (that'd be me) called it a return to the bad old days. And whilst three wins in a row against undermanned (Manly) or middling (Cronulla) football teams doesn't exactly herald a glorious return to form, there's hope in Canberra. At least for now.
But if I thought Sam Williams slicing up the Sea Eagles and Xavier Savage blasting past Cronulla were late season highlights, sneaking past Parramatta when no-one gave Canberra a fraction of a shadow of a ghost of a chance - well, that's what you live for. That's where the good chemicals come from.
Post the song, again.
(Dennis Carnahan is a fan of the Raiders, by the way.)
It was a gritty, defensive affair. Both teams attended, ready to grind each other to paste in the middle of the field. So they did. Parramatta lacked a crisp-ness in execution, evidenced by several tries ending in knock-ons or turnovers.
Then Parramatta had a strange fadeout for five minutes. Just five. A sly Sam shortball slid slick second-rower Cory Haraweara-Naera over for a meat pie. Moments later Jordan Rapana ducked under two tacklers to slam the ball down. Jarrod Croker's aimbot, er, boot, made sure that if Parra were going to draw level and beat the Raiders in golden point, they'd have to be perfect.
Then Blake Ferguson (Boo! Hiss!) bolted down the right hand side and everyone wearing green got that familiar sinking feeling. Then Parra went over in the corner by the narrowest of narrow margins, leaving 'Le Pelvic Thruster Man' a kick from the sideline to tie the game.
Fortunately Clint Gutherson missed, but we were in for one last slice of high drama, when Jordan Rapana used his titanic hip strength (and another tackler) to push Maika Sivo into touch. We all sat in suspense. Would there be a penalty try? Would there just be a penalty?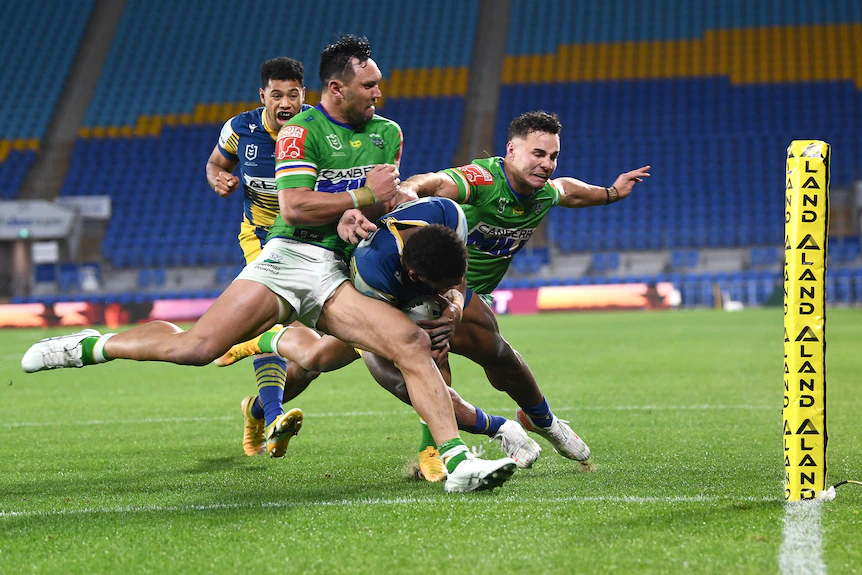 No. Try.
I might've done a few fist pumps. And laughed at Clint Gutherson meekly begging the match official to do... something.
I've always had a chuckle at players hassling match officials after a call is made. I know it's a psychological thing, but still funny. Especially in this case when the call was made, then reviewed and confirmed. What precisely are you hoping to achieve.
So in the end the Raiders stole one out from under Parramatta. Now, you can argue Parramatta didn't have Mitchell Moses - out with a broken back. How much difference he makes, well, it's a tough call. Although I am biased and green-eyed, I'd suggest he probably had enough skill to drag Parra over the line. But he wasn't there, so now I have the two points.
The Parting Shot
The Eels are currently enjoying their time in the sun. Like the Raiders they are close and stacked with skilled players, but other teams are better. I hold little hope for Parramatta this season to go all the way, but then again I remember the dark times where they couldn't play themselves out of a paper bag, and Nathan Hindmarsh felt so beaten down as the captain he turned to gambling.
Rough all around.
So what happens now - they keep getting better, score a few more top eight spots then fade out? We'll have to wait and see.
and to the dishonourable Blake Ferguson:
NUTS!
Vulkan Medal Points
Man of the Match - Jordan Rapana (2pts)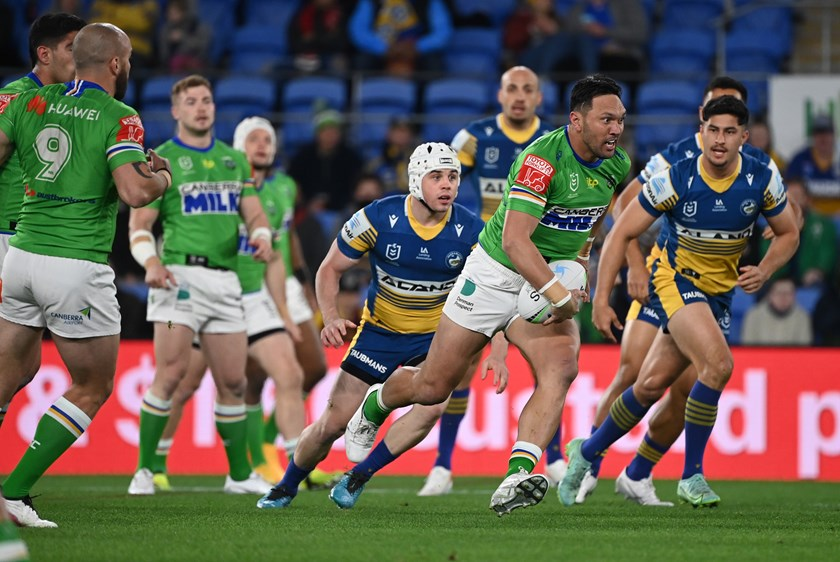 When you say 'effort' - there's all sorts of things that come to mind.
On Thursday night, that was the definition of Jordan Rapana's game. It defines him as a player. His willingness to compete and work hard, every game, makes him special. It's what has made him into one of the Green Eyed Faithful's favourite players. Because, no matter what, he gives one hundred and ten percent and digs deep.
Those of you will remember him deputising for Charnze Nicoll-Klokstad against the Panthers early in the season. He worked so hard he nearly collapsed from fatigue. That was just a taste of his effort. It was fully realised against the Eels, where he just kept turning up. Linebreaks, tries and try savers.
Incredible.
Le Hidden Gem - Hudson Young (1pt)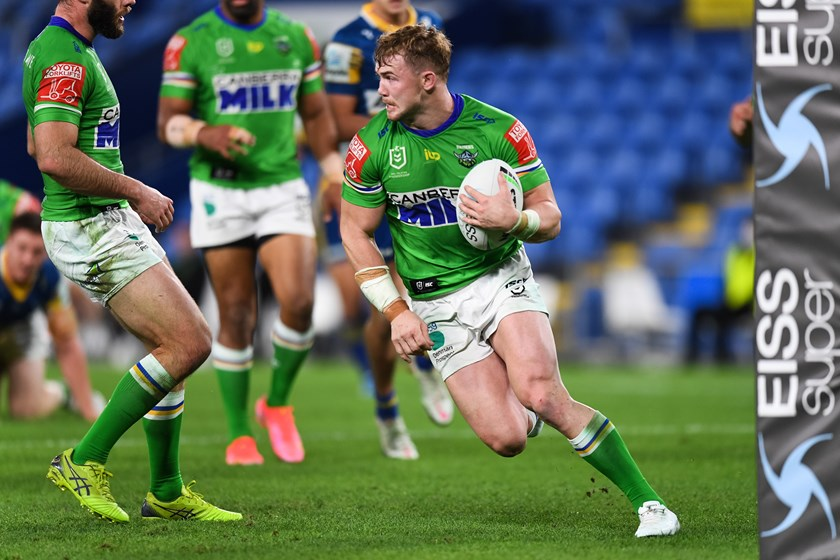 I spent more time than I would've liked on this one.
Whilst I'd feel comfortable giving another point to Corey for another try off of another shortball (keep 'em coming) - the Raiders won the game on the back of their defence. That means tackles, that means doing hard stuff in the middle.
That means folk like Hudson Young - played the full eighty and got through a mountain of work in the middle. The vigour of youth drove him to deliver an outstanding 'smash up' in the middle.
So that's me for another week. It's been a big three weeks for the Raiders, but now they play down to the Knights. Can they keep the momentum going, or will there be lamentations?
Catch you next time,
Vulkan
Did you like this article? Did you hate it? Go over and keep the discussion going on the official Vulkan's Corner facebook page! - whilst you're at it, leave a like!