Yep, that's right, I'm not giving up on my ill-concieved wish to be better than the rubbish peddlers at the Tele. I'm going to keep going until I get a cease or desist, the season ends, I get bored, or I have to sell a heartbreaking Raiders final loss.
So, reasonably soon. But for now, whilst the getting's good, let's go over my anecdotal insights from the Raiders 12 - 10 win over the Sharks, at a stadium that used to be the exclusive territory of the Dragons. Thus showing that teams in and around Sydney share, swap and move stadiums around as frequently as I decide to change the content that's published on this blog.
Without further ado, let's get into it.
A Tale of Two Halves - But Reversed?
The first thing that I should be clear on is that the Raiders should've won this game handily. They were unable to maintain the rage for the full duration. By the end of the 80, the Sharks were more deserving of the win. If it weren't for the wobbly boot of "The Chad", they wouldn have and it's a very different story this... morning?.
The first half was a complete forty minute performance. It wasn't the exciting attacking masterclass that has been expected from the Green Machine, but a combination of stalwart defence, cooperation between the different component pieces of the attack and some excellent power from the forwards kept Cronulla out and the Raiders comfortably in front.
And then... I don't know what happened.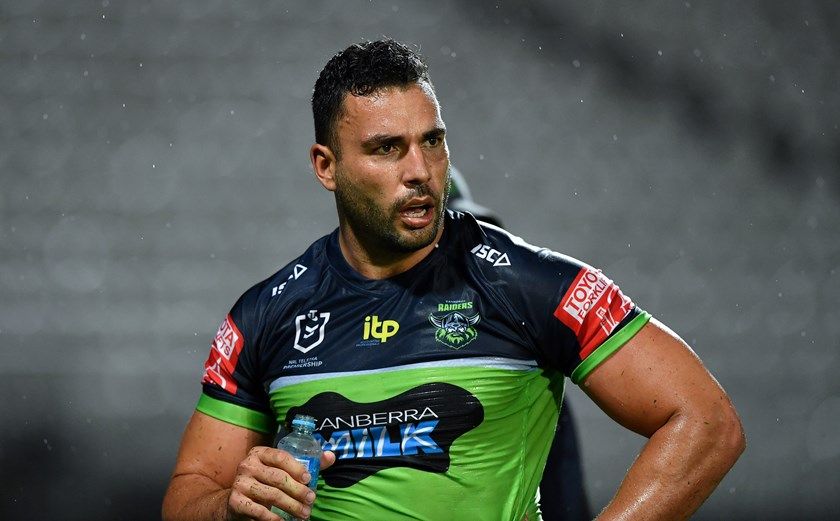 Jack Wighton made two errors in crucial field possession and the side appeared to fall apart. Literally getting in each other's way at times, other times having the ball magically disappear out of their hands. I made a humorous anecdote at half time that the boys had used sticks of butter instead of grippo - but it really did seem the case.
I cannot hide my bias, though - two weeks in a row at different times, the side has been good enough to make mistakes and still carry on with the job. Cronulla were at home, in the wet, in scoreboard conditions they are historically excel in and the Raiders found a way to achieve the aim. As Ricky said in the presser, they'll take the two points however they can get them.
Raider Forwards Lead the Way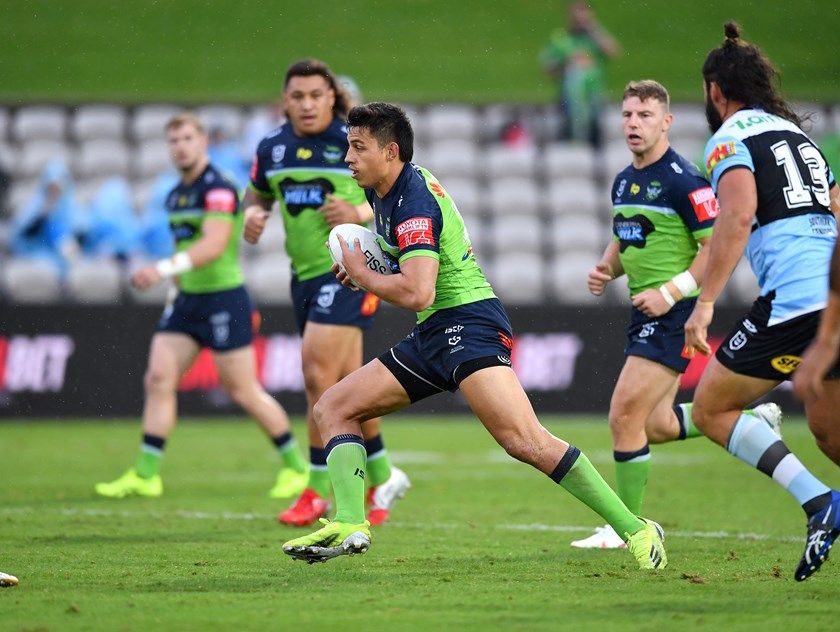 I said last week that the forward pack started slow but turned into a steamroller. That was true but this week they came pre-challenged and willing. Unlike last week however, there was no off switch up front. The engine room hummed with life for the full eighty, even in the face of some terrible mistakes.
Being able to lay the platform, run hard and do dirty work is what matters in the wet and the pack never stopped. Again, folks like James, Hudson, Sutton and Soliola stood up - even against enthusiastic beer consumer Toby Rudolf, whose bullocking runs met a short stop and a sudden drop onto his arse.
There Might be Too Many Cooks in the Kitchen
The Raider faithful have turned a bit on Hodgo in the last fortnight and I can understand why. In the absence of Hodgson, the side learned to adapt and move on without him. Time and again, Wighton and Williams delivered masterclasses of kicking, running and organising.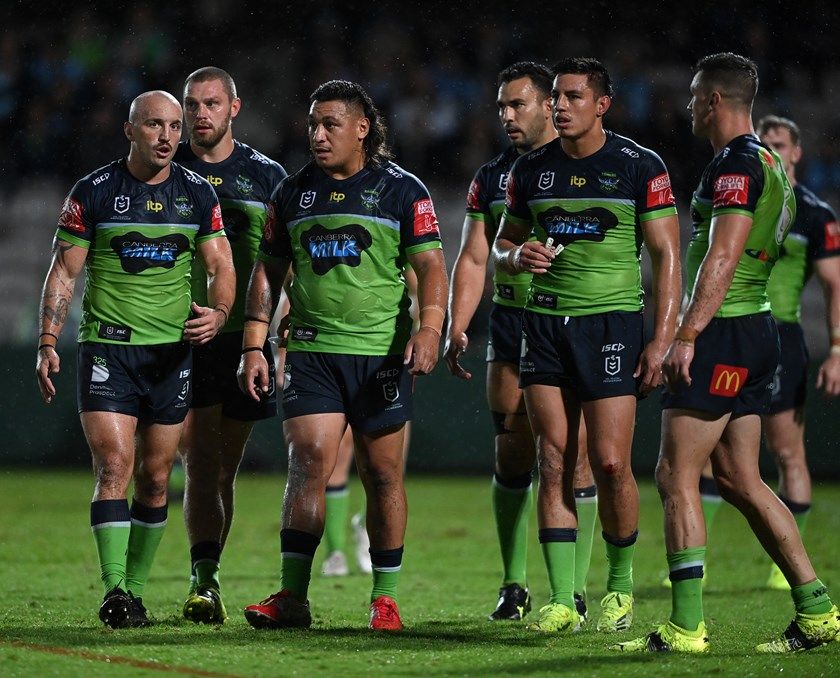 Now he's back and all the different players are trying to learn how to co-exist together. There's creativity everywhere you look, but all the different limbs need to learn to work together. By no means should benchings be threatened, because if they can all learn to co-exist, like I said last week, the rewards will be tangible.
Raiders fans and coaching staff alike know it's possible, thanks to a series of standout performances from the Raiders last year with Hodgson, Wighton and Williams in the side, including a 22 - 6 statement over the Storm. They have clearly gone back a step, though and need time.
They're just not there yet and how many weeks and losses it takes for them to get it right, I just don't know.
I Like My Forwards To Be Young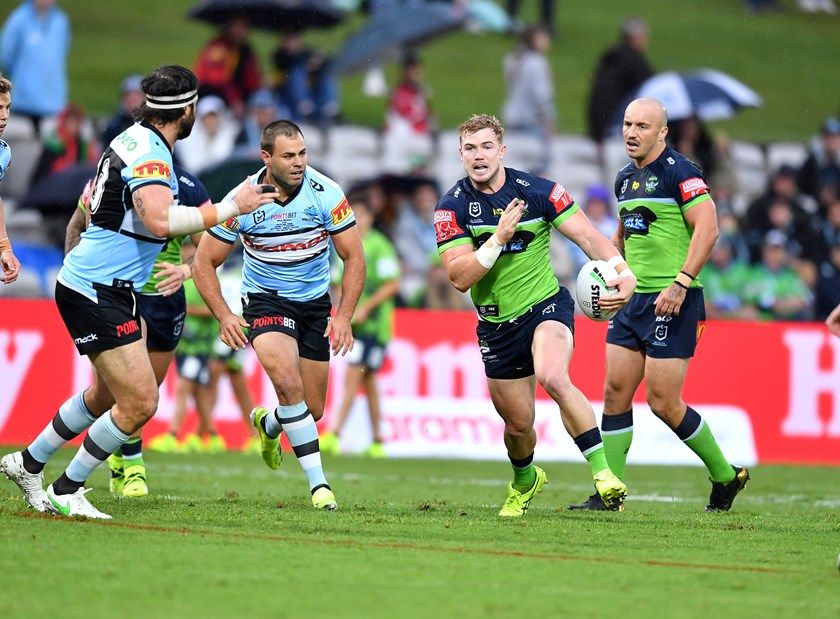 In a whirlwind eighteen months, Hudson Young has gone from fringe forward pack member known for something I'd rather not bring up again, to a star. Acting as an understudy to John Bateman, it's clear he's taken some of the veteran's lessons to heart and two weeks in a row has lived up to the hype of being marked for greatness.
His try in the dying minutes of the first half turned out to be the matchwinner and much like Ryan James, it has me wondering just how high the young bull can rise in this forward pack.
The Parting Shot
I was in two minds when thinking about the game last night. On one hand, Cronulla delivered the goods in terms of defence, against a Raiders side throwing the kitchen sink at them. Despite the result that is still true and against a worse side, in that weather, they probably don't lose that game, even with disjointed attack.
Elsewhere it's too much of a low-hanging fruit to pillory Chad Townsend for his awful goal-kicking. This is as much his fault as it is the systems around him. If news cycles are to be believed, the Sharks are too cheap to pay for a kicking coach - allegedly, anyway. It takes dedication, skill, time and an experienced hand to help you improve your technique.
Yes Chad is a knowledgable goal-kicker and it's probable that the stress of having the game's outcome ride on his shoulders mucked him up. That's what your coaching and support staff are for - like sports psychologists. Skimp, and pay the price. Cronulla has done just that. Maybe put more pokies in your leagues club.
Vulkan Medal Points
Man of the Match - George Williams (2pts)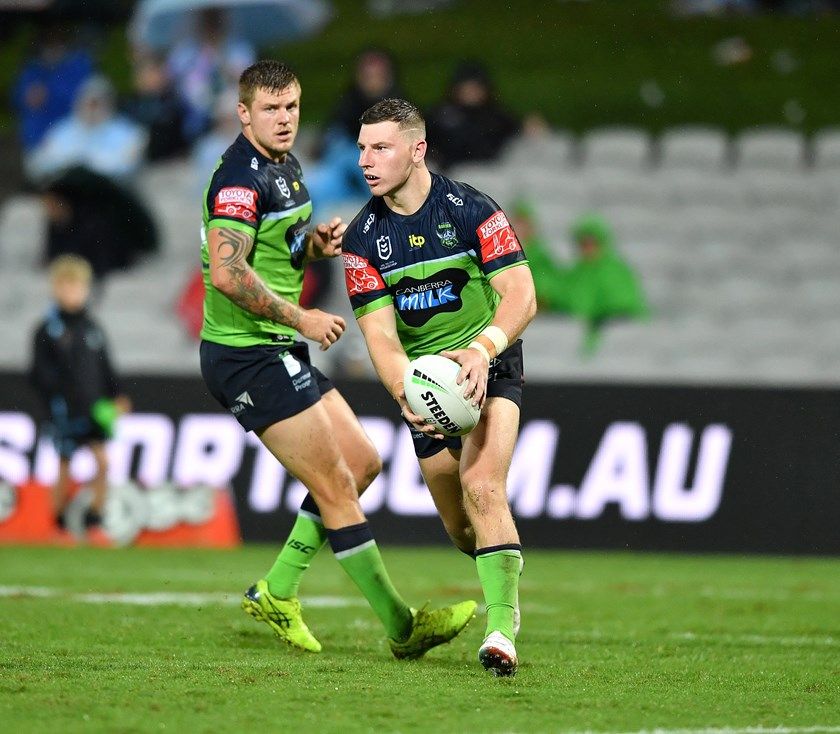 Haha, ball on a string go brrrrrrrr.
George defended well whilst offering the full three-hundred and sixty package in attack. No, he didn't score lots of points, but he kept the pressure on with effective attacking kicks. He helped the Raiders get out of trouble by kicking to the corners - critical in wet weather football. And otherwise effectively organised the side to put them in a position to win. Like a good halfback.
Le Hidden Gem - Curtis Scott (1pts)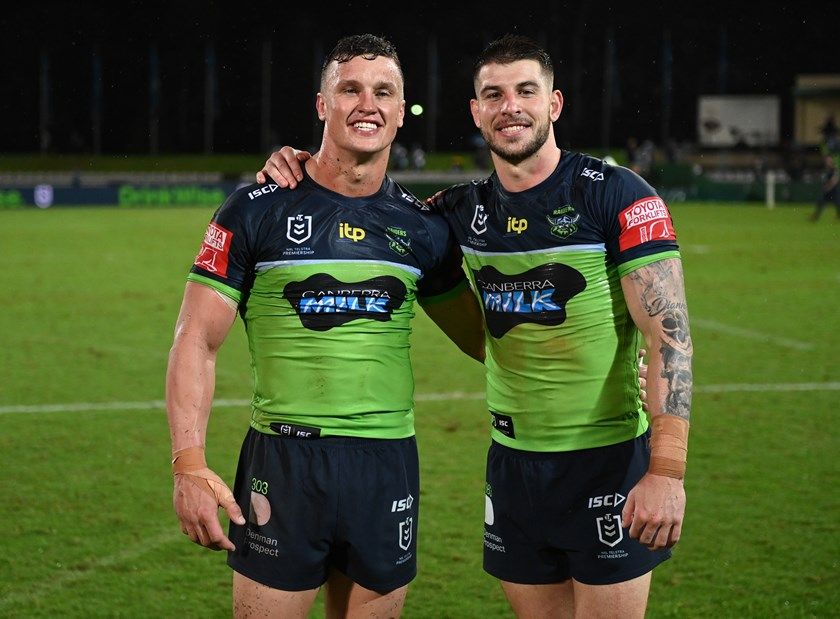 Great Scott! I umm'd and ahh'd about giving this to Curtis versus giving this to Kris. If it wasn't going to be about the forwards, it was about the centres tonight. In the end it was the 1% play following a Sharks attacking error where he scrambled to recover possession, that earned him the 'nod' this week - not that anybody reads this drek.
The Raiders, the media and Curtis seem to believe that he has completed his reversal of fortunes. It looks to be the case, too - he's fitter, stronger and quicker. When your heat level is low and fitness levels are high, that normally means rapid improvement is on the cards. I'm looking forward to it.
Catch You Next Time,
Vulkan
Did you like this article? Did you hate it? Go over and keep the discussion going on the official Vulkan's Corner facebook page! - whilst you're at it, leave a like!