So when I said "next week, the Raiders take on the Roosters", what I actually meant was the Warriors.
A little baby milestone of a wannabe sports journalist. Telling my first outright lie. I'm so proud I could have no integrity or standards.
Before I get too excited, it has been a whirlwind week for the Raiders. Six weeks (or thereabouts, I can't be bothered counting) since Curtis Scott allegedly punched someone's lights out at Kokomos, the Raiders finally pulled the trigger and sacked him.
Last year, Curtis Scott was under the cloud of another case against him. Now, that case turned out to be rubbish and motivated by a sense of saving face. Which apparently is a running theme of the thin blue line in New South Wales.
But it appears Curtis Scott took the wrong lesson out of that.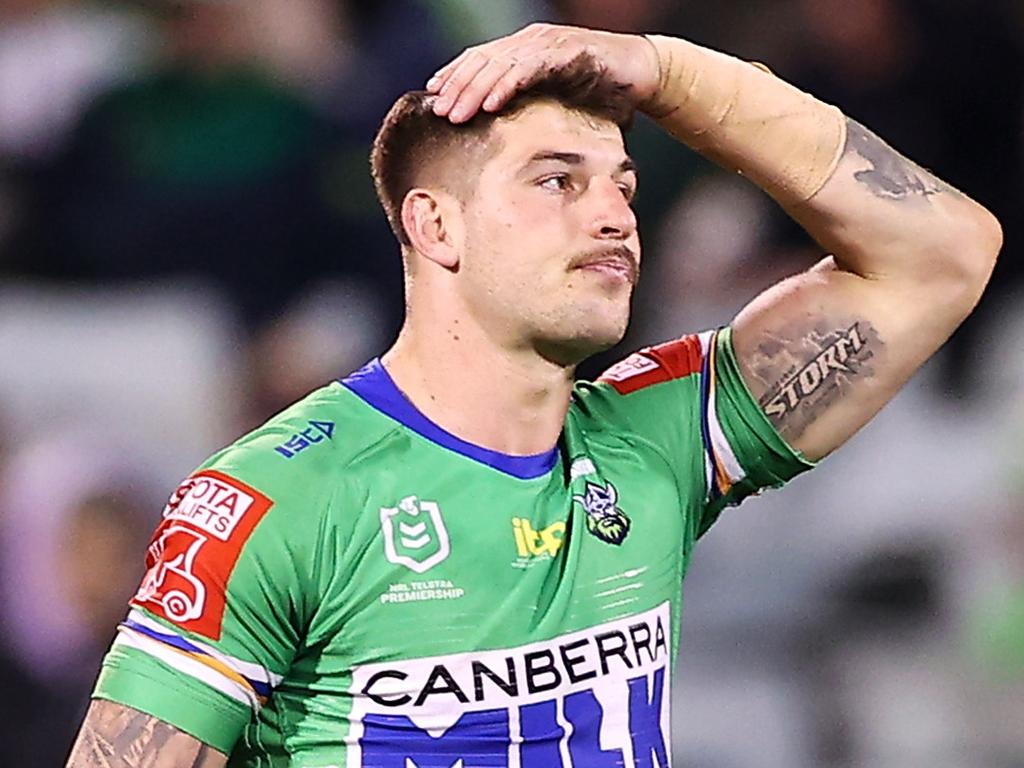 So when this time he was the aggressor and punched someone's lights out (again, allegedly) it was much harder to feel sympathy for him. I had a lot of time for Curtis Scott as a player, considering that he had a much more even keel than Joey Leilua. But it's hard to keep turning up in defence (geddit) to defend someone who has no self-awareness.
As for it being "a bad look for the Raiders" - this is much tamer than sacking George Williams because he wanted to go home. This is sacking someone who could not keep their nose clean, even when there were plenty of incentives to do so. You cannot carry people forever. Either they have to shape up, or ship out. It appears Curtis Scott was not prepared to shape up and so was shipped out. Hardly a "bad look".
And, true to form, he's already getting offers from other clubs. It's not like he's out in the cold. Even though he probably should be, for longer than thirty seconds.
To football, then.
The Warriors scored inside sixty seconds - Wayde Egan busting the door down and running past Josh Hodgson as though he wasn't even there and the tone was set early. The Warrior pack were bending the line and the Raiders had replaced their grippo with sticks of butter in the first half.
The Raiders couldn't capitalise on Warrior errors and made several of their own, including whatever the reverse of a pearler is to give the warriors their second through Rocco Berry. Although if you ask me, Bailey Simonsson was held by Dallin Watene-Zelezniak.
If that try was contentious, the third Warrior try wasn't. A clean miss from Bailey Simonsson again, resulting in a cherry pick for DWZ. Simonsson was hooked soon after. He looked like he was limping, but, let's level with each other. He was moving fine before and after, CNK was on the bench, he got hooked.
And then, like flicking a switch, the Raiders awoke from their reverie. It started slow, but the forward pack started to lift. The forward battle started to shift in favor of the Raiders. Then on the stroke of half time, out of nowhere, CNK bustled over for a try.
A long way off at 16 - 6, but out of nowhere the momentum had been arrested and the Raiders had found the breath of air they needed.
If they had managed to break the momentum at the end of the first half, it was well and truly reversed when Seb Kris charged over from a move that will look very familiar to Raider fans, as it went through the hands to the left and ended with Seb rolling over onto the try line.
And just like that, it was a one score game.
From there came a series of near misses as the Raiders. Fifteen minutes of trench warfare between the sides (and a near miss from Addin Fonua-Blake) had kept the Warriors in front, but they never looked comfortable. Eventually, Canberra made one of their chances stick from another long range spread to the left, as Wighton, Rapana and Kris combined to charge over and level the game up.
Then another long period without score. Their lead having evaporated, the Warriors had lifted. On more than one occasion, some unpleasantly timed dropped balls and a really greedy penalty goal attempt seemed to give the momentum and initiative back to the Warriors.
But for a change the Warriors couldn't execute. Half-breaks were covered and a field goal attempt from Warrior prodigy Reece Walsh missed. Despite seemingly throwing the game away, Canberra weren't dead yet.
Then, once again, spreading on the left, Jordan Rapana blasted past the Warrior defensive line (thanks to some excellent leadup work from Hudson Young) and scored the match-winner. From 16-0 down, the Raiders produced an uncharacteristic second half and were going to walk away with the two points.
And then because the footy gods are assholes, they had Reece Walsh drop a sitter and let Hudson Young charge over to bolt an extra six points onto the final margin.
Whilst this is a great result for the green-eyed monster that lurks within me, the Raiders don't really deserve to play finals football. They gave the Warriors plenty of ball, in good territory, had bad errors at key times and of course, though it's great to have a comeback, it's not great to start 6 points down, then leak 10 more.
At best, a free hit. Still, got to be in it to win it.
What is clear is that CNK is very integral to the side. Much more integral than we thought. Because they looked like a completely different side with him at the back. More on that in a moment.
The Parting Shot
Not too much to say here. I feel pretty mild about the Warriors.
Reece Walsh is a pretty good fullback, much like Kalyn Ponga. Overpaid, but clearly talented, if you put good football players around him, he'll be a megastar. But at the Warriors, he may have to settle with superstardom.
I'm not sure if it's irony, but it is very interesting that the first meeting of these two sides was decided by an RTS hand after the Raiders lost three players and had no bench. The Warriors lost former Shark Chad Townsend early, then Wayde Egan and then Addin-Fonua Blake. The end result was much the same as round 3, just, reversed.
Funny how that works.
One small thing which did infuriate me was Marcelo Montoya in the second half once CNK came on. In three sets - high shot, tackled in the air, high shot. I know Mr. Montoya will not read this column, but if he ever finds it, just let me tell you, Mr. Unwanted Bulldogs Winger, that you are a grub. Enjoy another season in the cold dark of the bottom eight.
Vulkan Medal Points
Man of the Match - Jordan Rapana (2 Pts)
I have run out of superlatives for this man. Win, lose or draw, Jordan Rapana tries his hardest. He was at it again tonight, working his guts out. He took tough carries, busted tackles and was on the end of some fantastic movements.
If Jack Wighton is our build-around, Jordan Rapana is the living, breathing beating heart of the Raiders. He has been all season. They rally around him more than anyone else.
Sing it loud, sing it proud - it was on you tonight, Rappa.
Le Hidden Gem - Charnze Nicoll-Klokstad (1 Pt)
I mentioned this before, but the Raiders looked cooked halfway through the first half. They got blitzed in the air, the forward pack was getting torched, they looked listless.
Then Simmo gets hooked and it's like a switch gets flicked.
The Warriors didn't score a point after CNK came on. In response? The Raiders scored 28. He needs more time to get match fit - but if the Raiders are going to get to their free hit, they'll need CNK.
Despite the season from hell, multiple player sackings, a monstrous losing streak, the Raiders still have one foot in the walled garden. But now comes one final test.
The chooks. Win and you're probably going to get that free hit, against the chooks, which you have a good shot to win if you've already beaten them once. Lose, and well, you're probably where you deserve to be.
I'll see you all next time.
Catch you next time,
Vulkan
Did you like this article? Did you hate it? Go over and keep the discussion going on the official Vulkan's Corner facebook page! - whilst you're at it, leave a like!