Hoo boy. This is not what I wanted to do on a Monday.
This was a challenging article for me to write. Partially because it's the first loss in some time that caused me actual mental pain (sorry, darling wife), but partially because I promised myself I would always try to be 'green-eyed' when writing each article.
Any hack can tell you the Raiders didn't play well on Saturday night. This resulted in a bad loss. But anyone who cares has already watched talking heads wax lyrical about the Raiders and what their problems were. Solutions take brain power and don't sell papers and air time the same way. Much like a critic can tell you a meal is awful but cannot tell you how to make a better dish.
Phrases like "Premiership Window Closing" have been thrown around. But this isn't what I wanted to achieve with a weekly column about my football team. It's a labor of love, not cash for comment. But this week does present some real challenges. After all I cannot make a better football dish but I can tell you the Raiders did not meet their own lofty heights.
There is one adjustment I'd like to make. In the case of a loss, I will not award Vulkan Medal points, unless there is a significant case to award points.
What follows will be not direct criticisms. Justified in my head as not talking the Raiders down, but suggesting ways to improve. Maybe it'll be seen that way. Maybe it won't.
Raiders Do It Big on Saturday Night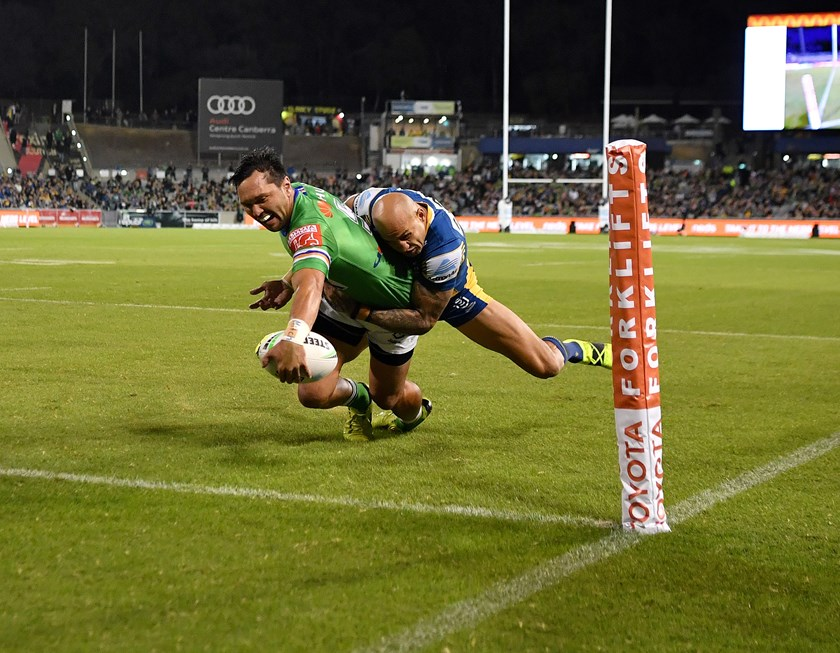 Regardless of what happened on the field, it was a great turnout at Bruce Stadium. 20,000 fans from Parramatta and Canberra made the trek to the venue, making the atmosphere electric. No doubt the patronage will slide in weeks to come, but for one, brief, glorious moment, the sight of (mostly) 20,000 fists in the air for a regular season game made my heart turn green.
This was of course aided by the very vocal crowd of Parramatta supporters in the audience, but it shows that there's an increasing appetite for Rugby League in Canberra. Increasingly it's becoming trendy to wear their gear and to go the game. How much of this is linked to their on-field success and how much is it a result of Canberra growing to back "their" team I'll never know, but even when playing against non-Sydney teams like the Warriors, ever more Raider faithful are making their way into the church.
Regardless of the outcome, more eyes and more press can only be a good thing.
It's Time to Rethink Bench Strategy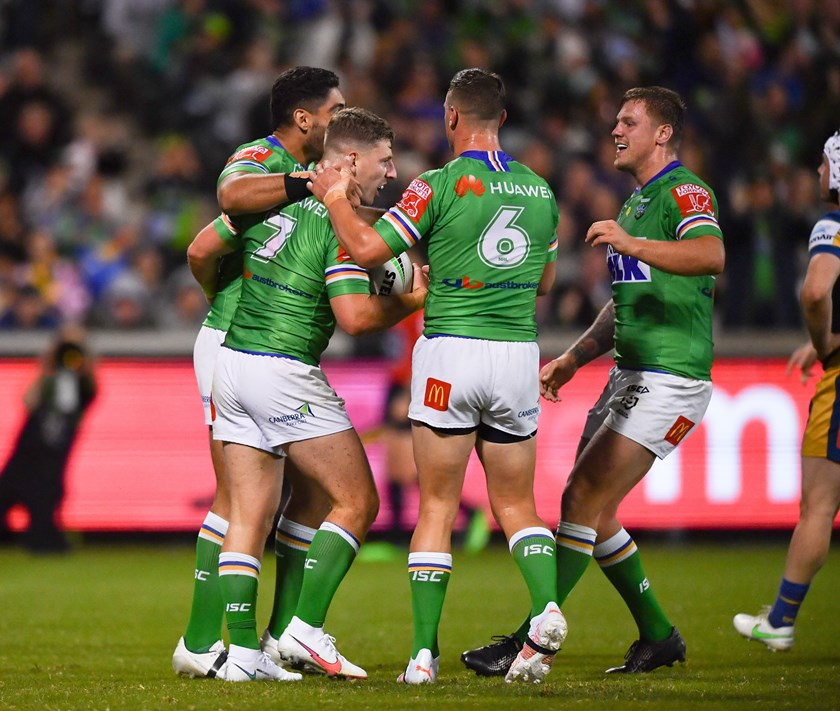 We know the game has been made faster. In this considered pundit's opinion, the issue isn't the speed of the game. Whilst I didn't like teams giving away a mountain of penalties on their line, I thought the 6-again rule was an excellent change. But they're not all winners.
The public can lampoon scrums all they like, saying they're not "proper" scrums. That is correct - because real scrums result in neck injuries. It's far safer to play pretend. The rule change stopping scrums taking place after the ball is kicked out on the full is a poor change.
Brad Fittler had it right - the players need to rest at some time. Kicking to result in a scrum allowed the defending team (or the attacking team) an important tactical option to blunt offensive momentum, or to allow their side thirty seconds to recover. Yes, this year the game of Rugby League will have an emphasis on fitness and mobility, but that doesn't make the game better. There is more to a game of Rugby League than fitness and speed.
Whilst we're stuck with this product (however long it lasts - it may last forever), it's time to rethink who is on the bench. Don't get it twisted, I think Siliva Havili is a fantastic player. But he's not a middle forward and shouldn't be used as one. Three forwards and a utility is workable, but two forwards and two utilities appears to be the sub-optimal way to organise your bench - particularly with the 18th man available when one of your backline gets injured or concussed.
We've seen this happen to the Raiders before - being paralyzed by having too many players in the same position - the end result was a pedestrian on-field product and a 10th place finish. The Raiders must decide who becomes the utility, and who becomes the reserve grade rake. Both can do either, but I feel a choice must be made - ideally before the season becomes too far gone.
Tom Starling Needs More Game Time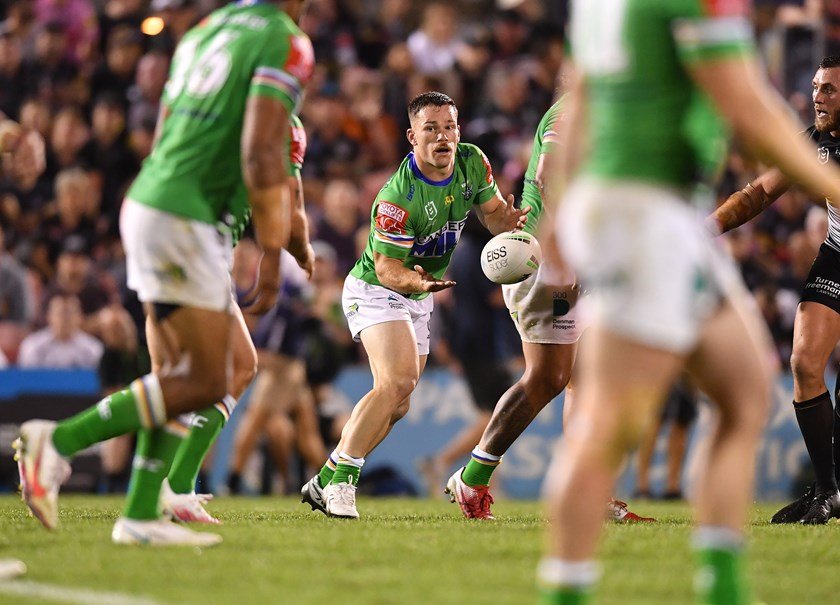 Admittedly Mr. Tom came on too late in the second half to affect the outcome, but last week against Penrith he showed what he was capable of and nearly reversed the outcome of the game. He showed glimpses of that again on Saturday night, despite being allowed less than a quarter of the game to display his obvious skill and talent.
Josh Hodgson was by no means awful, but the ability for a side to mix up its attacking options and vectors is the difference between being stuffed for three sets and crossing the stripe. Infact, Josh Hodgson demonstrated an excellent mixup to deliver a fantastic try to George Williams. It's clear there's potential all over the park.
The Raiders might just need to wish upon a Starling.
The Parting Shot
It's always tough to sound off at the opposition. Truth be told I like Parramatta. They've been in the basement for so long, they deserve their time in the sun. Of course, it shouldn't be at the expense at the Raiders, but I also want a pretty pink birthday cake with my face on it.
Last week I ripped the Panthers for cheering on as Villiame Kikau caught Charnze with a horrendous swinging arm. But there was nothing like that on show last night. Parramatta played clean, up-tempo, self-focussed football. They'll be there or thereabouts come season's end - but they have a serious question mark over their form in finals.
Will this be the year? I dunno - like I always tell my work Fantasy Comp, heavy is the head that wears the crown. Being so good all year brings pressures all of its own - and in the past Parramatta have struggled to live up to the expectations the media set for them.
Plus Mitch Moses is a cavalier, run-and-gun halfback. If he's on, he's on, but can go cold quick - once that happens, well...
Vulkan Medal Points
Le Hidden Gem - Caleb Aekins (1pt)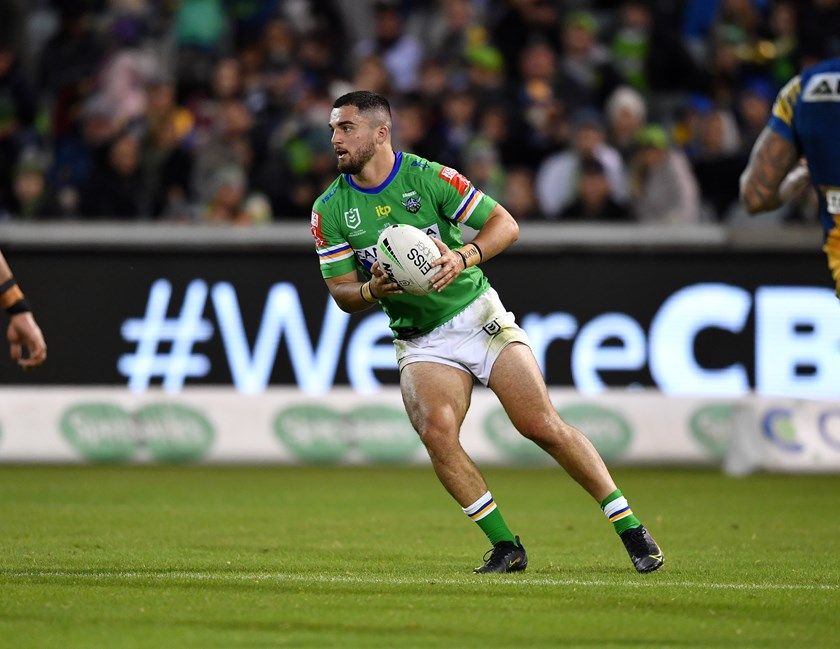 I said I wouldn't award points unless there were exceptional circumstances. I consider Aekins' club debut to be one of those.
In a beaten side, Caleb Aekins was fantastic. He carried the ball for almost two hundred meters, was a safe pair of hands at the back and didn't stop trying. He also had some strong carries once the Eels middles started to show fatigue. He did himself no dis-service and whilst his spot will be returned to Charnze once his neck recovers from Villiame Kikau's dog shot, I hope he finds his way to a wing or centre spot.
Overall the season is far from done. There's another twenty rounds between here and the end of the season. Whilst starting strong is a boon and makes it easier to make the finals, the aim isn't to coast in and having a free hit. The Raiders are always traditionally slow starters. Right now there's plenty of time to iron out issues with attacking, team structure, all that stuff.
The glass will still be half-full with green milk for a while yet.
Catch you next time,
Vulkan
Did you like this article? Did you hate it? Go over and keep the discussion going on the official Vulkan's Corner facebook page! - whilst you're at it, leave a like!