So it hasn't been a hot minute now since I last posted something on the blog. But my enthusiasm to document my journey to share with you all remains.
This month has been a bit quieter. This is mostly because my hobby-related discoveries have been reduced in favor of just grinding out the same thing over and over again. As it turns out, painting MDF is not the same as painting plastic.
In case you needed reminding, these are my goals for this year:
A full table (Up to 60x44) of 28mm scale terrain for Warhammer 40k and Necromunda (I'm playing Necromunda now)
A full table (Up to 6x4) of 6mm scale terrain for Blucher and Team Yankee.
And optional goals of:
Finish 2,000 Points of Tyranids
Finish My Orlock Gang
A 4x4 Table of Dead Man's Hand Terrain
I have increased the number of fully painted and varnished buildings to six - including one that I nearly killed by mucking up the varnish.
I have increased the number of fully painted and varnished buildings to six - including one that I nearly killed by mucking up the varnish: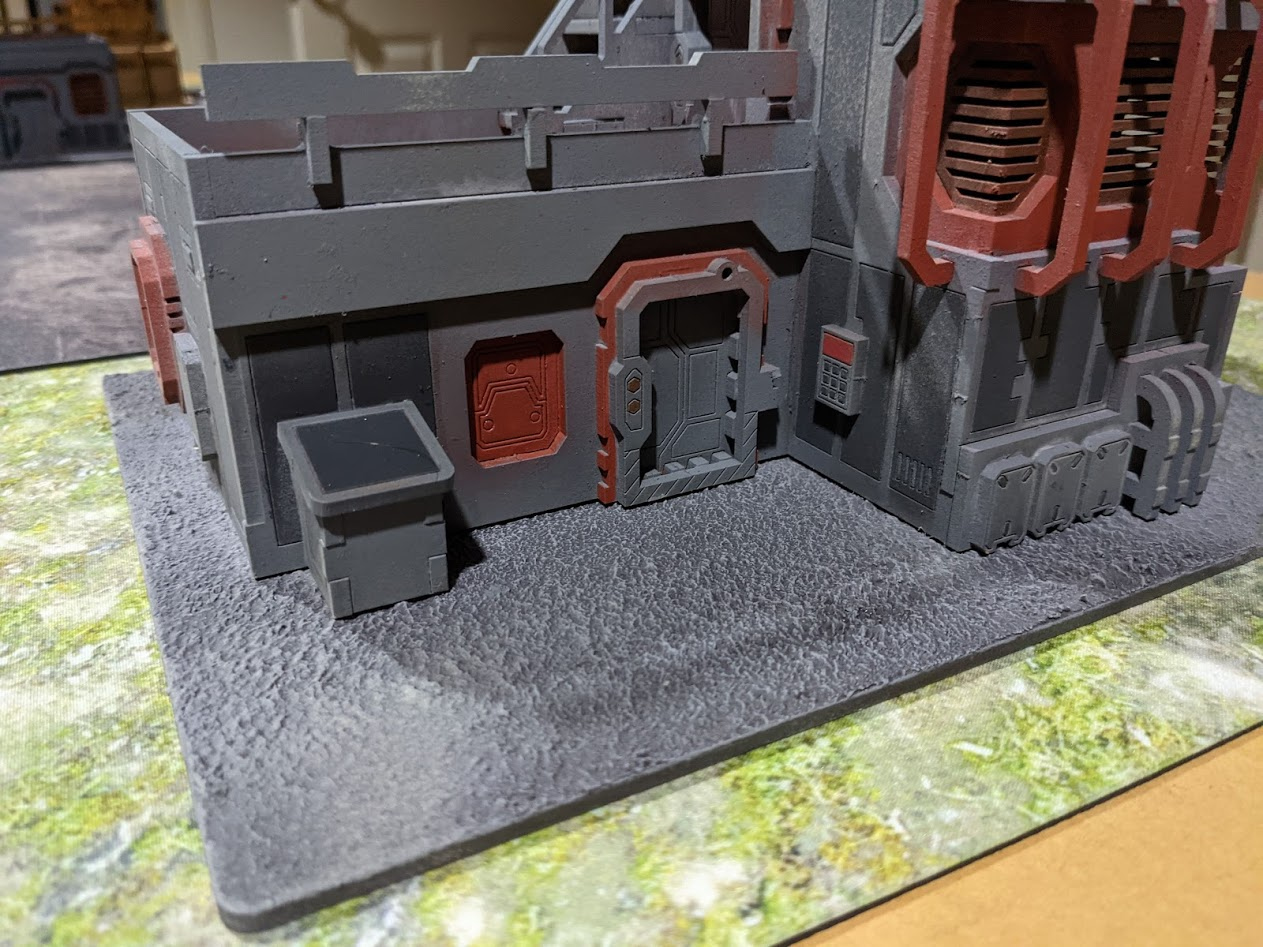 Yeesh.
Anyway a fresh coat of varnish sorted that bad boy out. Kind of. I repainted the base and didn't let it dry enough and used a brush that was too wet. I could probably have one more go but it didn't seem too bad when displayed alongside the rest of the terrain pieces.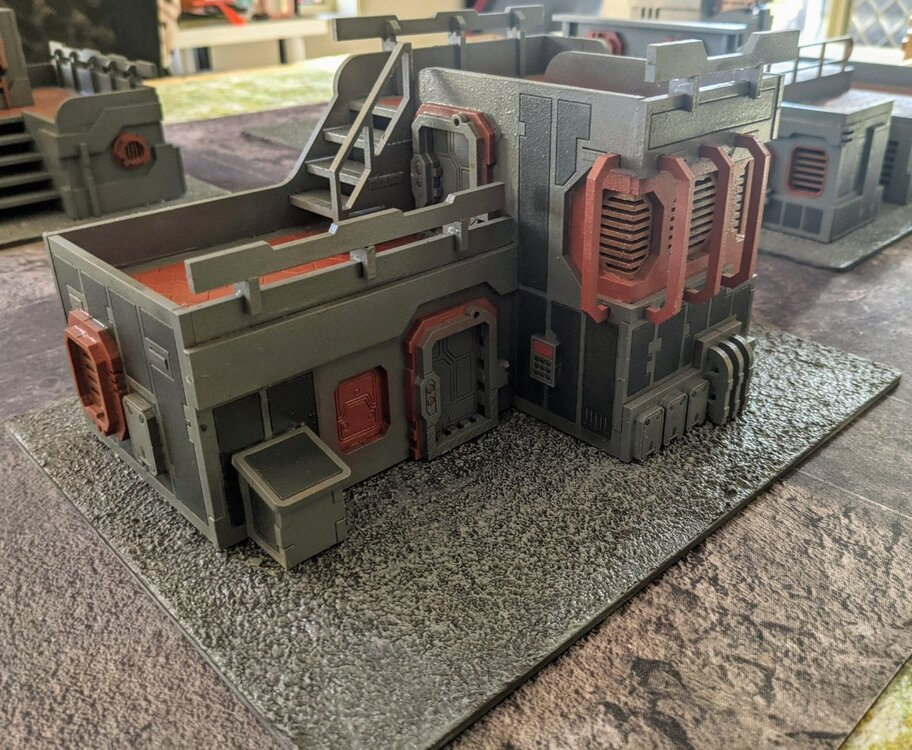 Outside of that little drama it has been smooth sailing. I have finished six buildings and gotten started on a seventh, leaving me with just three to base and complete:
I also laid out the table for a game with my Dad (which, if you want to read, is here.) I was pretty happy with this layout. Only one or two clear lanes of fire and plenty of room to hide: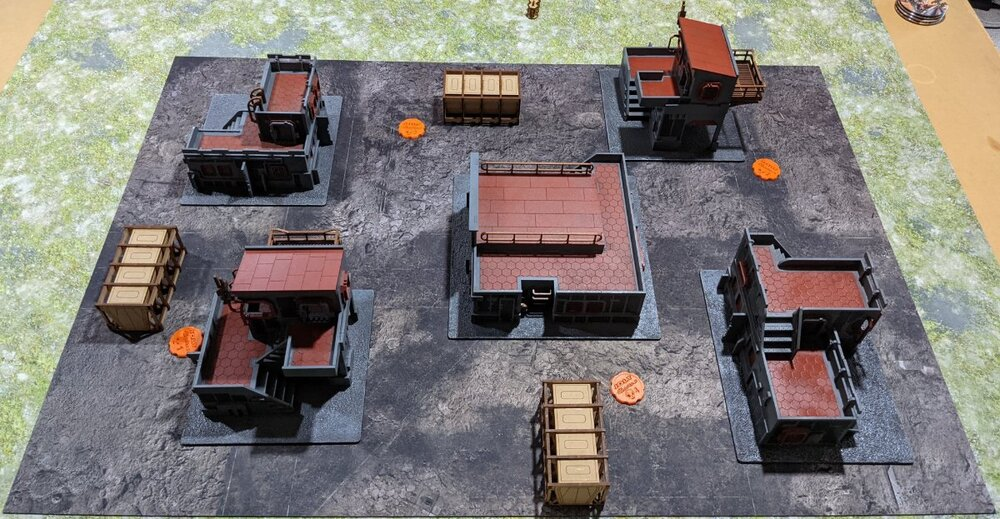 But, to make sure I have the optimum gaming experience, I have also got some barricades and MDF bases (again, thanks to the good folks at Laser Shark Designs). These are partially for Necromunda and may make an appearance in larger games of 40k - we'll have to see.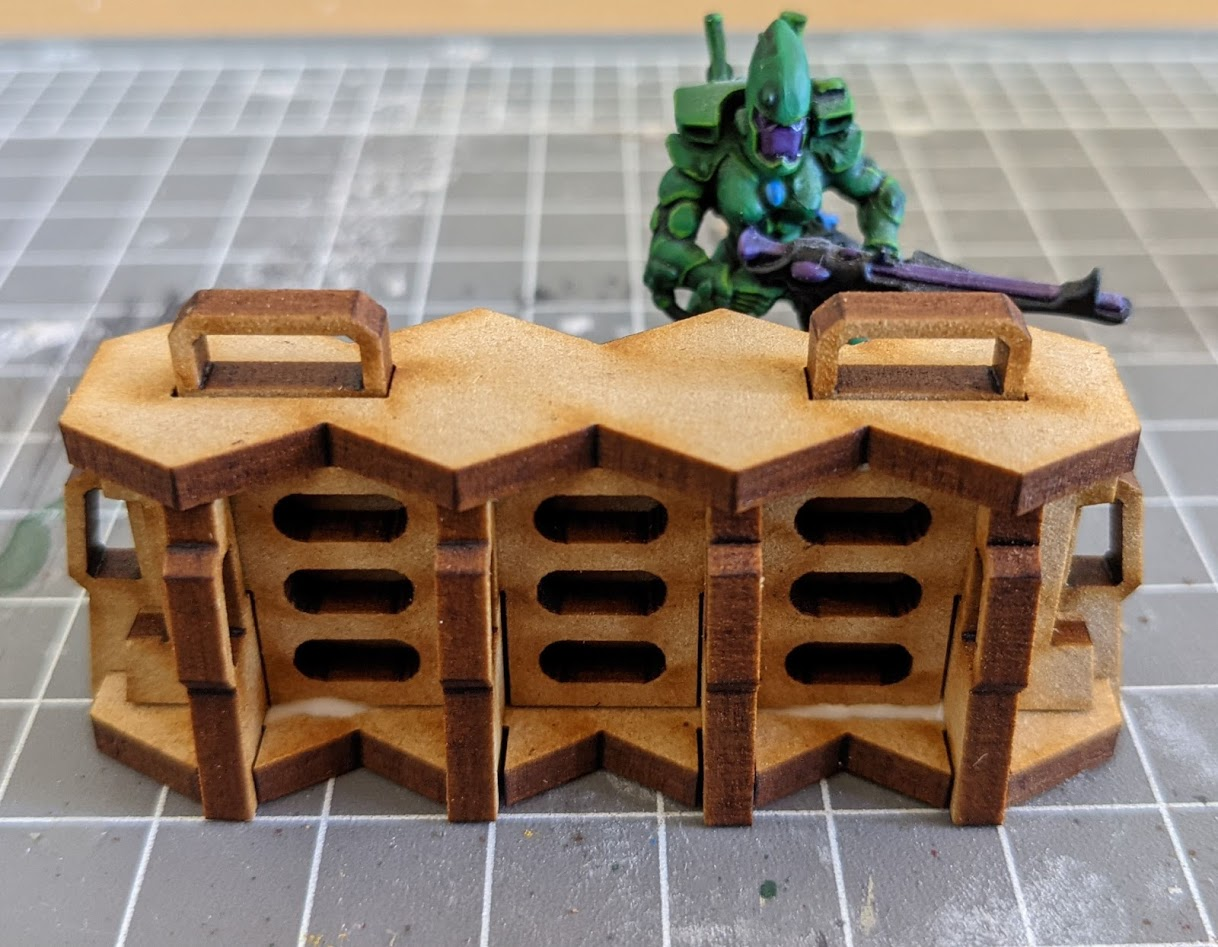 Progress has been slow overall because I have been thinking a lot about paint schemes for my Orlock gang. I wanted to do a motorsport livery theme, which involves getting a perfect blue. So I experimented heavily with my Librarian, covering him in shade after shade of blue. Though I didn't find the blue I was happy with, I did find a blue that looked good on the Librarian.
This neurotic search for blue coincided with the forum doing their monthly hobby competition - with a theme of magic. Depending on who you ask, Psykers, like Librarians, are totally magicians, so it seemed to fit. Anyway I burned the midnight oil a few nights and came up with this: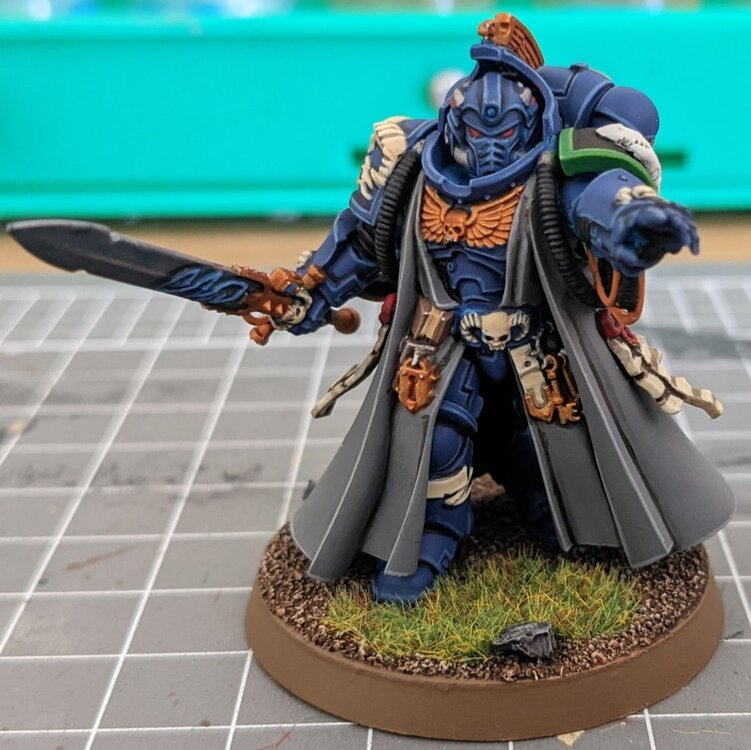 Side shots will be later in a different article. Because I am if nothing else, keen to continue to pad my blog with articles released at an ever-increasing frequency in order to give an illusion of having lots of articles.
That's all for my hobby pledge this month. With my Librarian out of the way and my buildings progressing nicely, I'm getting close to having a finished table sooner, rather than later.
Catch you next time,
Vulkan
Did you like this article? Did you hate it? Go over and keep the discussion going on the official Vulkan's Corner facebook page! - whilst you're at it, leave a like!