Another round (nearly) done, another match report to file. The Raiders have another two points in the bag. I will spare a thought for my AFL team, who have now slumped to 0-3, having lost four players to lose to Melbourne by 32 points. One door opens, another door slams shut, I suppose.
But it got me quite philosophical about the nature of sports. In particular, the phenomenon that is the sports fan. We're a rabid bunch, utterly dominated by tribalism and with a bias that would make a conservative television network blush. United in a common cause - that being to watch our football team.
But translated into more scientific terms, sports fans are motivated to watch sportsball to experience a rush of dopamine unlike any other. Watching football of any type, when your team is winning, dishes out the good chemicals like it's going out of style.
But with one hand your body gives the good chemicals, with the other your body gives you the bad. Which is why I totally understand why some people would stop watching their football team because the crushing weight of bad chemicals is just too much, week in, week out.
I'm a special breed of sports fan. I'll watch my team get belted out of sheer bloody-minded determination. I have watched the Manly Sea Eagles put sixty points on the Raiders, on my birthday. It's called Masochism. I'm not sure I recommend it.
That's enough fluff for one column, let's tell some stories:
Raiders Deliver Comprehensive Performance
Yes, it took four rounds and an unexpected detour, but the Raiders finally did it. They allowed their defence to provide chances in attack. Williams and Wighton kicked well (mostly) and Hodgson kept the engine room supplied with plenty of quality oil (poor analogy for 'dummy half service').
The real story is the Raiders defence. Let me be very clear now - there were no injuries and so the Raiders had an undisturbed rotation. Getting run down against the Warriors where everyone perished is the outlier. It is not the rule. I hope. Even with two and a half forwards (Havili is primarily a rake - although is built like a brick outhouse, so can be whatever he wants to be) there was plenty of gas in the tank to get home.
Detractors to the Raiders' performance will point to the loss of both starting halves and two miracle trysavers. But you can only play what is in front of you and the Raiders still had to be good enough to outplay whoever deputised in those spots. It is very easy to forget a player has to be very, very good at Rugby League to make an NRL side. With the exception of the Knights in 2016. The Titans didn't just pull two random bodies to put in those spots, they put players who are talented, if not familiar with the role, in those places.
The NRL doesn't have some gentleman's agreement where Justin Holbrook swaggers over to Ricky's coach box and says "ok old sport, we've lost our halfback, we'll just concede on the spot, okay?". Yes, the Titans didn't have the best players in the best spots. Yes, it probably disjointed the attack. No, it doesn't invalidate a strong Raider performance.
Raider Forwards Keep Improving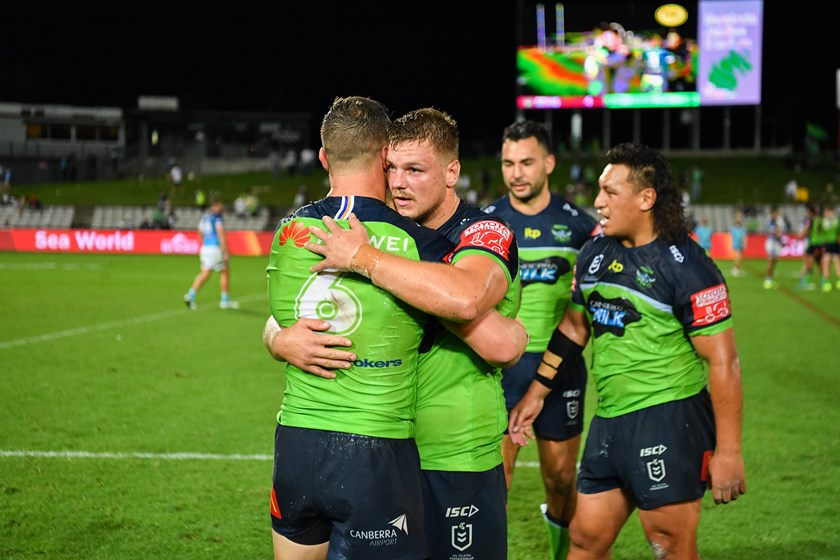 Four weeks running I have made this point in various ways. I will continue to say it. The Raiders' forward pack is getting better every week. They are getting stronger. They are hunting as a pack (clever girl). Ryan James has this strange bromance thing going with Josh Papalii, which is awesome. Ryan Sutton was tremendous at lock. This week they did it without big Joe, too.
Again, whilst you can prepare for the Raider pack and you can highlight individual members, each forward is skilled enough to present a threat. You just cannot keep them all down. The forward that flies under your radar is the one that hurts you.
In the case of the Titans, they settled for keeping neither Josh Papalii or Ryan Sutton down, who both crossed for power scores - one broke the game open, the other sealed it in a nice little package. Quite poetic, really. If the Raiders are going to go deep into the post-season in 2021, it will be on the back of the power on the front lines.
'Toots' Locks In Another Record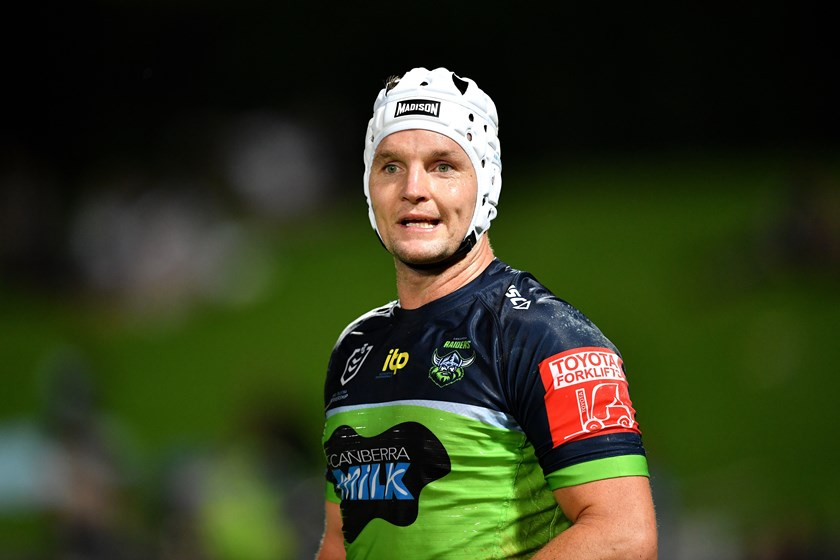 With an eight point haul this week, Jarrod makes it to level fourth on the all time scorer's list. It'll be a close run thing to see if he makes it to Cameron Smith's record, especially with problems in his shoulder and knee starting to creep in. But to make it to equal fourth (and outright fourth next week unless there's a shutout) is an amazing feat for one of the game's quiet achievers.
And I'll be the proudest Raider fan of all if he makes it.
Jarrod Croker's contribution to the Raiders can be summed up in two words. Force. Multiplier.
In a lot of ways, Jarrod Croker is a lot like Steph Curry. He's not the biggest, he's not the best. He's not a slouch, either - you don't play for as long or score as many points as Jarrod Croker does without being a bloody good footballer. But whatever shortcomings he has, he makes up in being a rallying point for the side. He works hard, he motivates the team and has the respect of everyone in that side. When Jarrod's not playing, the Raiders aren't as good. It's as simple as that.
The Parting Shot
In private circles I have declared I am not the greatest fan of the Titans. It does feel a little bit like I'm being a bully and hammering a club that has had it rough for at least trying to make some big splashes to change their fortunes.
But maybe that's why I'm angriest at them. Because that's all the Titans seem to do. They find whoever the best players are on the market at the time, give them large amounts of currency and then schlep them up (or down if poached from Brisbane or North Queensland) to Surfer's Paradise to suck for 26 rounds of the year.
It would be harder to name a player whose career hasn't been comprehensively ruined after a stint at the Titans. For fuck's sake, half of their club records are owned by Scott Prince, a man who is most remembered for his time at the Wests Tigers!
And don't get me started (or do, because I am a self-starter sometimes) on what the did to Shannon Boyd. When he moved up the coast in 2018 he was one of the Raiders' best forwards. He spent two seasons at the coast in which he was injured, then benched, then retired. Thanks for ruining one of my favourite Raiders, you bastards.
Until the Titans can figure out how to develop juniors and have build-around players at the club who aren't bought and paid for from other clubs, they will never have long term success. Or even success in general.
Vulkan Medal Points
Man of the Match - Charnze Nicoll-Klokstad (2pts)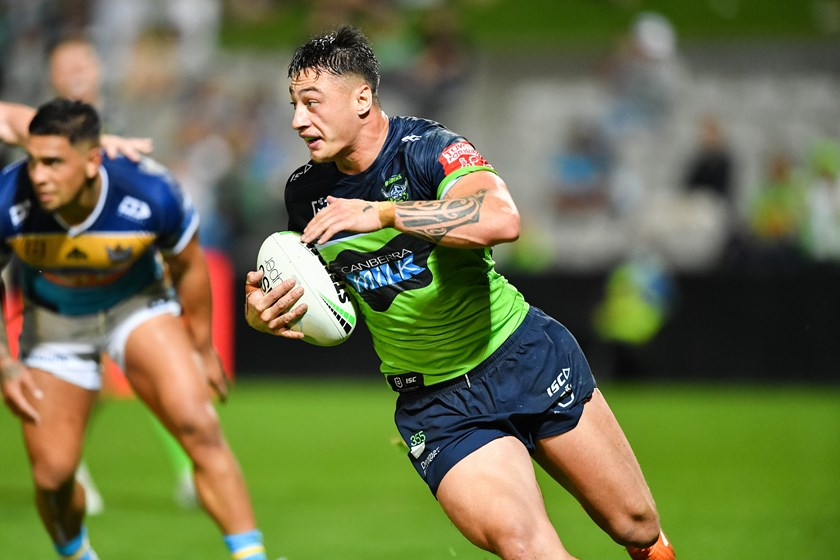 How do you solve a problem like fullback. I tell you how - you get 'CNK'.
Safe under the high ball, amazingly consistent and producing a miracle of a try-saver, Charnze did it all this week. Go-forward coming out of the backline? CNK. Safe pair of hands? CNK. How about preventing a certain four-pointer once and almost twice. CNK.
A worthy winner indeed.
Le Hidden Gem - Jordan Rapana (1Pt)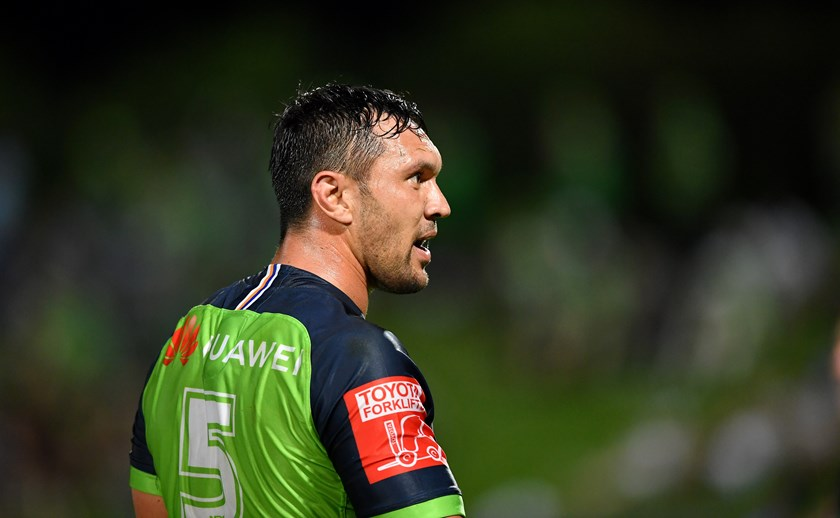 Dubious meme-worthy captain's challenge aside (which has already been covered to death, read about it elsewhere). Jordan Rapana is still one of the Raiders' best players, every week. He smashes the esky with his boot when they win and he does a lot of tough 1% stuff that helps when the fatigue sinks in.
'Rappa' did an unreasonably large amount of work getting the Raiders through their first two tackles of most sets against the Titans. When all the middle forwards had their hands on hips, Jordan was there to lighten the load. He also scored the first try through excellent support play (otherwise known as 'being the right guy at the right time').
When he finally leaves for greener pastures, I will be sad to see him go. I will enjoy watching him whilst he's here.
That's all there is, Germalism wise, this week. Another tough test this week in the Panthers, at Panther Stadium. Time to see just where the Green Machine stacks up in 2021.
Catch you next time,
Vulkan
Did you like this article? Did you hate it? Go over and keep the discussion going on the official Vulkan's Corner facebook page! - whilst you're at it, leave a like!