It's been an interesting week in the footyball world across both codes. Unfortunately I'm not a very good not-journalist, so you'll have to go elsewhere for your poorly formed opinions about anything from the AFL, and in general, other footy teams.
That doesn't include Origin, and congratulations to Hudson Young who found his way into the starting second row for game one. John Bateman, before he tore the club to shreds in the court of public opinion, marked him for greatness, and it seems that prediction was spot on.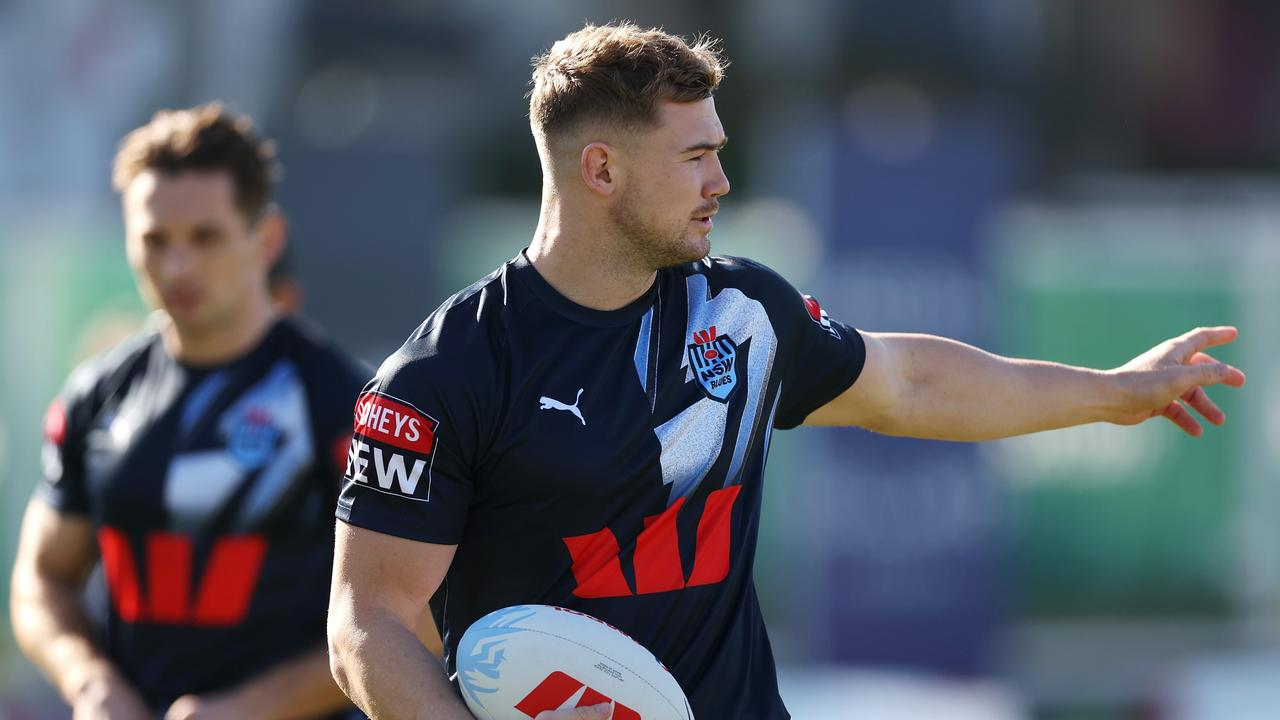 The fact his selection game after a whopper of a loss to the Sea Eagles should tell you that Brad Fittler believes in Hudson's current and potential ability. It's a big confidence boost, and provided he doesn't get poached by another club, it'll be a massive boost for the Raiders in future.
As one player enters the arena for the first time, two more have indicated they're out of the game for good. Jack Wighton, likely as a condition of his signing with South Sydney, has played his last for the Blues, and Josh Papalii retired this week. Likely to pre-empt not being picked by Billy Slater, but I'm not here to throw mud at one of Canberra's favourite sons.
This meant that when the Raiders came to town to play against South Sydney, Latrell Mitchell and Cameron Murray were heading for the exits. Also, Campbell Graham was injured, but I don't know enough about him to care.
It wasn't all sunshine and rainbows for Canberra, though. As Cody Walker and Damien Cook would still be in town. Despite my burning hatred for the inferior green-coloured team, they're bloody good footy players - and a brittle forward pack would be easy pickings for those two.
To make matters worse, Hudson Young's absence triggered a reshuffle in the forwards. To win the battle, the rest of the pack would need to lift to compensate.
The Raiders received a much needed boost as well, with Zac Woolford returning to the side, taking the place of Danny Levi.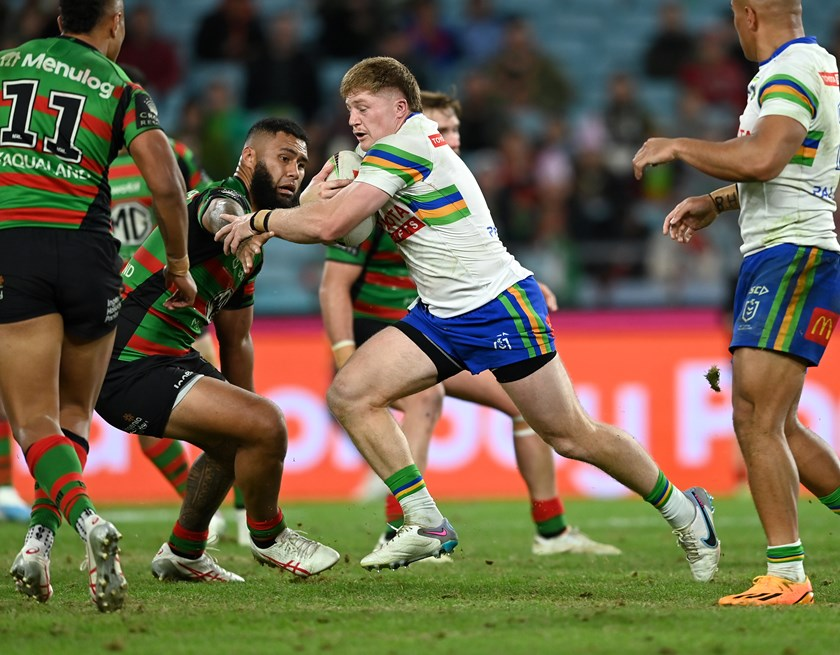 Despite what the pundits said about Canberra's chances in the lead-up (which were likely correct, considering the shitcanning the Raiders received last week), the Raiders weren't keen on leaving two points on the table.
South Sydney scored first, in a practiced move where Jed Cartwright barged past Jarrod Croker. It appeared the game was going to be a walkover for the Bunnies, provided they continued to receive enough ball down that side.
Instead, Canberra steadied the ship, and piled on three tries in the space of five minutes. Corey Horsburgh bulldozed over the line first, planting the ball down right next to the sticks, demonstrating his pedigree as a future Origin player. Albert Hopoate, in a pair of rehearsed moves, scored his first career double.
The second try came off some brutal running from Papalii, Saulo and Tapine. Big Joe in particular should consider himself very unlucky not to have scored himself. Fortunately, Albert made sure the effort wasn't wasted.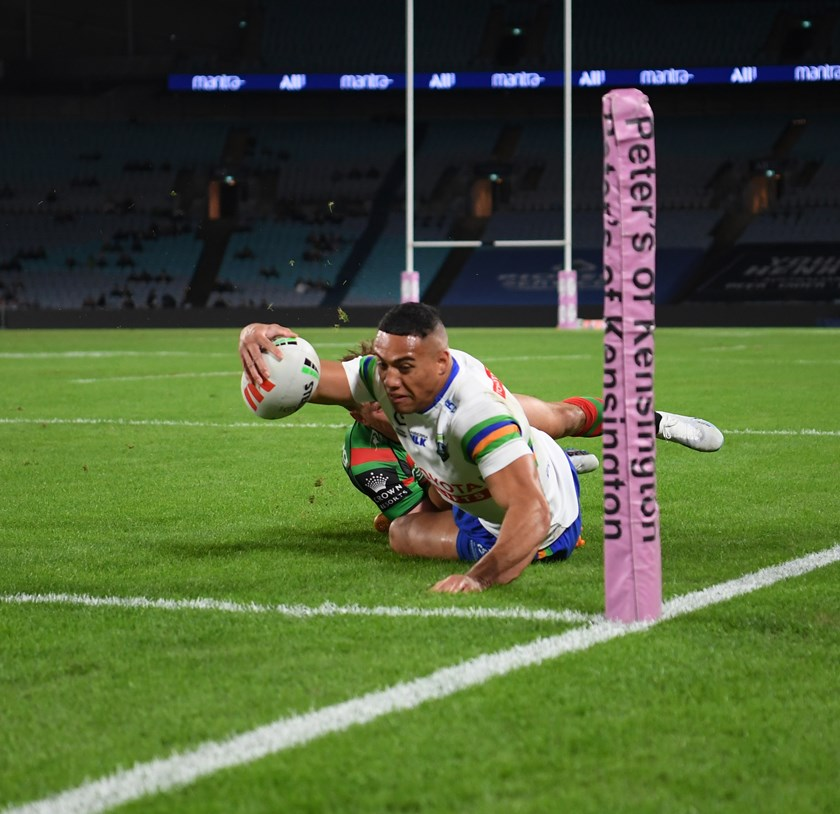 All of a sudden, the "Cardinal and Myrtle" were starting to look like the "Cardinal and Myth". For a change, Canberra were the side springing the ambush.
Things started to settle into a grind, until Souths stole the momentum back through Alex Johnston. Blake Taafe could not add the extras, however, and the difference would remain eight points.
Jarrod Croker looked to have Canberra's fourth, however he was held up at the last moment by some desperate Bunnies defence. The game would remain for the taking, for now.
A late penalty goal thanks to an untimely strip attempt from Keaon Koloamatangi would put the lead back to ten going into the half-time break. The question was, would Canberra be able to maintain the intensity, or would the Bunnies take the game back.
Twenty minutes later, we had our answer. South Sydney marched down the field and kicked down the door on the left side. Blake Taafe had corrected his radar, and bolted on the extras. Moments later, the Bunnies rolled down the field again and easily punched through for their second in five minutes. Another conversion later, and South Sydney had the lead.
Determined not to let the game slip, Ricky Stuart went to the bench and unleashed the pocket rocket himself, Tom Starling. Two minutes later, the Raiders took the lead back, scooting around some shoddy edge defence. Curiously, Jack Wighton overran the pass, and looked frustrated as Jarrod Croker instead shoveled the ball to Starling to complete the try under the sticks.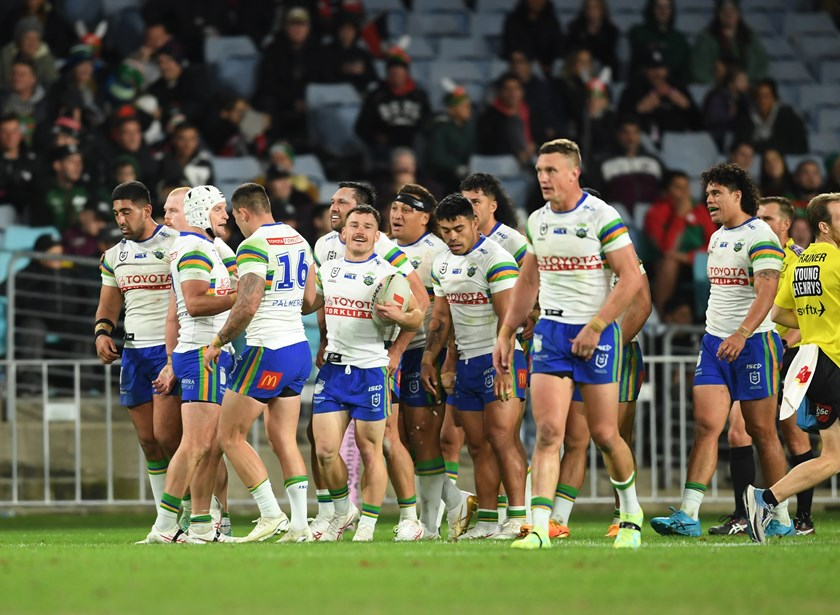 There was an extended break in play that we'll discuss later. After that ten minute period, Jordan Rapana produced an error to gift the Bunnies a set in Canberra's half, which they did not waste. A deft kick saw Damien Cook sneak through for the go-ahead try, and Souths fans would've no doubt heaved a sigh of relief.
A second Rapana error handed the Rabbitohs yet more field position, but they couldn't extend their lead. Canberra fans didn't have to wait long to see Jordan Rapana redeem himself. South Sydney's leaky left edge, coupled with some slick hands from Wighton, Rapana and Hoppa saw Canberra take the lead back, and Albert Hopoate with a hat-trick.
Croker didn't miss, and didn't miss again when Souths conceded a penalty on their goal-line, thanks to some ill-discipline in the ruck.
Up by six, Jamal Fogarty sealed the deal with a field goal. Accor stadium was (Lime) green.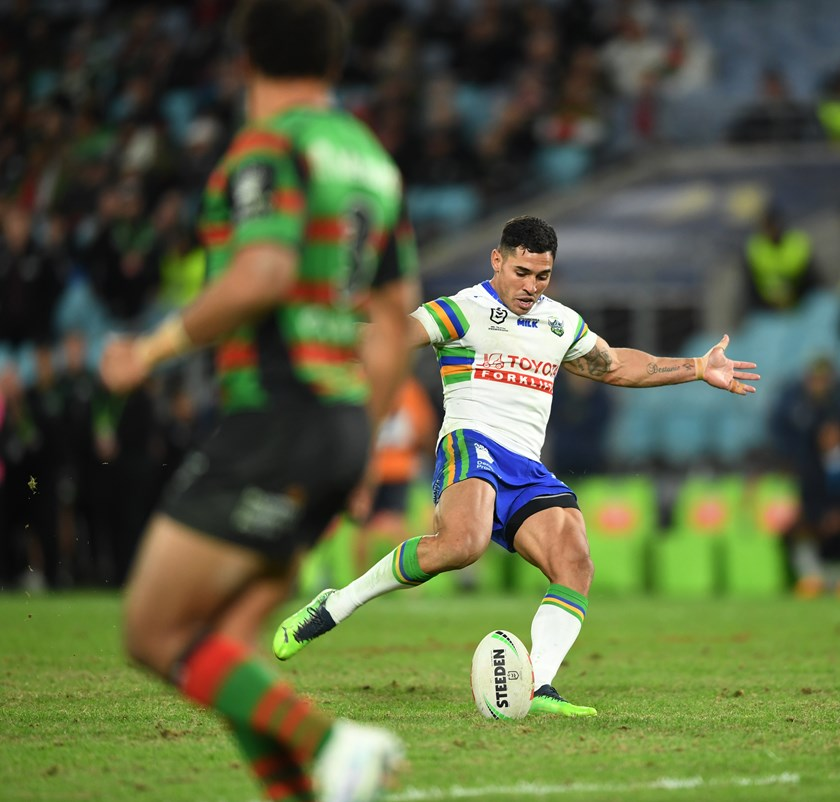 You can absolutely make the argument that with Latrell Mitchell and Cam Murray back in the side, South Sydney win this game. I am happy to entertain that. Souths fans should not worry, and I doubt they are.
However, you can only play the game that's presented to you, which is what Canberra did. They had plenty of opportunities to lose the game - when Souths gained the upper hand at the 50th minute, and again when Damien Cook crossed at the 69th minute.
Turns out when you can fall back on the voice of experience, with players like Papalii, Croker, Tapine and Wighton, it's possible to ride the bumps. You can see the evidence of this as the Raiders found points when they needed to. Without mentioning the first half, which they won handily.
This week was a marked improvement in other stats, too. Canberra rose to the occasion and completed in the mid-80s, as opposed to last week where they couldn't string a set together to save their lives. The engine room was well and truly in overdrive - all the raiders forwards took huge meters in the middle, giving Jack and Jamal a mountain of room to cook.
Special credit must go to Papalii and Tapine, who combined for more than 450 meters. Rabbit stew, indeed.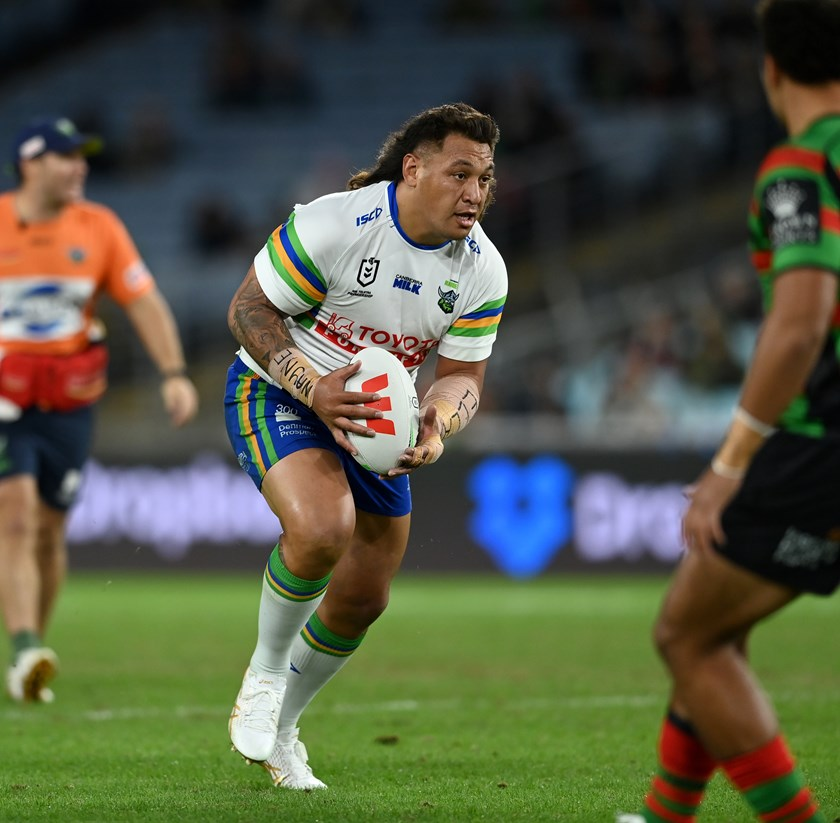 The shining star of the game was absolutely Albert Hopoate, however. 220 meters, 2 linebreaks and 3 tries. Stand and applaud this young man. From the moment he landed in Canberra, it was clear he had talent. Tonight, that talent took material form as he powered the Raiders to their seventh win on the season. Well done, young mormon soldier.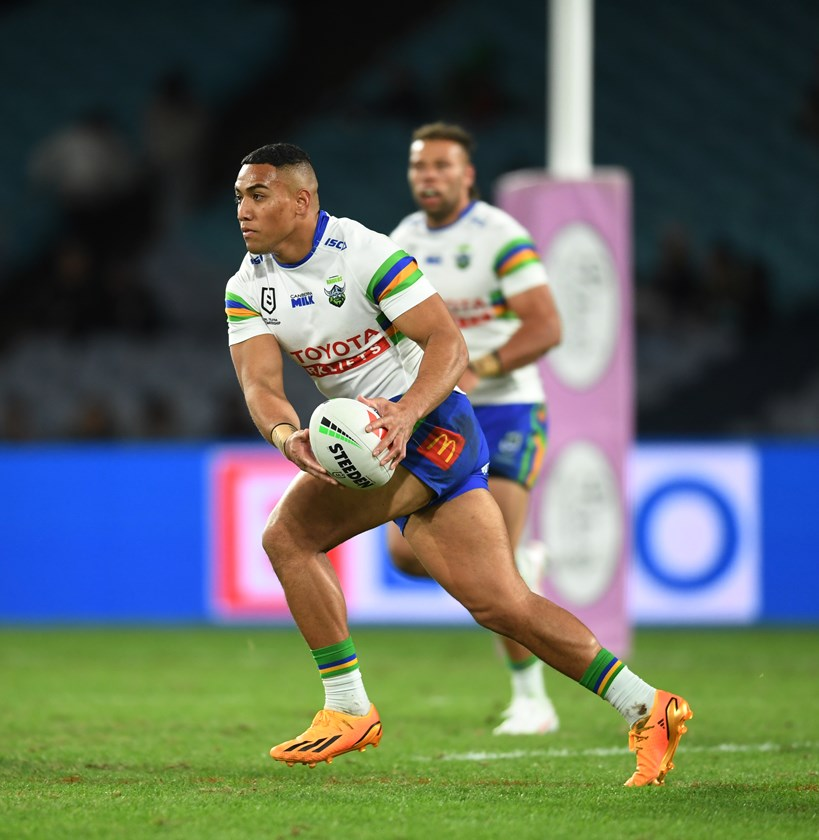 Again, it appears Canberra's inability to defend will ensure they continue to pay for the sins of their two blowout losses. Though they are comfortably in the eight, their differential is by far the worst of any top eight side, and that looks unlikely to change unless they improve defensively.
The Tigers proved last week that the key to defending well is just to score a ton of points so the ball stays in your hands. Might be worth looking into, as it took Canberra to a finals appearance in 2016.
That's right, I literally just said a good way to win games is to score points. What are you going to do about it.
And, yes, I will in passing mention the incident at the 66th minute. I am pleased by Corey Harawira-Naera's swift recovery, and glad for the medical attention he received on the ground. I am concerned for his future both personally and professionally, and can only hope it was a freak accident.
No, I am not going to discuss it in detail. It has been covered to death for money by the media. Ricky Stuart spent seven minutes of his ten-minute press conference covering it. Sports journalism is broken. A special "get bent" to James Hooper, who couldn't be bothered to ask any questions about the game of football that had taken place, only about the incident in question.
Stop being so shit, cue-ball.
There was one parting gift from that press conference that pleased me greatly, however.
Jarrod Croker, barring some sort of freak accident reaching for a remote, getting out of a bathtub, or stepping on his child's wheeled toy, will play his 300th game in Canberra.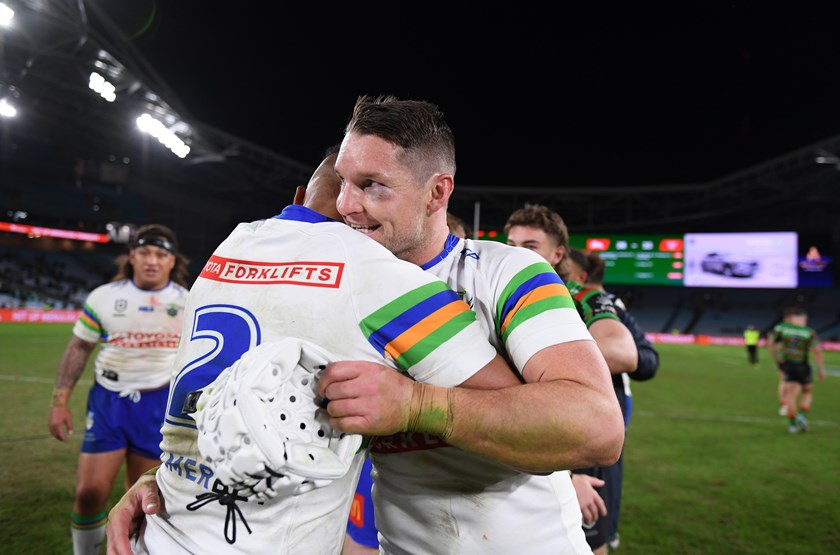 I understand this has nothing to do with the fans, but is all about the business of packing folks into Bruce Stadium, but I couldn't give two flying feathers. Myself and my long-suffering father will be at that game, and I hope they flog the Warriors mercilessly.
It also pleases me greatly that Charnze Nicoll-Klokstad will also be in attendance, because he will absolutely want to be part of the celebrations after the game.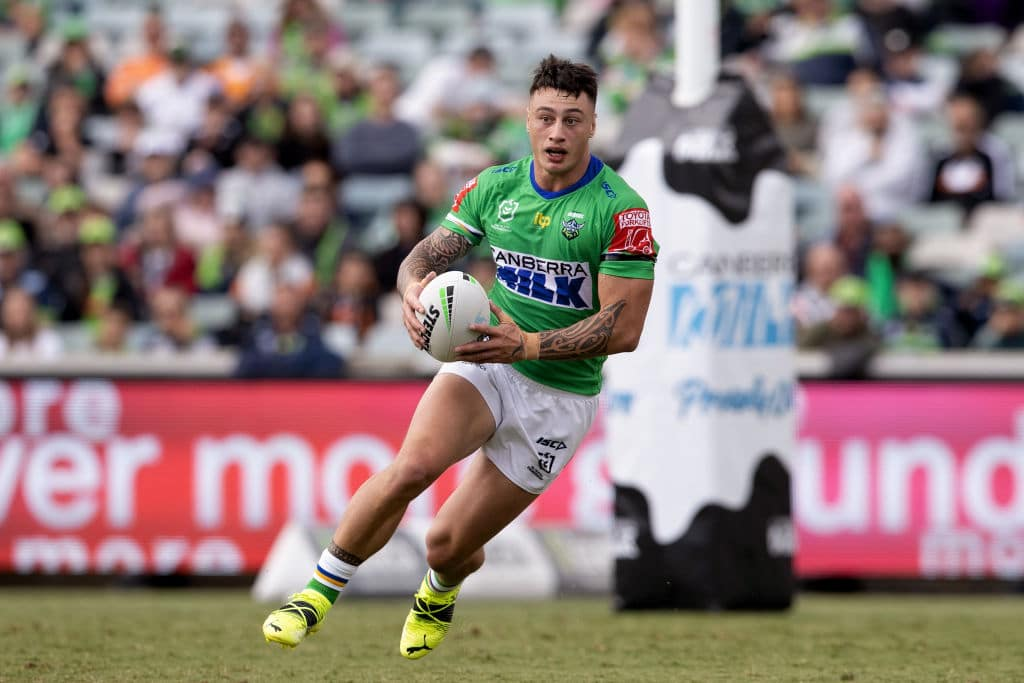 Jarrod Croker is a paragon of the Canberra Raiders. He has loved the club, and at times, it hasn't always loved him back. Since his return, Canberra has won six of their past seven, including high profile scalps of Brisbane and Parramatta. But this goes beyond season 2023.
I have watched the vast majority of Jarrod Croker's 2,316 (at time of writing) points. I've seen him score tries, bust tackles, and lead this club through dark times, into the sunshine, and back again. It will be an honour to stand in the grandstand on that freezing cold Friday night, and cheer him on, as just the second player in forty years to reach this titanic milestone.
When he inevitably retires, as he came so close to doing at the start of this year, it will be akin to the loss of a family member. Jarrod Croker will forever be a legend of the Canberra Raiders, premiership or no premiership. He is the spirit of Canberra, in a green jersey.
But of course, the Sydney sanctimony continued. Cooper Cronk, deciding he wanted to make headlines this week, insisting that Canberra should have celebrated Jarrod's 300th against the Tigers at Campbelltown.
I need to slow down on the profanity, but get fucked. I'll not be hectored by a hungry-for-fame mercenario about how a small-town club should let Sydney steal one of the most important milestones for Jarrod and the Raiders. It would be under-patronised, barely promoted and no-one in C-Town would care.
In terms of insults, it's right up there with Jack Bird's declaration that Sydney "isn't that far from Canberra". Not to mention that before he departed Melbourne, Cooper Cronk got to celebrate his 300th game at home, at AAMI park. You know, before he decided he wasn't getting enough money, or fame, or whatever, and left to join the Roosters.
Do not lecture me, my coach, or my club, about how we should celebrate our player milestones. Stick to having brain fades whilst commentating.
This week is Origin week. I hope the Blues win, however this is being written after Latrell Mitchell and Nathan Cleary have been ruled out, so, expectations are not high. Maybe watching NSW lose to DCE and the Maroon wave might fire me up for games II and III.
After that, as mentioned above, Canberra heads to C-Town to take on the red hot Tigers. Coming off a bye, with a full head of steam, and maybe with Luke Brooks actually unleashed, this might be rough for the men in green.
Catch you next time,
Vulkan
Did you like this article? Did you hate it? Go over and keep the discussion going on the official Vulkan's Corner facebook page! - whilst you're at it, leave a like!