We're back here again. Short week because of Origin and only four football games. Hudson Young was dropped because of Freddy's moon sugar addiction, and Big Red finally gets his go on the big stage. Which he deserves, anyone could tell you that.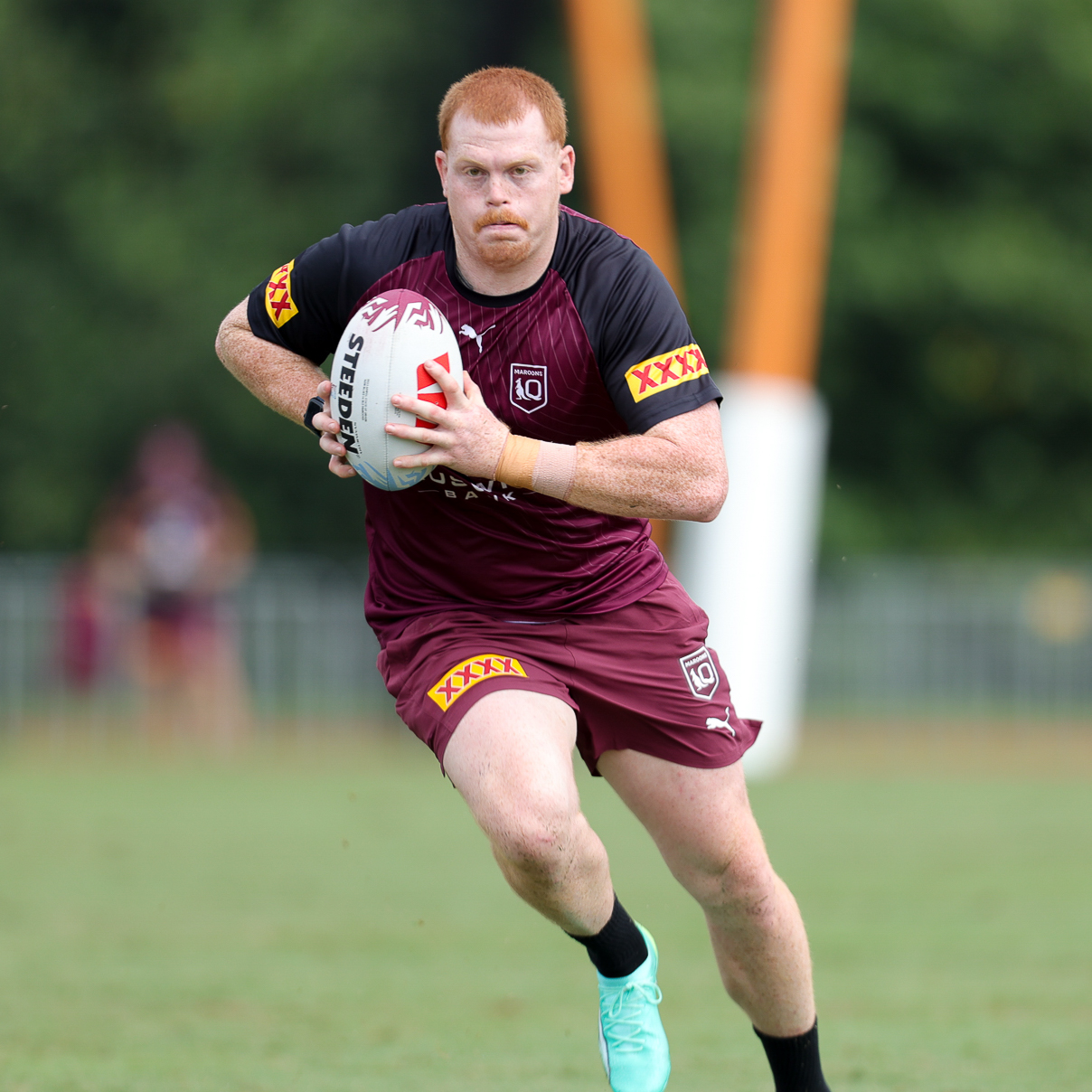 I often ponder about if, in another life, I would support Queensland. They've taken more Raiders in than New South Wales, and aren't completely slaved to the will of inner-city Sydney clubs. It wasn't that long ago Bob Fulton used the Blues selection process as a way to boost the stocks of Manly players - Dylan Walker, anyone?
It's an oft-made point that NSW don't get Origin. Some former and current players do, but the reason Queensland win almost every year, despite being undermanned and looking significantly worse on paper, is because it matters more to them and their state.
Which makes me jealous, because no-one in my circle of friends cares much for Origin anymore. Which takes a lot of the sting out of the game. Turns out, football, like every other thing in life, is the friends we make along the way.
So in an Origin-affected week when the Dragons were without their best (and soon to be former) player, Ben Hunt, the Raiders were at short odds to pack the Dragons away handily. As they ran out onto WIN stadium, the chorus of boos was so weak it was almost impossible to hear, which should tell you about how many people from the area actually showed up to support their team.
Despite the cold conditions, the track was dry and both sides played expansive, explosive, running football. Early on, the Dragons struggled to convert their chances, coming close, but never sealing the deal. Always one pass short, or one handling error before putting the ball down.
Canberra, on the other hand, capitalised on a slew of cheap ball from the Red V, and punched in three tries to take a solid lead. Jarrod's radar was on point as he had another perfect night off the boot.
The Dragons did hit back late in the first half, but the lead would stay at eighteen as Matt Frawley pounced on another piece of Fogarty foot magic. It had been the kind of start the Raiders had expected, and our fingers were crossed that the foot would be pressed firmly to the gas.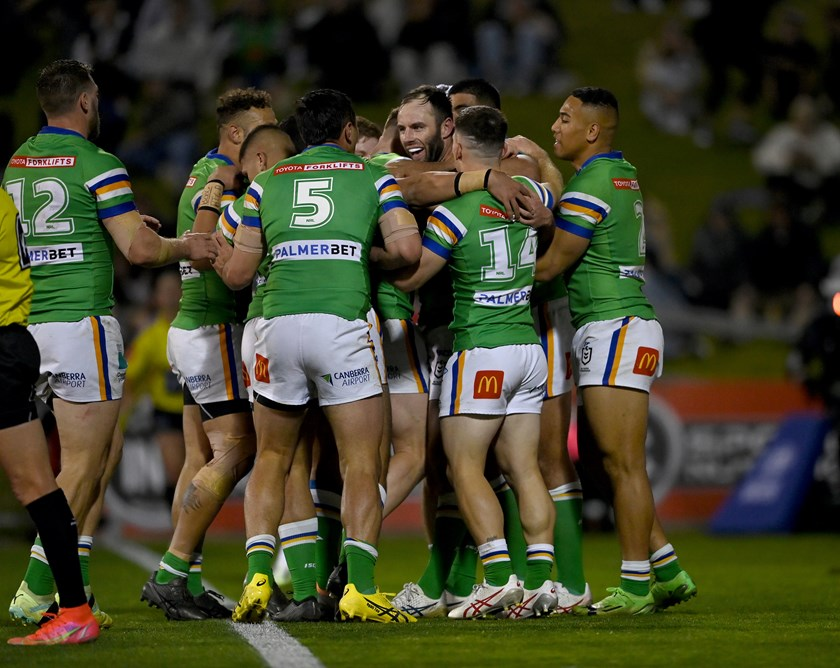 Not a great shock when it wasn't. It's important to note that just like the Titans last week, the Dragons never managed to tie the game. They came close, within four points at various stages, but there was never a go-ahead moment. But it is still very frustrating to watch this "Dr. Jekyll and Mr. Hyde" Canberra side.
But, yes, the Dragons piled on four tries in the second half which powered them to "almost" territory. It took some individual brilliance from Matt Timoko and Seb Kris to seal the game for Canberra, but seal it they very much did. Seb Kris in particular, with the game at risk of slipping through Canberra's fingers, produced a well-angled run to bulldoze over the poor Red and White schmuck playing fullback and slam the ball down.
Game, set, match. WIN stadium was green.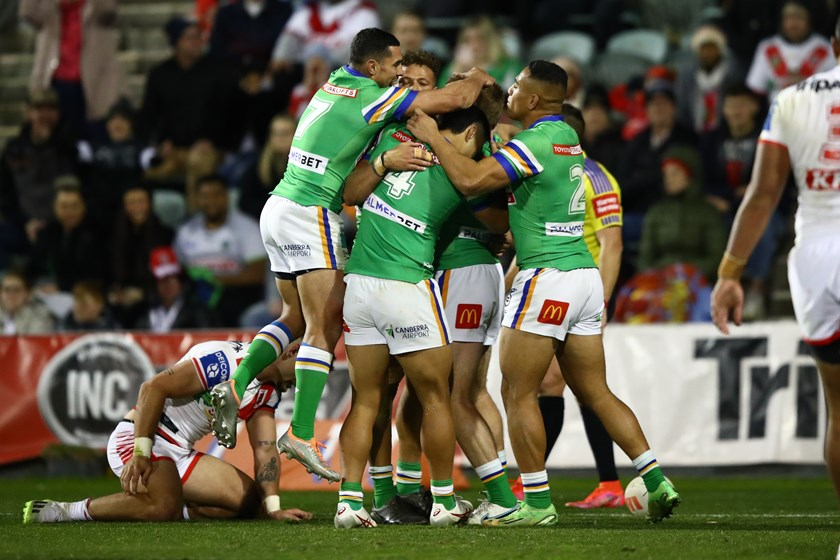 It was another standout performance from Matt Timoko. Take Joey Leilua but make him smaller, stronger and less likely to have a brain explosion. That's it, that's the description.
Much like the narrow win against the Tigers was Jamal Fogarty's game of the season, this was Matt Timoko's. He was everywhere in attack and defence and proved to be way too much for the thin edges of the St. George defence. If the Dragons' scramble efforts were just a tiny bit worse, I think he'd be celebrating a hat-trick. As it stands, he'll have to settle for two tries, two-hundred and fifty run meters and three linebreaks.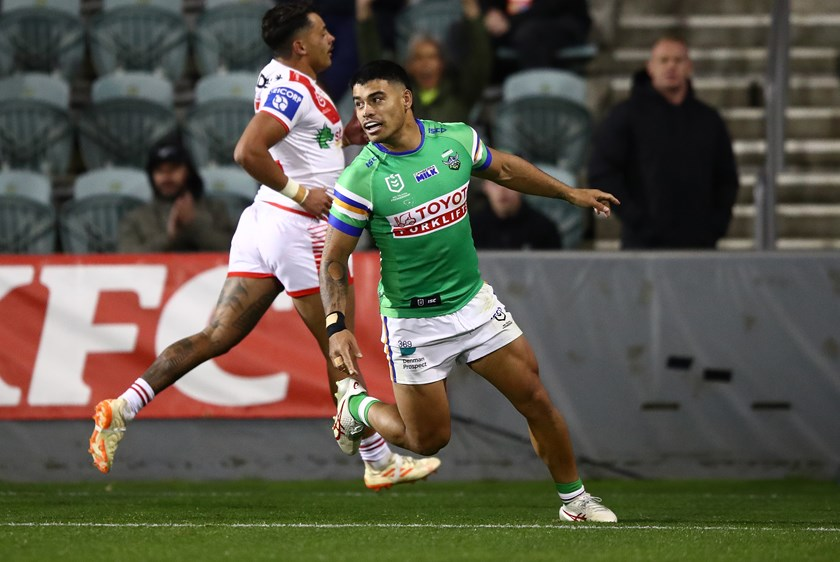 What. A. God.
Otherwise Seb Kris continues to cement his place at number one. Bomb defusals, hard runs in the back third and of course the try that put the game out of reach for St. George. I understand he's not much of a threat with link play, but sometimes when everyone else chucks the ball around, you just need someone who's prepared to take tough carries. If the rumoured switch from fullback to five-eighth is on to fill Jack Wighton's position, I have my reservations about that, but Seb has always proved his willingness to learn in any position.
Also he signed a new deal, so he'll be in Green for awhile.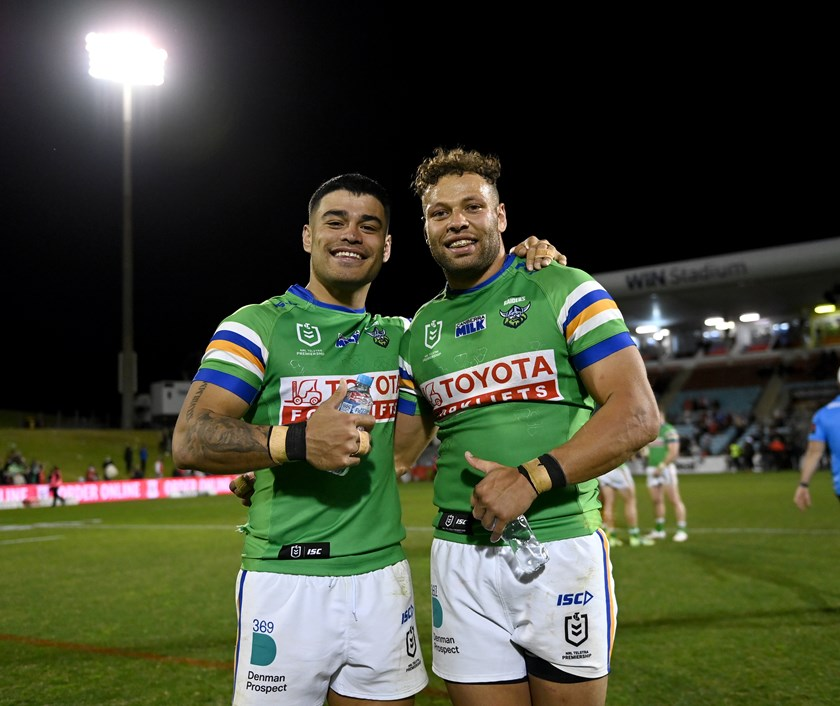 But with the cream, must come the cheese. It seems Ricky Stuart is very close to keeping his promise that we're a top four side. I have no idea how, since the Raiders can't seem to hold onto a lead, but what do I know. They've even got wins against a number of sides in the eight to prove that they might not exit the finals in straight sets if they do make the top four.
But, I'll keep mentioning it until they fix it, they remain the only side in the top eight with a negative differential. At times their attack is poor, at times their defense is poor. Sometimes, they've had both poor attack and poor defence. Whilst they have the bye this round to get everyone fit and healthy again, the next two games promise to be real tests. The Warriors, who flogged them at home, and the Knights, who pulled their pants down early in the season.
If they can somehow beat the Warriors on their home turf, though, that'd be something special. I'm all here for ruining something the Warriors love, in exchange for their party-crashing antics last month.
That *nearly* concludes this column, but I will very briefly cover the Raiders' try celebration. You know the one, where they poked fun at Jonny Bairstow getting stumped by Alex Carey. Bit of trivia, Alex Carey also played AFL for GWS, the team I support.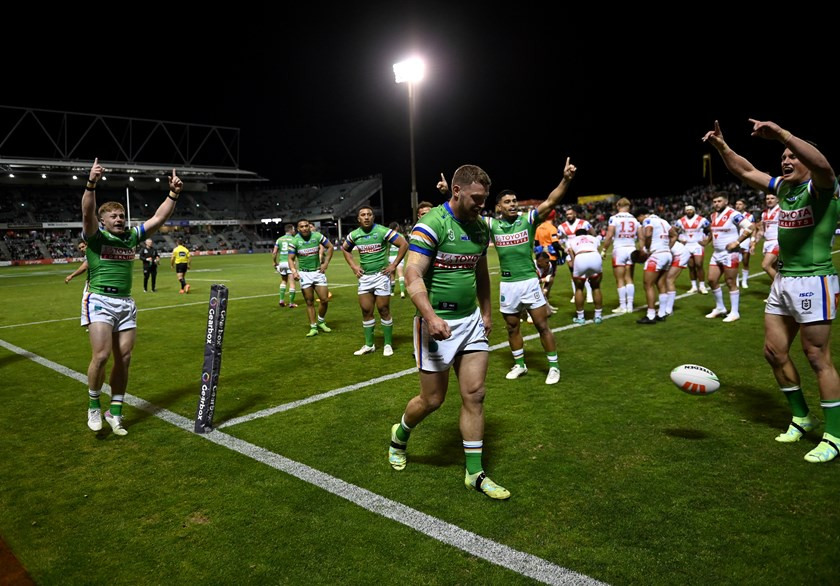 The celebration was cool, but I really wanted to give a special fuck you to Piers Morgan! How exciting! That rat bastard, always eager to put his nose where it doesn't belong, tweeted about how Elliott Whitehead was a Yorkshireman. Despite the fact Mr. Morgan likely couldn't find Canberra on a map, has no idea who any of the Raiders players are, and probably only found out about Cricket because one of his poor mistreated assistants is a fan.
You're a ratty little human being who makes a living from being angry. Like me, but getting paid to sit on the couch and spout nonsense about being "woke" and other inflammatory horse-shit. You have no idea who, or what you're talking about, you just want the attention for your personal brand. Fact is, you're scum in a suit. Fuck off.
Catch you next time,
Vulkan
Did you like this article? Did you hate it? Go over and keep the discussion going on the official Vulkan's Corner facebook page! - whilst you're at it, leave a like!