At time of writing, because I'm a lazy sack, Hudson Young was dropped from the Blues side because Brad Fittler, despite reasonable success at this level, has consumed too much moon sugar and decided to use an eight-ball to pick 1-19.
When one door closes, another door opens, however, and Corey "Big Red" Horsburgh has been selected on the bench. Another Raider forward joins the ranks of the Maroons. Even thinking about the proud Green Warriors that have temporarily exchanged Green for Red's worse variation makes me a little bit proud. And now, Horse joins that list.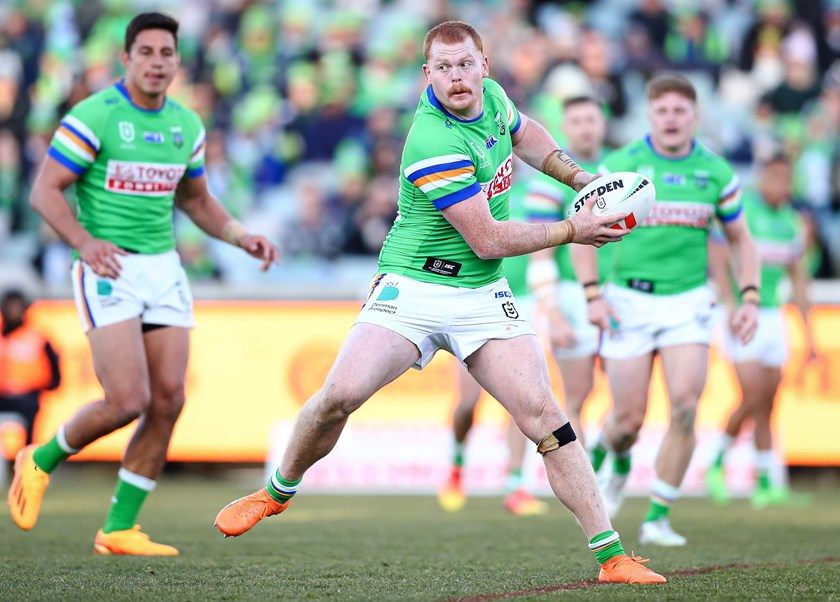 This week the Titans were coming to town. Last start winners over Brisbane, despite sacking their coach, they weren't coming to get bullied at Bruce stadium, that's for sure.
Gold Coast have forever been somewhat of an enigma to me. A frustrating enigma, that buys high performing players and destroys them. If I were to name every player that has joined the Titans from another club, only to endure the longest reverse purple patch of all time, this blog article would be 10,000 words, with every paragraph more unhinged than the last.
It's worth mentioning that the Gold Coast Suns also lost this weekend. Unlike the Titans, that are close to making 8th, followed by an unceremonious exit at the hands of whichever chad team came fifth, the Suns were destroyed by Collingwood. Whatever sports god exists hates these teams, and clearly, the locals hate them too.
I'm spoiling the ending here. Let's just say whilst the game was close, Gold Coast never actually held the lead. They never were in a position to take the lead. Always close, and threatening to do something, but never actually achieving the desired outcome. Which is a perfect way to summarise their (miserable) existence as a football club.
If it sounds like I'm angrily punching down, that's because I am. Every season, the Titans get fuelled up with cash by the NRL, and then piss it up the wall paying overs for a handful of players who succeeded because of the talent around them, who proceed to land on the glitter strip, underperform, make a bag, and then retire.
I'm supposed to believe Titans management has a long term plan to navigate the quagmire the club finds itself in every season. Then I remember this is the same board of directors that sacked Neil Henry, a year after he dragged Gold Coast to their first finals appearance in many moons, to try and keep Jarryd Hayne on an upgraded contract worth 1.2 million dollars.
Spoiler alert, Jarryd Hayne fled the first chance he got, and the club went through a series of mediocre coaches. That was until they secured the services of Justin Holbrook, who seemed, if not to turn the club around, at least stop the rot.
Apparently the board then got some Moon Sugar from Freddy's dealer, and secretly negotiated to sack Justin Holbrook and sign Des Hasler. In less time than it took me to order and receive new custom objective mats for Warhammer 40k. Holbrook found out the same time the public did. He didn't even get to see out the season.
Do I want the Titans to fail? No, but I'm getting sick of them sponging up talented players from other clubs and then ruining them. The only reason the Titans are there is because the Suns are also there. Neither the AFL nor the NRL wishes to declare the experiment a failure and leave, because that would allow the surviving party to take a controlling stake. Whatever that would be worth.
So as the Titans, served by their interim coach, marched out onto the field at GIO Stadium, it was anybody's guess who'd come out on top. Matters were not helped by our resident problem gambling service declaring us to be favourites. The last two games at home that Canberra was tipped to win ended in hideous massacres, that I have since largely blocked out from my mind.
The green faithful didn't have to wait long to get to their feet and warm up on a brisk afternoon. The Raiders' left side combining for Albert Hopoate to flash through in the corner inside the first minute.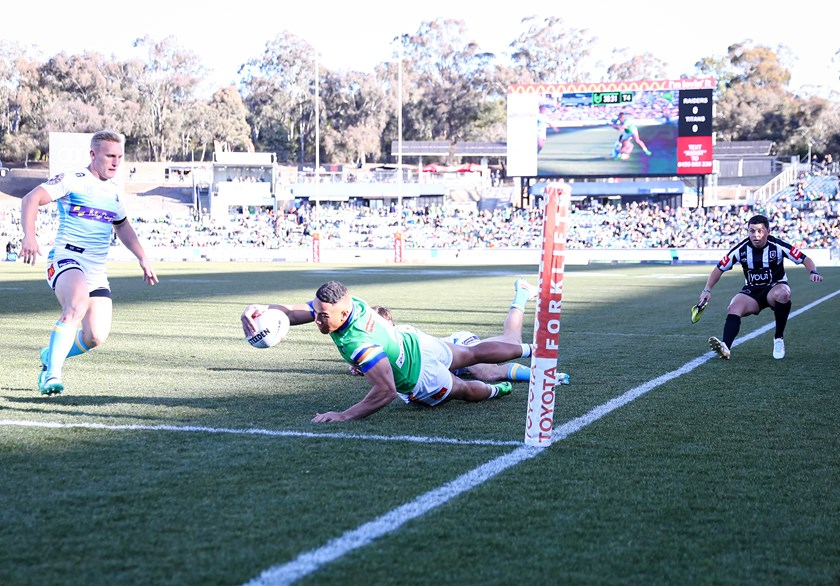 Both sides then settled into the grind. The Titans pack, as would be a continuing theme all day, would get the better of the exchange, but it was Canberra that made use of a set restart, as Jamal Fogarty's boot delivered another 25lb'er. Seb Kris flew through the air and gave three Titans defenders the slip and Canberra were up 12-0.
The Titans refused to go away, though. After another back-and-forth period of play, the Titans took full advantage of a penalty and ignited their own left edge. As David "Big Man" Fifita found himself on the end of some ad-lib attack from Gold Coast to score their first points for the afternoon.
There was more back and forth, but neither side looked likely. Fifita thought he had found his second in the dying stages of the first half, until the video referee intervened with a questionable no-try call, determining that Jamal Fogarty had been shoved out of the way, preventing him from contesting the ball. Better luck next time.
If it makes you feel better, Gold Coast fans, these things have a way of evening themselves out. Often in a very painful and ironic fashion.
Just like last week, the question marks were there for Canberra. Was their best 40 in front of them, or had it just expired?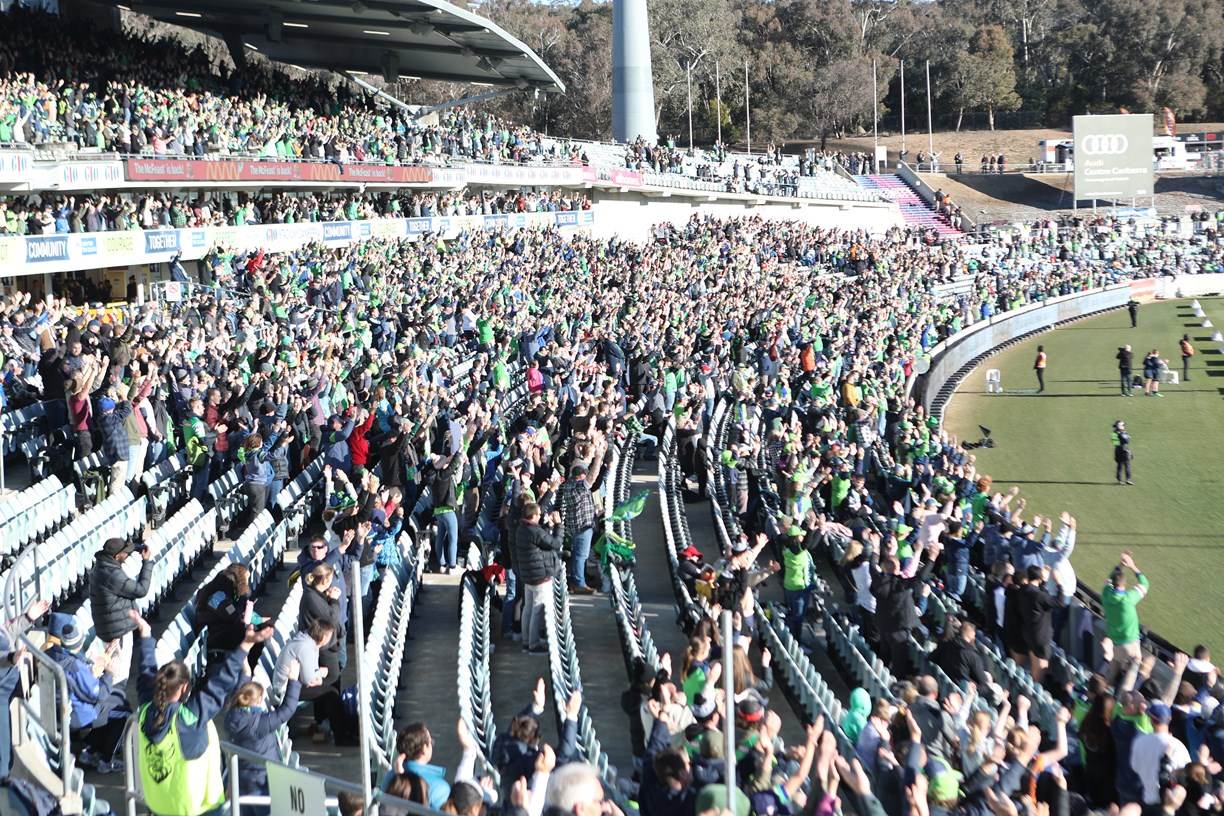 Just like last week, Canberra handed cheap possession to the Titans early, who were more than happy to demonstrate their proficiency with the Steeden. In a simple shuffle to the right, the Raiders failed to number up, and Jojo Rabbit Fifita, i.e, "Inferior Fifita", went over in the corner.
Tanah Boyd had chewing gum on his football boot, and so missed the conversion. 12-10, and Canberra fans were starting to settle in to a tense second half. Pacemakers were going to be put to the test, again.
Then, in a strange reversal of fortunes, came the strangest play of the afternoon, if not the season.
Stripped on Canberra's right, Titans winger Alofiana Khan-Pereira looked to have scored the "go-ahead" try in the corner - only to lose possession in the dive - and Matt "Mokes" Timoko scooped up the ball and casually jogged 100 meters to score for Canberra.
If you watch the replay back, the Titans defenders assume the referee is going to blow the whistle, and so they watch Matt Timoko very slowly getting away.
The bunker confirmed the try, and so instead of Gold Coast taking the lead, Canberra extended theirs.
Again the game settled into trading sets and bashing each other in the middle third of the field. The Titans were very much still keen on leaving the joint with two points, and Canberra were determined to do the same bullshit they've done all year, which is to play down to their competition and scrape by.
David Fifita, in "flat-track bully" mode, bust through the defensive line and shoveled the ball to Khan-Pereira again, who this time decided just to put the ball on the ground instead of diving. Tanah Boyd slotted the extras, and the gap returned to 2.
The continuing theme here is that the Titans, apart from one tragic passage of play that saw Matt Timoko walk it in, never looked likely to win. Canberra switched on any time Gold Coast looked likely, and held them off at every opportunity they had to go ahead.
After yet another grindy passage of play, Jamal produced a little bit more magic off of his boot to force a dropout, and in the ensuing set, Hudson Young displayed a touch of brilliance, running a great line to smash in the front door and send the Raiders up by eight again.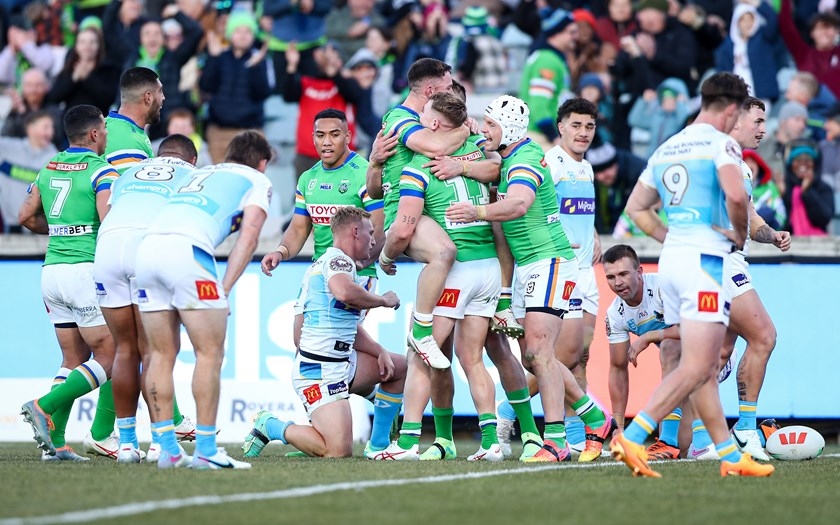 With the game in the high-90% range for "it's over, pack it up", Jarrod Croker opted to boot a penalty goal to put the Raiders up by 10. And then immediately, the entire Canberra side had a brain anyeurism, and Tino "Press" F scored a try under the posts. Tanah Boyd rushed to add the extras like he was busting to use the facilities, and there was a collective groan from the crowd at the prospect of giving up a 10 point lead inside 90 seconds.
The Raiders and the fans thought they were home after Mo Fotuaika dropped the ball at the 20, and then Jordan Rapana conceded a penalty in the scrum. The Titans would have one more chance to win it.
and...
...nothing happened. There was no exciting chip and chase, or a twenty-minute long "through the hands" play, the Titans ran themselves out of road, and died with the football on the 30.
For the first time in about six weeks, Bruce Stadium was green again, but only just.
Apparently Ricky Stuart immediately walked across to the sideline and had a whinge about the officiating. I say "whinge", it was called a "whinge" by assholes who live in Sydney and don't like Canberra, so they can take a long walk off the Kingston Foreshore.
And so the trend of Canberra being unable to win comfortably continues. After that "win", the Raiders find themselves in fifth position, with a point differential of -65. Canberra continues to be the only team in the top eight with a negative differential.
I'm going to keep referencing it, Ricky Stuart said we were a top four caliber side last year. We're not that far away from being the least-deserving top four team of all time. I am already praying to the football gods that despite having the defensive characteristics of swiss cheese, maybe, just maybe, we can make a deep run into September.
It is worth noting that Canberra squeaked past having less possession, running for fewer meters, and conceding twice as many penalties as the Titans. When you can do all of that, still complete at 80%+ and win a football game, it's not all doom and gloom.
It's very clear to me that Ricky's bench management is a problem, however. Nick Cotric spent the whole game riding the bike and didn't see a minute of play. Tom Starling only ended up seeing 30 minutes of game time. A two-forward rotation is not enough, and is a contributing factor to late-game fatigue related fadeouts.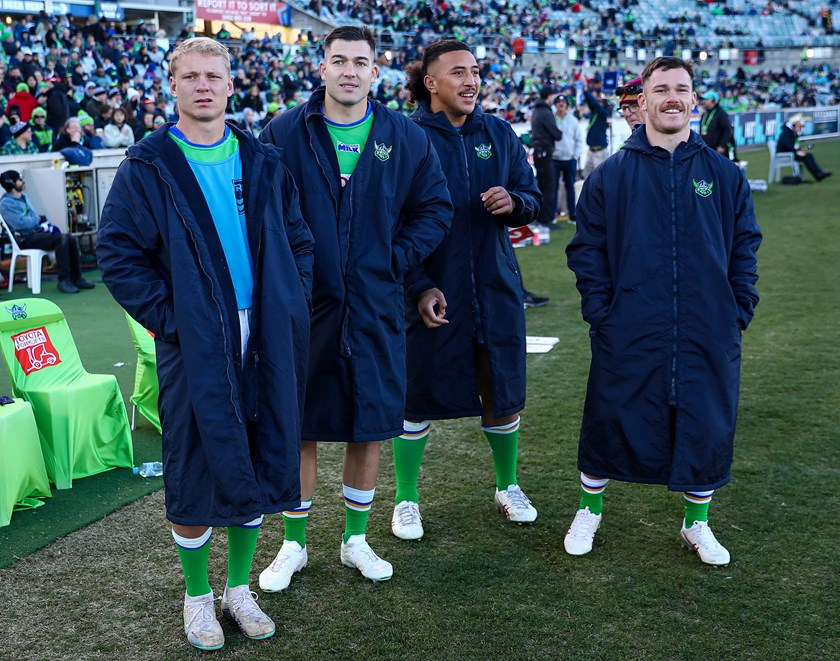 It's not getting fixed, however, I'm just recording it here for posterity.
Not to mention, who needs to rotate forwards through the bench when your pack all have stonking great engines. Big Red made 55 tackles, and with the exception of Elliott Whitehead and Pasami Saulo, who was sadly knocked out, everyone ran for more than 100 meters.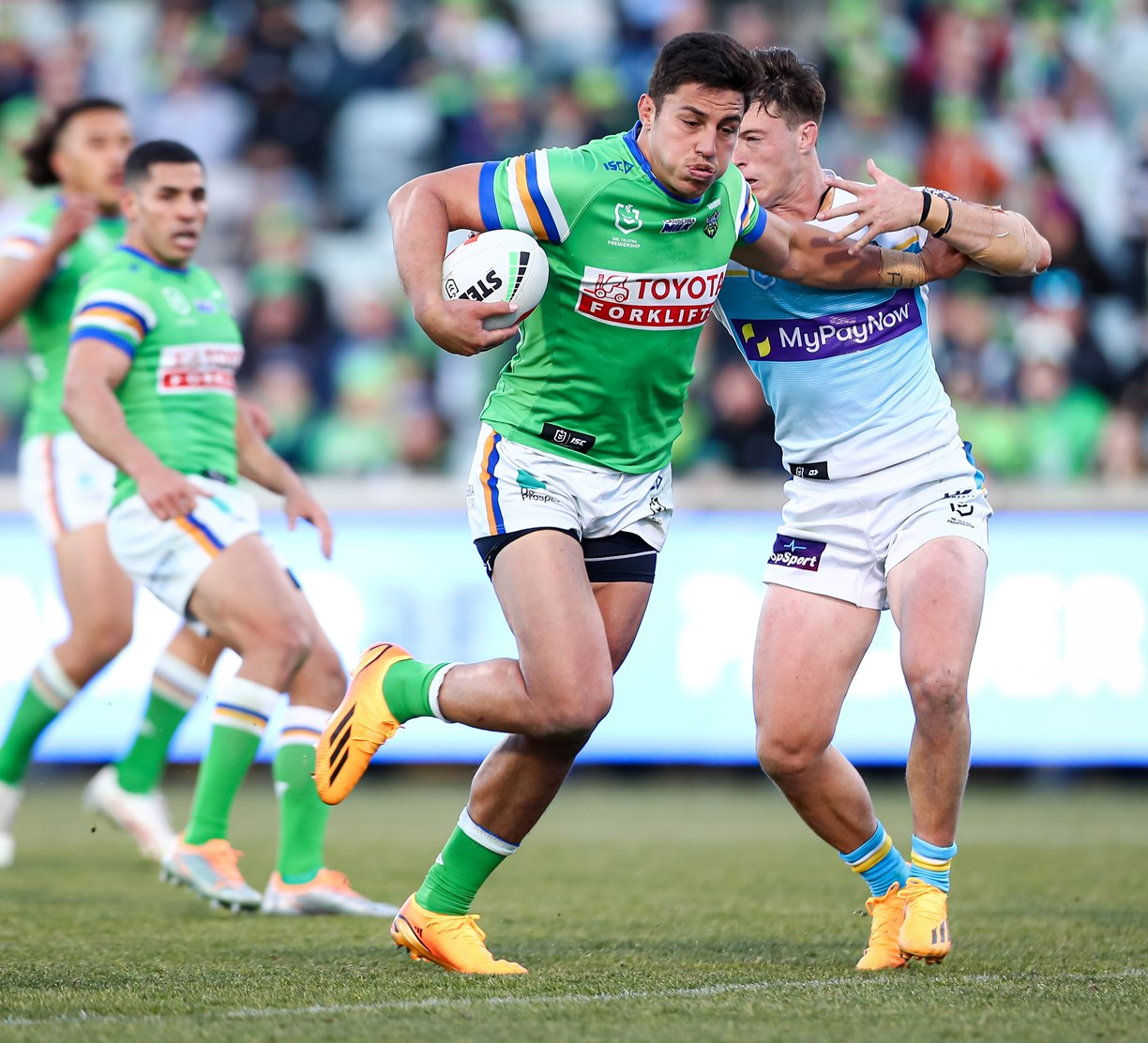 When your big men up front work together like that, it makes it possible to win games.
Regardless, this week sees the Raiders take on the Dragons. Canberra will once again be expected to win. Considering St. George's struggles since sacking their coach, and Ben Hunt's decision to try and leave the club, it would be good to win well. A win is the bare minimum, so naturally, it's a danger game.
Catch you next time,
Vulkan
Did you like this article? Did you hate it? Go over and keep the discussion going on the official Vulkan's Corner facebook page! - whilst you're at it, leave a like!