I am not a prophet.
But, sometimes, when you support a football team for awhile, you come to learn how they operate. What they're good at. What they're bad at. Then you get to know them a little more. Like being incosistent, or temperatmental under high pressure.
Last week I said that the Raiders had put themselves up for three big games and then coughed one up to Newcastle. I put that down to two factors - the big emotional high of coming up trumps against Parramatta and also Newcastle being our bogey side in recent years.
So I did not write the Raiders off against the Dragons.
I got nervous when the Dragons walked over for their first - catching out Harley Smith-shields (again). Maybe I was wrong. Then the Raiders produced a miracle ball for their first try, flicking the ball in when it was dead for all money.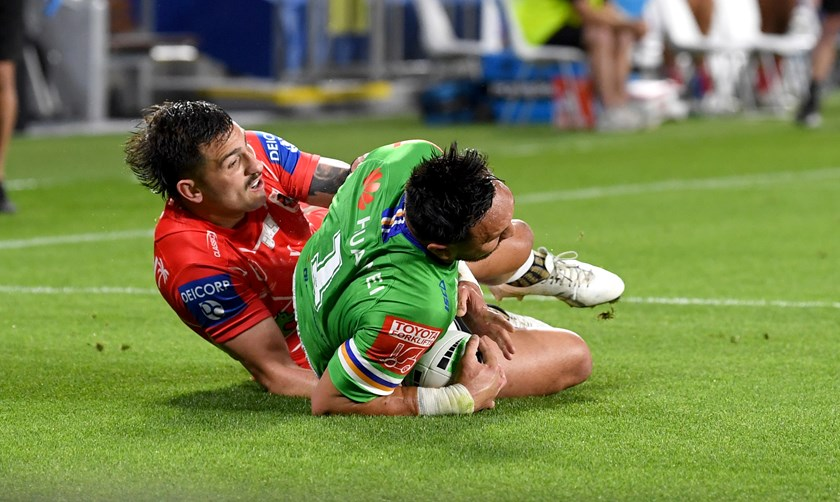 The Raiders didn't have the defensive intensity they had against Parramatta, but they also didn't just roll over and eat dirt. Maybe. Tariq "the chad" Sims crashed over for the Dragons' second quite easily. Then another miracle play from the Raiders saw Jack Wighton pluck the ball out of the air on an attacking kick, leaving everyone all squared up at half time.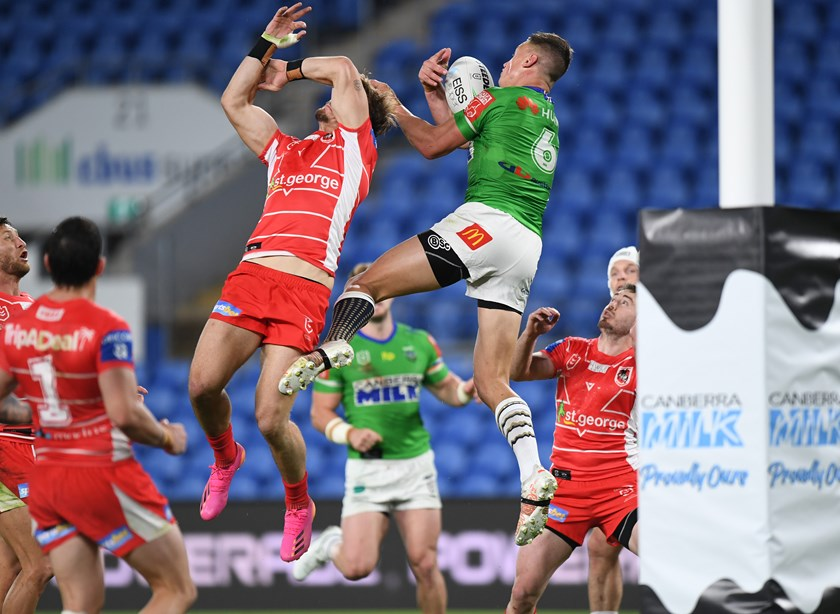 The second half was a more subdued affair with both sides attempting to protect their lead. Before Tom Starling, the super pocket rocket, snuck over for the only try in the second half. From there the lead would no longer change hands, and the Raiders would kick just one more penalty goal at the end of the game in the last scoring action of the match.
Overall, it was middling performance from the Raiders. They did enough to get over the line. If it wasn't for some freakish play resulting in miracle Raider tries, there's probably a golden point loss, or some other terrible outcome that would've befallen Canberra.
They need to improve - and in a hurry - but the big question is if they can.
The Parting Shot
I have waxed lyrical about how I find it difficult to trash other teams because they're a feel good story. Or because despite them beating my precious football team, I don't want to slander them because they deserve to do well.
In fact, apart from Jack Bird trying to kill Jordan Rapana last time the Raiders and Dragons crossed paths, I was pretty easy on the Dragons. They are the baby Raiders, after all.
However, a lot can change in six weeks. We've gone from "Dragons surprise packet" to "Dragons ruin it for everyone with stupid barbecue."
Let me be clear, my ire is not directed towards Ben Hunt, or the Dragons coaching staff, who directly instructed the players not to go and party down. Instead, it was Paul Vaughan in his infinite wisdom who disobeyed his coaching staff, his front office and just did whatever he wanted to do.
Lots of digital ink has been spilled over what happened and how dumb it all was and making a big emphasis on the stupidity of the players. I'm not a topical blog and I don't give two rats what Sports Germalists write. But I want this immortalised.
The timeline goes something like this:
The Dragons beat a shaky warriors outfit after Corey Norman mucks up three kicks for goal and finally manages to kick a field goal. Anthony Griffin tells the lads, good work, but, keep it to yourselves.
Paul Vaughan, galaxy-brain supergenius, plans a barbecue and invites all the boys around to celebrate. Hooray for mediocrity!
The neighbours dob Paul in, because, well, duh. Cops show up, fine everyone, gig's up. The club'll find out and be mad at them, but, you can maybe get away with a hiding and a fine, if you own up to it.
Stroke of genius number two. Knowing that the jig is up and that the cops will talk to the NRL and the club, Paul Vaughan then brings everyone in to plan how they're going to LIE TO THE NRL, THE POLICE AND THE CLUB. These same people, who get dropped on their head professionally.
Amazingly, the plan for everyone involved to try and lie their way out of trouble collapses in a screaming heap. Notable 200IQ liars who get caught are Corey Norman, who left his wallet and personalised car at Vaughan's, and Jack De Belin, who said he was walking his dog and popped in to say hi.
You know, because I too walk my dog in the freezing cold at 9 o'clock at night.
Everyone says the club used Paul Vaughan as a scapegoat. But what choice did the Dragons have. He had so many opportunities to do the right thing, or own up, but each time, doubled down.
Special mention goes to Jack De Belin, who, after the club backed to the hilt for two years whilst he went through his day in court, then proceeded to lie his head off because he has no self control. What a fantastic way to repay the club for its loyalty to you.
I feel sorry for Dragons fans, because the lack of respect and stupidity - it boggles my mind.
Vulkan Medal Points
I wasn't thrilled overall with the Raiders, so no-one's going to get man of the match points for this one. I look forward to recieving your correspondence.
Le Hidden Gem - Jack Wighton (1pt)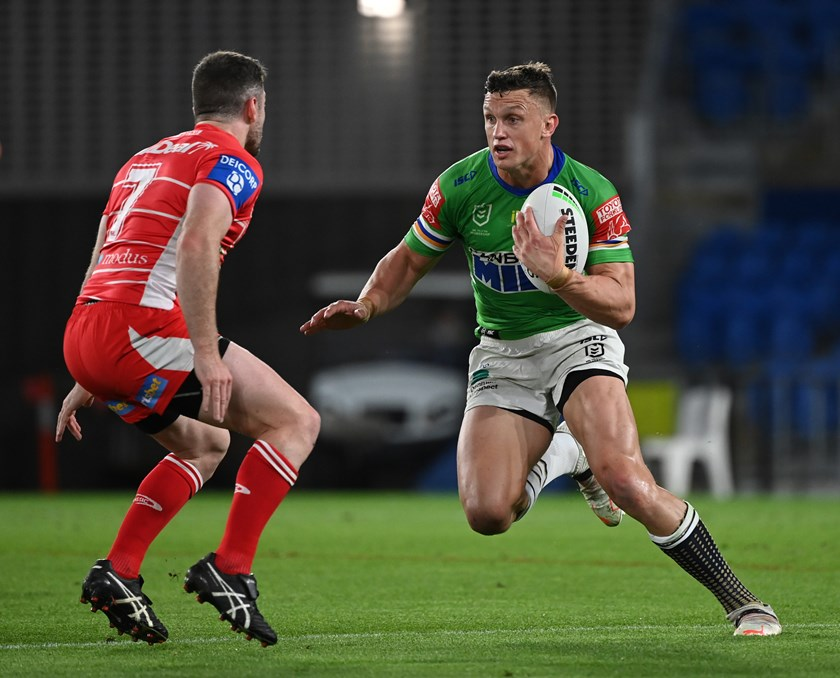 He's struggled all year, but he's tried his best. He works best when he's confident - and he was confident on Friday night. Poking his nose through, quick play the balls - and of course, scooping up that ball in mid-air to pick the player's pocket.
Jack is never far away from a purple patch - and he might be on his way to one right now.
So now comes the million to one shot. The raid boss of the NRL, in the Melbourne Storm. Win here and who knows what happens to them, but they're probably playing finals football and pissing in someone's cereal.
Lose and the Raiders will have to take their chances with the Roosters and Sea Eagles.
Catch you next time,
Vulkan
Did you like this article? Did you hate it? Go over and keep the discussion going on the official Vulkan's Corner facebook page! - whilst you're at it, leave a like!