This week, the NRL Women's season (hereby referred to as "NRLW") launched for 2023. Canberra's team is officially in the comp, meaning, just like with AFLW, I'm fully on the bus.
Nobody has ever asked me what I think of the Women's game - which makes sense, because I'm a middle-aged white dude in the suburbs. But if someone did, my answer would be simple - it's awesome.
The reason it's so awesome is two-fold.
First, it's more footy every weekend. With 10 NRLW teams plus 19 NRL teams, rabid footy-enjoyers will be treated to up to thirteen (!) games of football every week. Sadly, because the NRL hates its viewing audience, the role of NRLW has been allocated to "curtain raiser", meaning only the first game of Saturday and Sunday will avoid conflicting with the NRL.
Secondly, the Women's game is still in its developing stages. What I mean by that is that many of the modern parts of the fully-professional men's league, such as wrestling, lying down begging for penalties, and general degeneracy, are not present in the women's game. It's fast-paced, free-flowing, and exciting.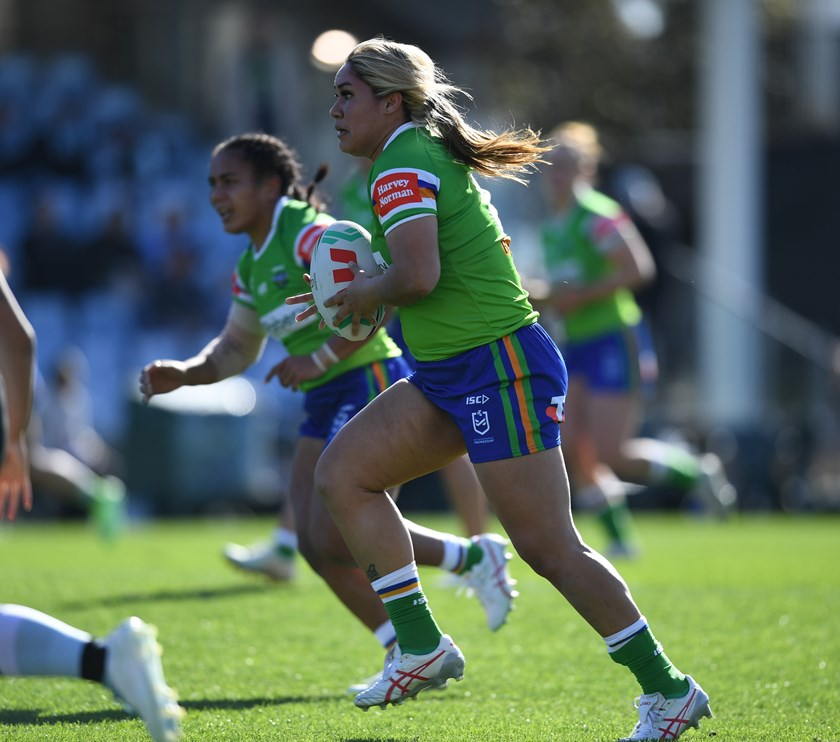 and no, hypothetical sexist reader, I'm not going to mention the skill difference for the same reason no-one should mention the skill difference in AFLW.
The NRLW league, just like the AFLW, is not fully professional, it is semi-professional. Millie Boyle, arguably the face of the league, has a full time job as a personal trainer. The commentators mentioned, in passing, that a Parramatta player worked as a police officer during their game against the Wests Tigers on Saturday.
It doesn't take an Einstein-level intellect to figure out that when men's rugby league was semi-professional (for much of its history - only relatively recently has the league become professional), the quality of the game was much lower.
I've said many times, that when clubs can afford (or be allowed) to pay female players the same as men, you'll get a better TV product. Until then, it is unfair and unreasonable for "the skill issue" be part of the conversation in Women's sports.
So after that unreasonable tirade directed at a theoretical beer-swilling dickhead from the suburbs, how did the ladies do in their first NRLW outing?
Well... ok. They're very much still learning to play as a cohesive unit, and it appears our spine is a bit sluggish. By comparison, the Sharks could lean on the gut-busting efforts of brick shithouse Caitlan Johnston, who laid the platform, and Emma Tonegato, who used that platform to shred the Raiders middle third like cheap lettuce.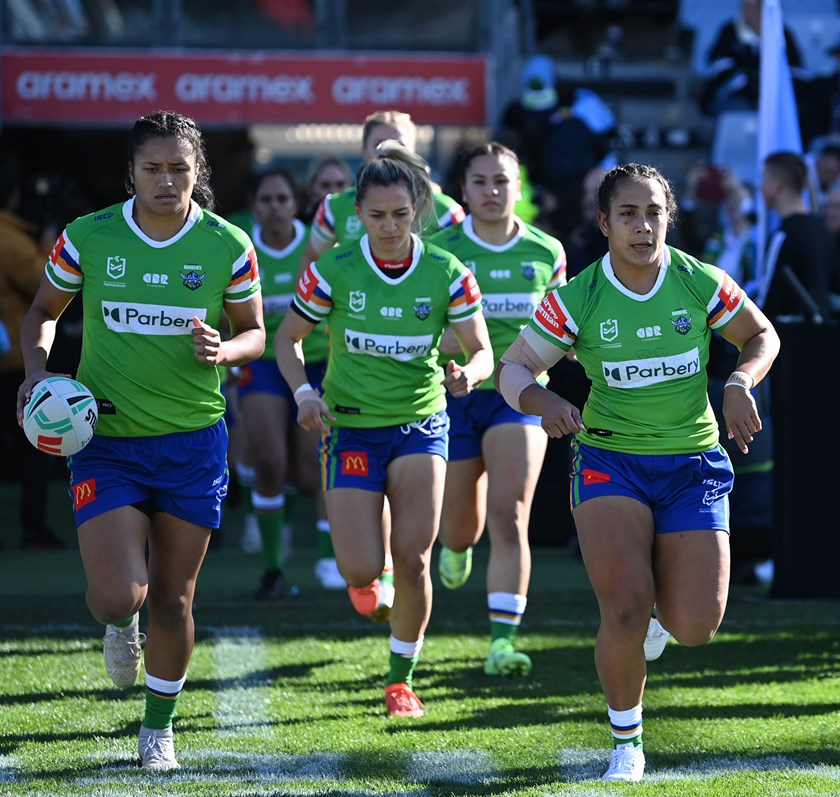 Our own brick shithouse, Kerehitina Matua, was given comparatively little game time, but was barely contained by the Sharks, and likely would've contributed more to the game if she didn't have to cover for Monalisa Soliola being subbed off for a head injury assessment.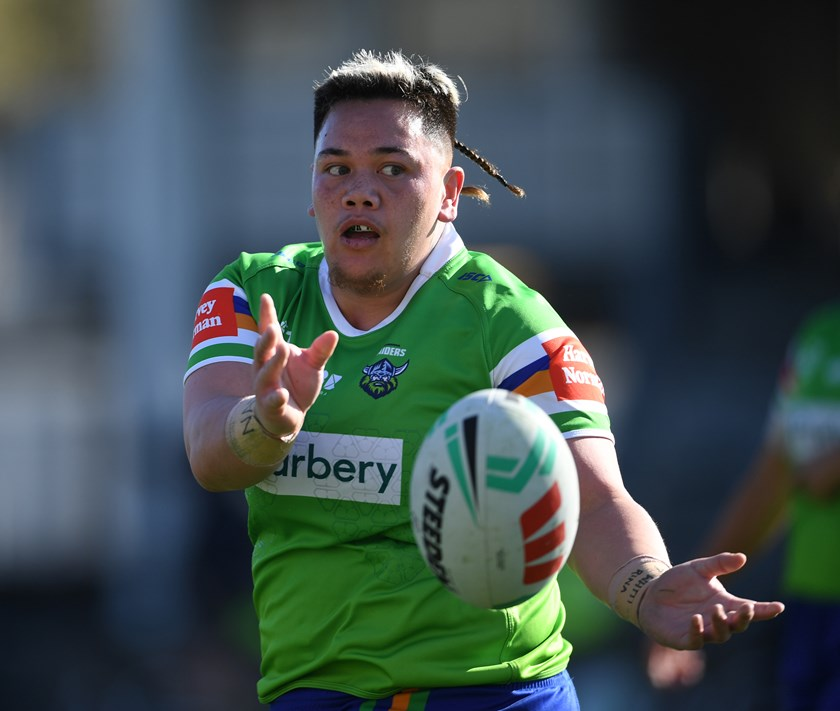 Whilst the Sharks eventually used their overall better fitness and aptitude to the relatively balmy conditions to blow out the score, Canberra's Zahara Temara produced a number of "almosts" - including an immaculate chip-and-chase, and a fantastic show-and-go. Sadly, those Cronulla girls kept showing up and the Raiders couldn't seal the deal.
Still, I'm very impressed with what I saw, and I'm looking forward to more.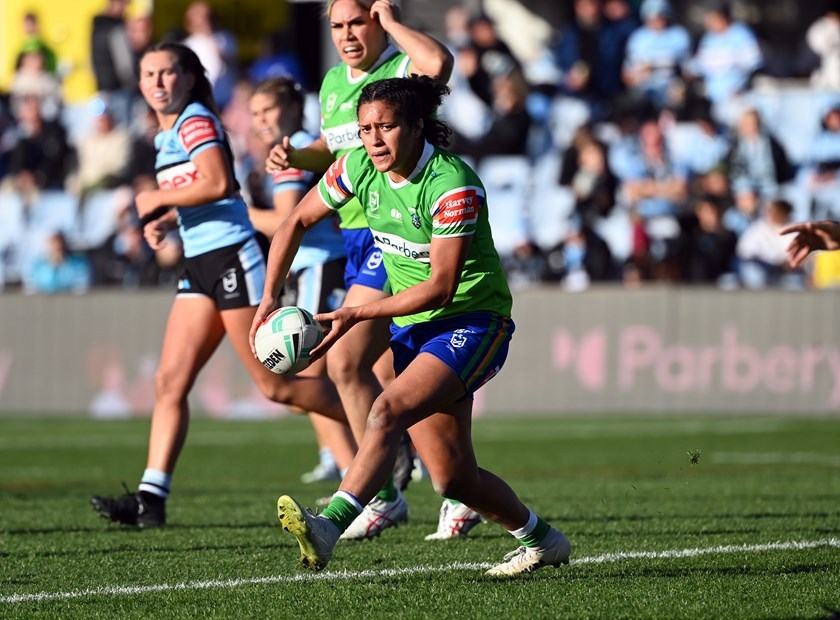 Also, get used to reading that word "almost". It might be a theme for this week.
So to the men's game, then. It must be said, that the Raiders weren't expecting to win, and after they got touched up by the Warriors at home, the Green Faithful weren't expecting a lot.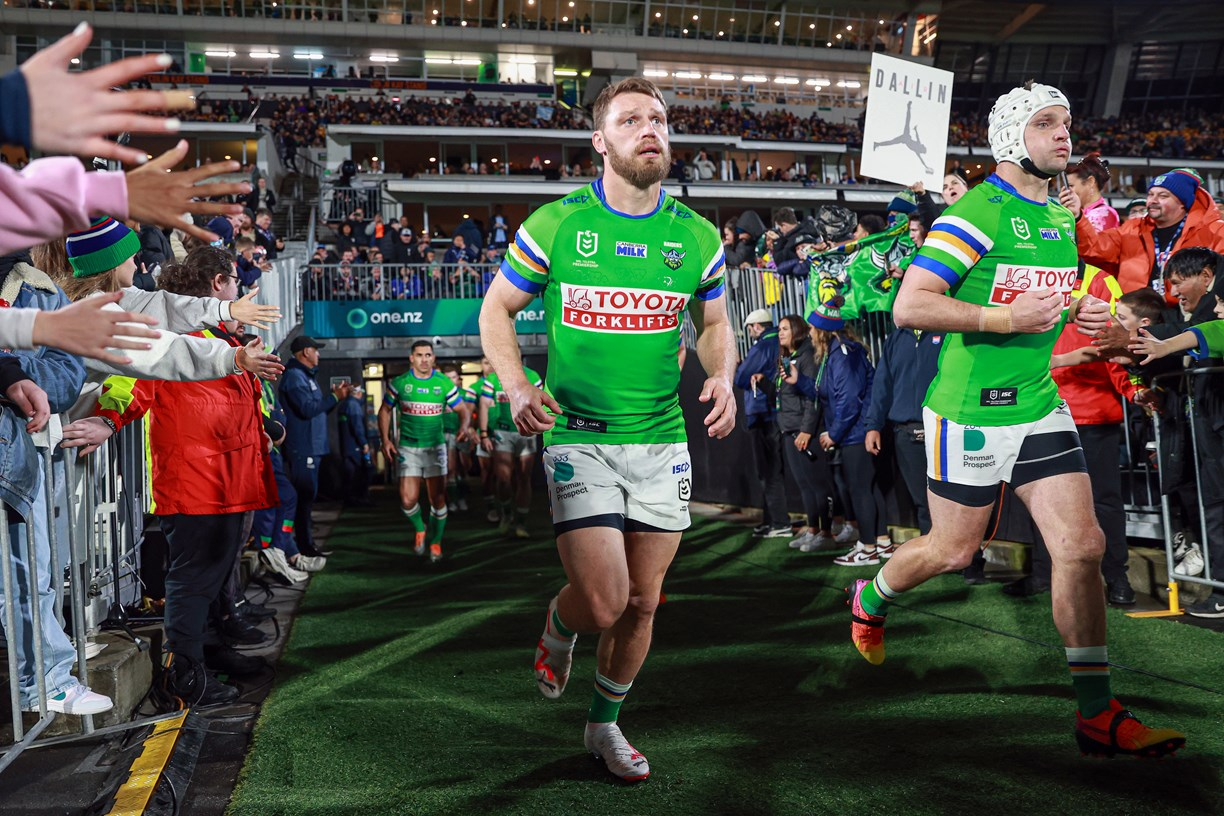 and, early on, they got exactly that. The "Wahs" bolted out of the gate and their forward pack did what it did in round 15, and rolled cleanly over the Green front line. Second-rower Marata Niukore was the beneficiary of this early dominance, ensuring Canberra would be playing most of the game from behind.
Despite the early shock, the Raiders managed to stabilize, evening up the possession and meters gained columns. Both sides struggled in the greasy conditions, with Hudson Young scooping up a misfired Shaun Johnson pass and scooting thirty meters to score.
The game would then grind on for another twenty minutes. SJ bolted on an extra two just before the thirty minute mark, and CNK walked over on the stroke of half time, in a bizarre defensive breakdown that made me wonder if the fix was in.
Much like the round 15 game, it was tight at the half - this time, it would be the hosts holding the lead.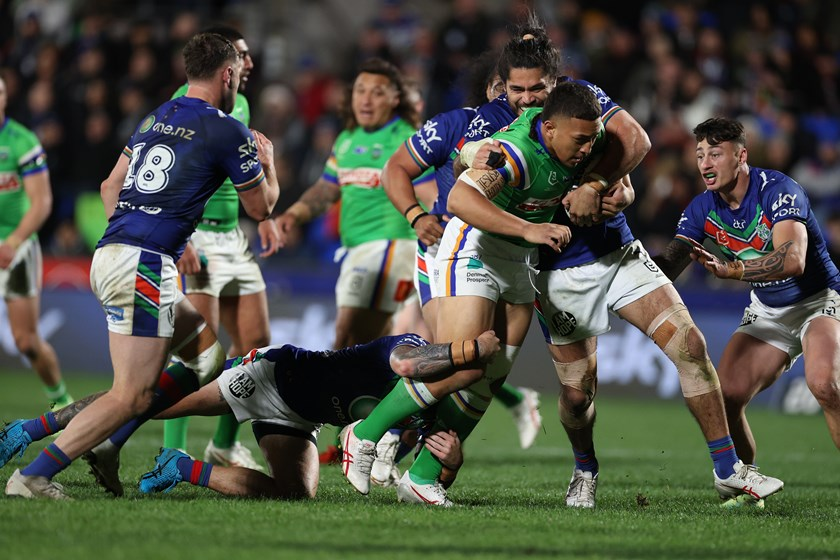 The Raiders started slowly in the second half - and it didn't take long for Dallin Watene-Zelezniak to make the Raiders pay. SJ didn't add the extras this time, but the game was well and truly slipping through Canberra's fingers.
At this point, the game seemed a foregone conclusion. The Warriors would find an extra gear in front of their home fans, and the Raiders would leak points until New Zealand let their foot off of the gas in the 75th minute.
Instead, the men in green bit down into their mouthguards, and grimly held the Warriors close. Another penalty goal stretched the lead to a game-high 14 points, but the black and white massacre I expected never materialised.
Then, Jordan Rapana, as he so often does, leapt into the air like he was shot out of a cannon, and got one back. Out of nowhere, Canberra had surfaced, and found a breath of fresh air.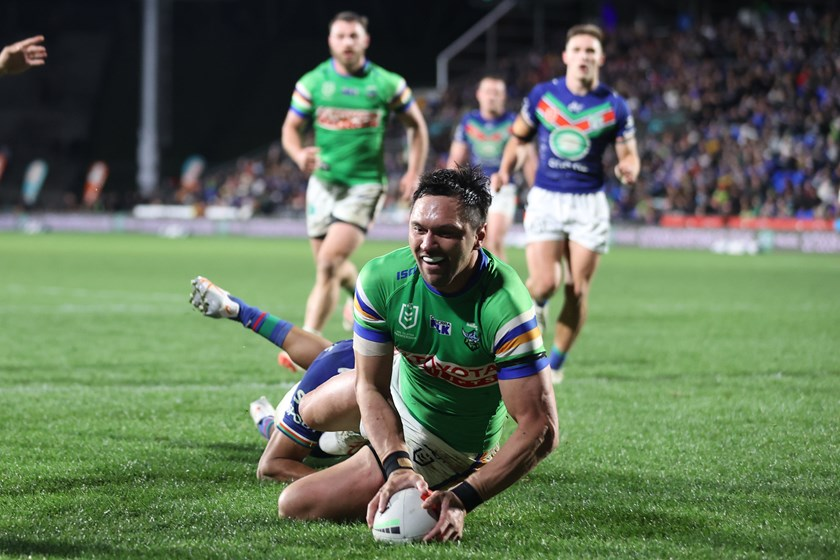 The Raiders' forward pack lifted in defensive intensity, and the green machine were choking off New Zealand's attacking flair. Admittedly, Canberra themselves did not look likely, and as the game entered the last five-minute stretch, the Raiders would end with a respectable, if bitter, eight-point loss.
Then in a most chaotic three-minute passage, Canberra got a gift penalty, marched down the field, and Elliott Whitehead charged over. The margin dropped to four points. There was a minute left in the game, however - there was no chance the Raiders could march 90 meters up the field to score.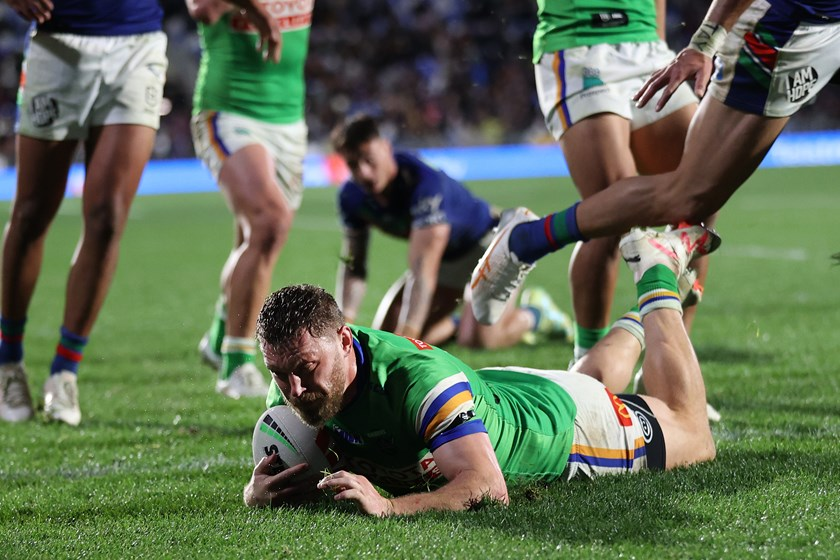 ...Right?
Wrong.
In a slick move to the left, Jack Wighton burst through the defensive line and shook off CNK to dive over in the corner. Canberra had looked anaemic all game. But here they were, scores level, with a kick to win it.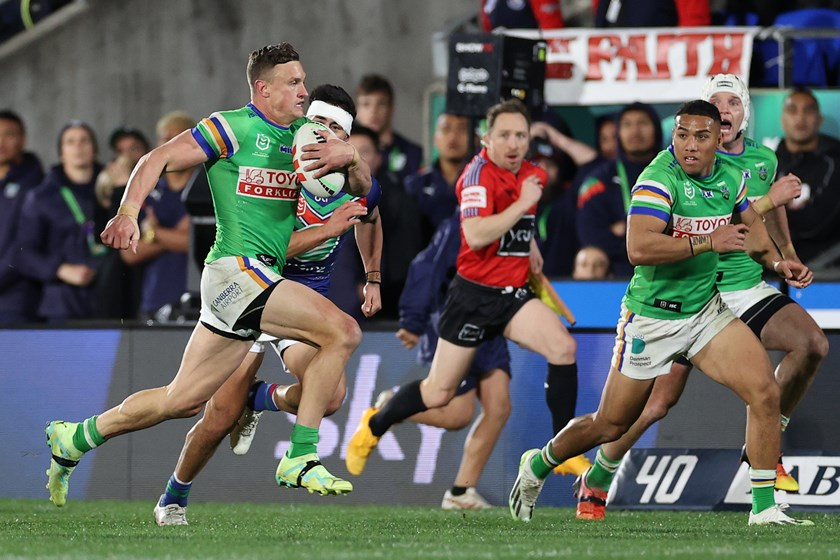 Sadly, "inside left post" didn't quite do it. We would be going to golden point.
Spoiler alert, Jamal Fogarty slightly misplaced a kick and the "Wahs" took their seven tackle set all the way to Canberra's thirty, where Shaun Johnson easily slotted the field goal.
All over, red rover.
I was disappointed, but considering the job the Warriors did on the Raiders the last time these two sides met, it shows a marked improvement on that performance. Even if you exclude the two miracleball tries at the end (which don't count as junk time), it's a much improved defensive effort.
I am a little bitter about the no-try call on Seb Kris, but whining about that isn't going to help in any way, shape, or form. We move on.
That loss does make it tricky for Ricky's prophecy from last year to come true. Canberra's run home is firmly mid, with games against the Knights, Tigers, Bulldogs, Broncos, Storm, and Sharks. Despite all of Canberra's efforts to this point, they need to roll up their sleeves and keep on going. It's unlikely, but if the Raiders can pick off five of the last six, they'll sneak into the top four.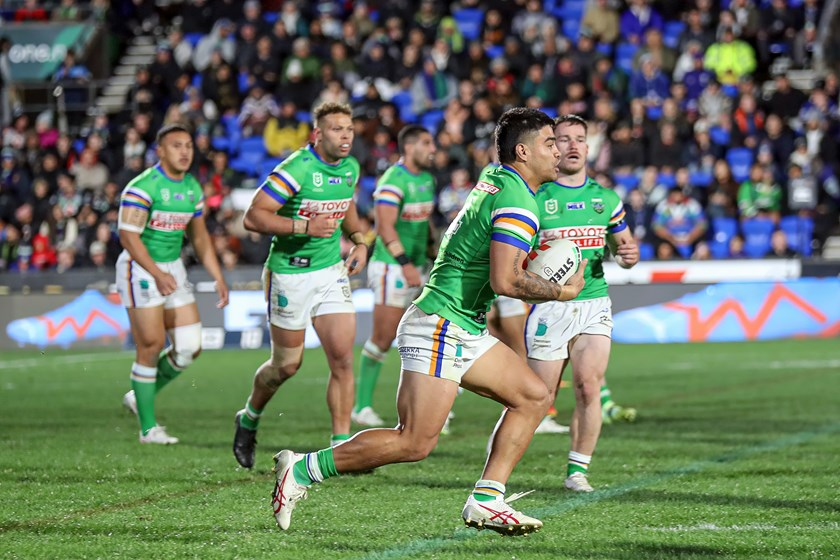 As for the Warriors, Andrew Webster's done a fantastic job with that side and as much as I'm cross with the Warrior fanbase (more on that in a moment) I think it's a good thing for Rugby League across the ditch that their side is doing so well. Much like the Broncos being a quality team is important for the health of rugby league in Queensland, so too is the need for the Warriors to play well in order to keep Rugby Union from swallowing it whole.
So to see players like Shaun Johnson and CNK come back because they love New Zealand and the Warriors, and play so well - it brings a smile to my heart.
It's also pleasing to see players who want to play for the Warriors. During COVID when the Warriors sacrificed so much, there was no shortage of opportunist players who signed up, thinking they'd never have to go across the ditch. Then COVID settled, and suddenly players and coaching staff couldn't wait to get out of there. Absolute scum.
And whilst I'm glad that unhappy chapter in the club's history is behind them, there are some sins that shall not go unpunished.
Hey, Warriors fans. You might have short memories, but I don't. It wasn't that long ago when your club released CNK. We built him into the superstar we gave back to you, and I had no shortage of Warriors fans tell me how New Zealand made the right decision letting him go, because he was a worse winger than David Fusitu'a and Ken Maumalo.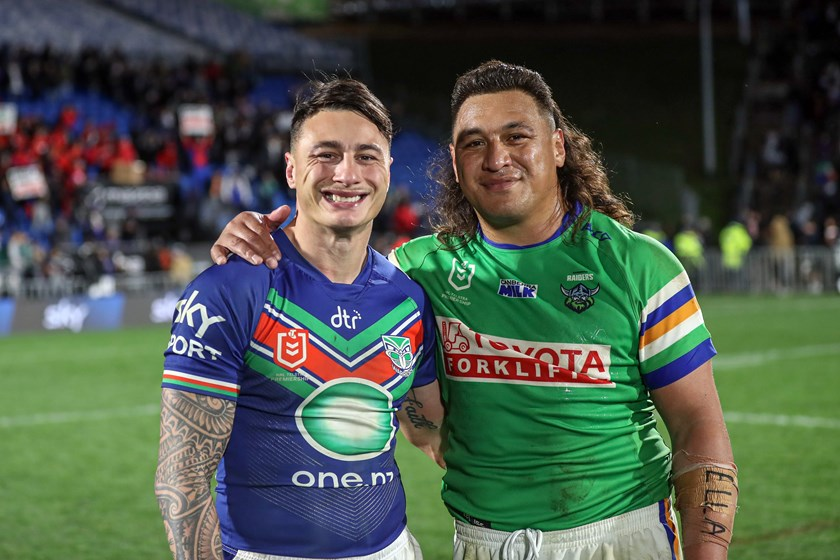 So keep holding up those "Ricky you can't have him back", but never forget you didn't want him in the first place. We wanted him, we built him up, and gave him back to you, in spite of yourselves.
That's all for this week. Canberra play the Knights in the NRL and the Roosters in te NRLW. I will be watching those games on my phone, because I have opted to play in a local Warhammer tournament, but I will be keeping my fingers crossed.
Catch you next time,
Vulkan
Did you like this article? Did you hate it? Go over and keep the discussion going on the official Vulkan's Corner facebook page! - whilst you're at it, leave a like!