This week I'm going to do things a little differently. The NRL side put in a performance that was absolutely insipid, so I'm going to discuss their efforts, or lack therof, first.
And on that subject, as me and my dad forlornly headed for the exit, after watching the Knights slowly pull away for eighty minutes without a single bright spot, I think Dad said it best:
"That was crap."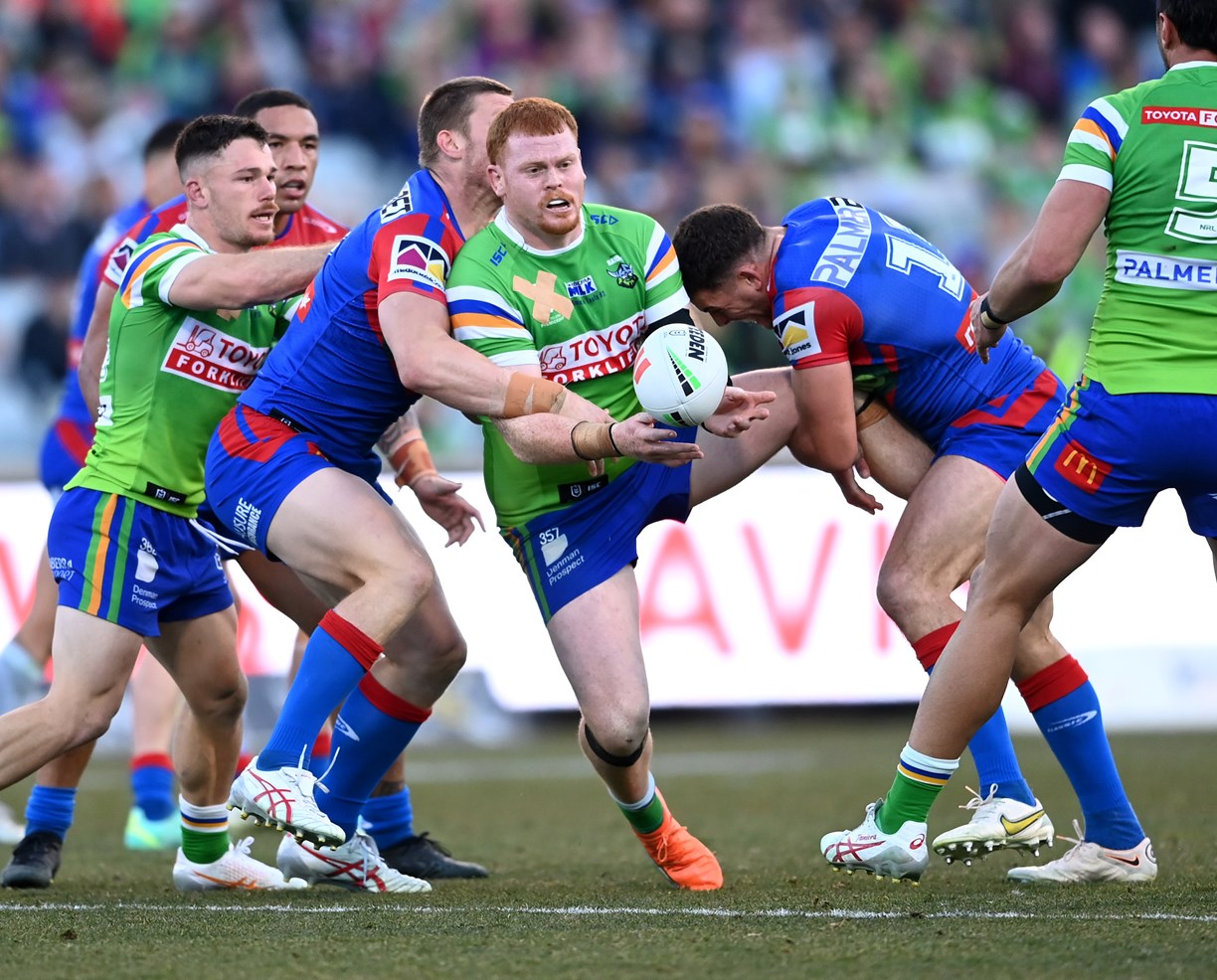 Whilst the stats appear mostly even, there are two telling pieces of data. Newcastle made an additional 600 meters, and the Raiders missed 42 tackles. As Ricky said in the post-game, their defence put their attack under pressure, and their attack put their defence under pressure.
Watching Canberra discombobulate was a sight to behold, as sets didn't end with attacking kicks, players moved at glacial pace - there was no enthusiasm.
One particular end of set tackle ended up being a microcosm for the entire game. Zac Woolford passed the ball to Joe Tapine on the last tackle, expecting Jamal Fogarty. Instead, the green faithful watched as Joe panicked and shoveled the ball into no-man's land, as Jamal was missing in action. One of the Newcastle players then scooped the ball up.
In the ensuing set from Canberra's 40, Newcastle walked over. Ponga's perfect day with the boot kept Newcastle going up by 6s, and the halftime 20-0 lead flattered the hosts, who never looked likely all day.
Big Red got hooked, and Hudson Young looked like he needed a Bex and a good lie down. For what it's worth, Jack Wighton did look dangerous - then either Newcastle cut him off, or Jarrod Croker held the ball for too long.
Even Seb Kris and Matt Timoko had middling performances. That's how you know the Raiders were really struggling.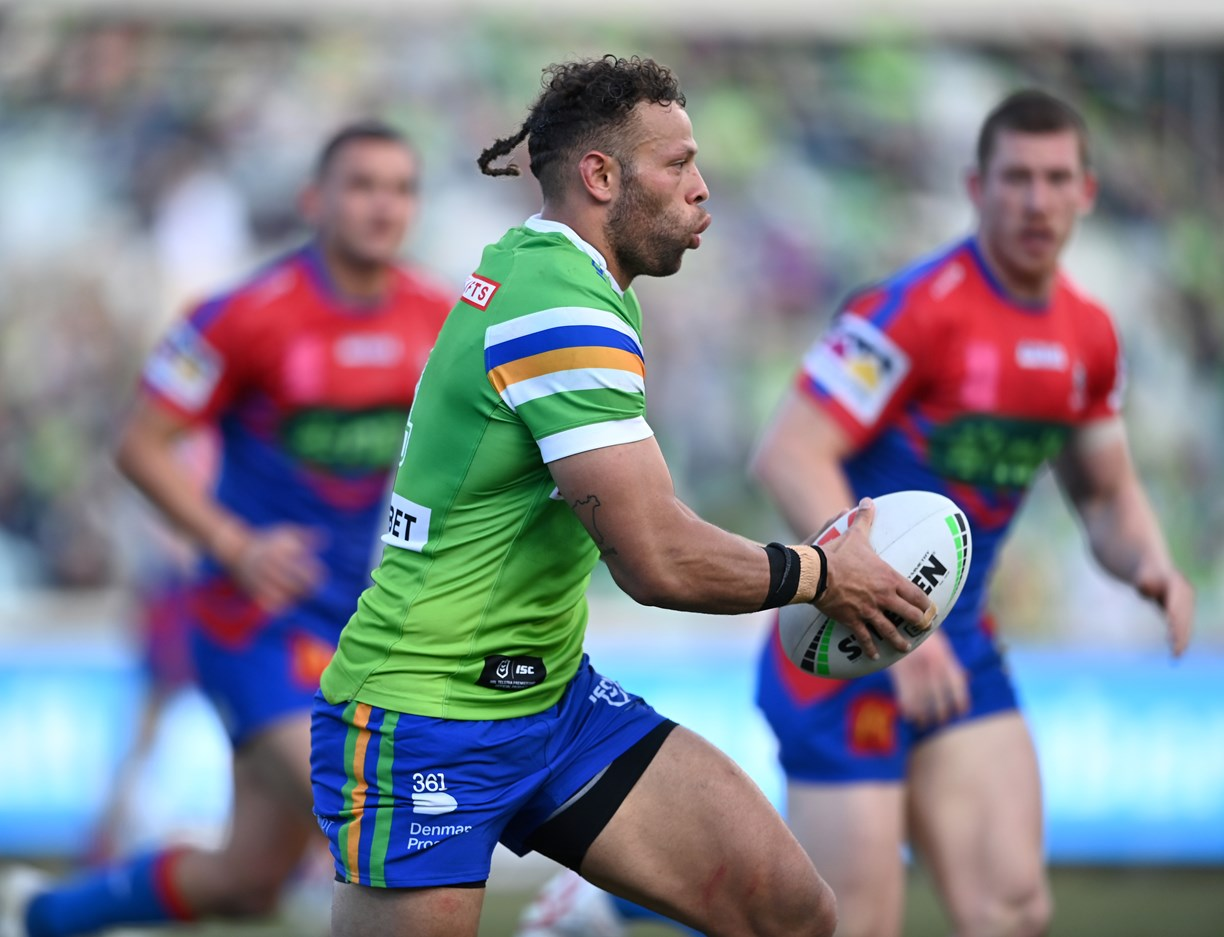 Newcastle are a traditional bogey side for Canberra, and the Raiders had to deal with a heartbreaking loss to the Warriors the week before, regardless of if they felt they deserved it or not. So conditions were favourable for yet another embarassing pummelling at home, when form lines dictate otherwise.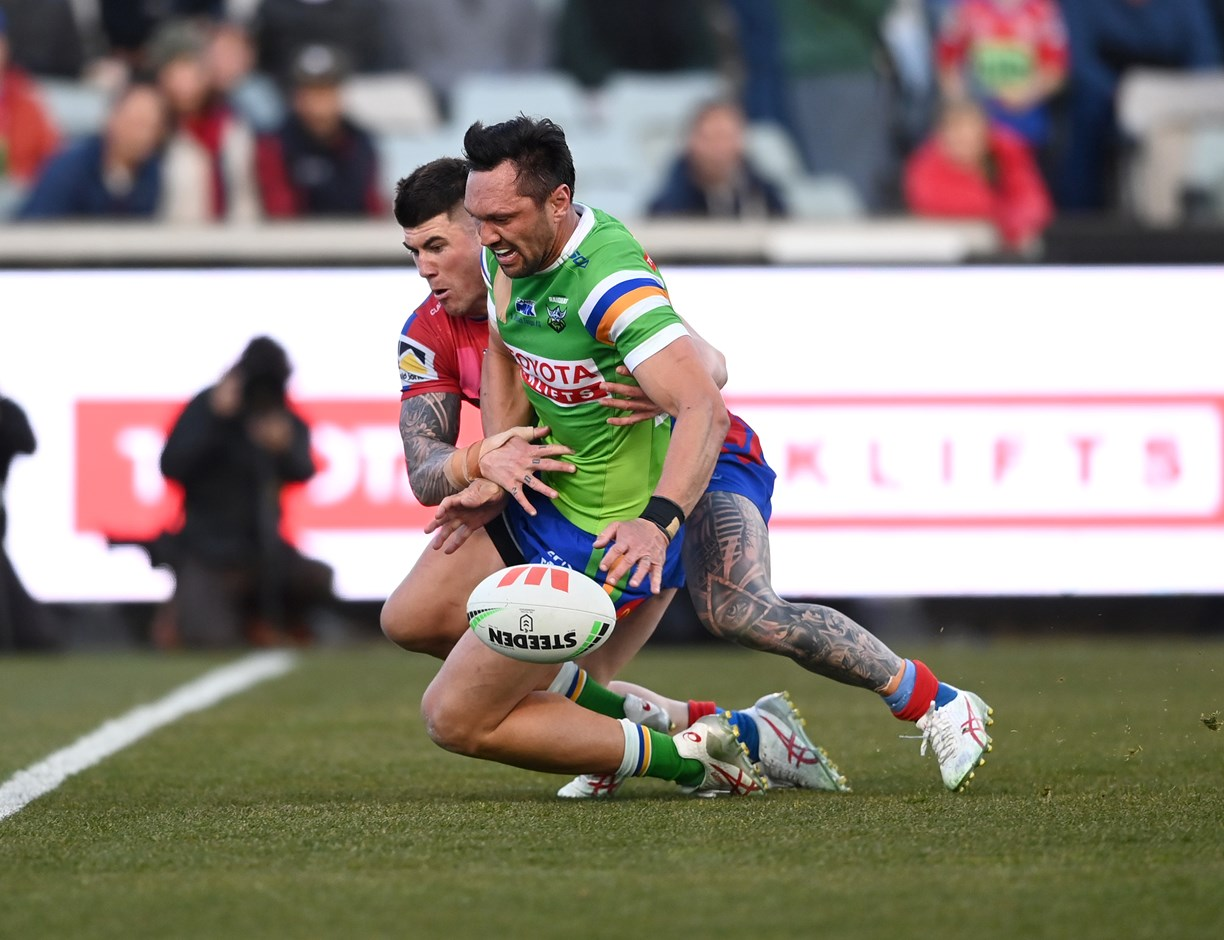 With that loss, it seems likely that Ricky's prophecy will not come true. And at this stage, with Canberra's run home, we may not be lining up in September. Which gives me mixed feelings.
It wasn't that long ago that the green machine was loudly and angrily spinning its wheels and sinking into the muck outside the top eight. So the idea of playing finals, even if it's a free hit, is pretty cool.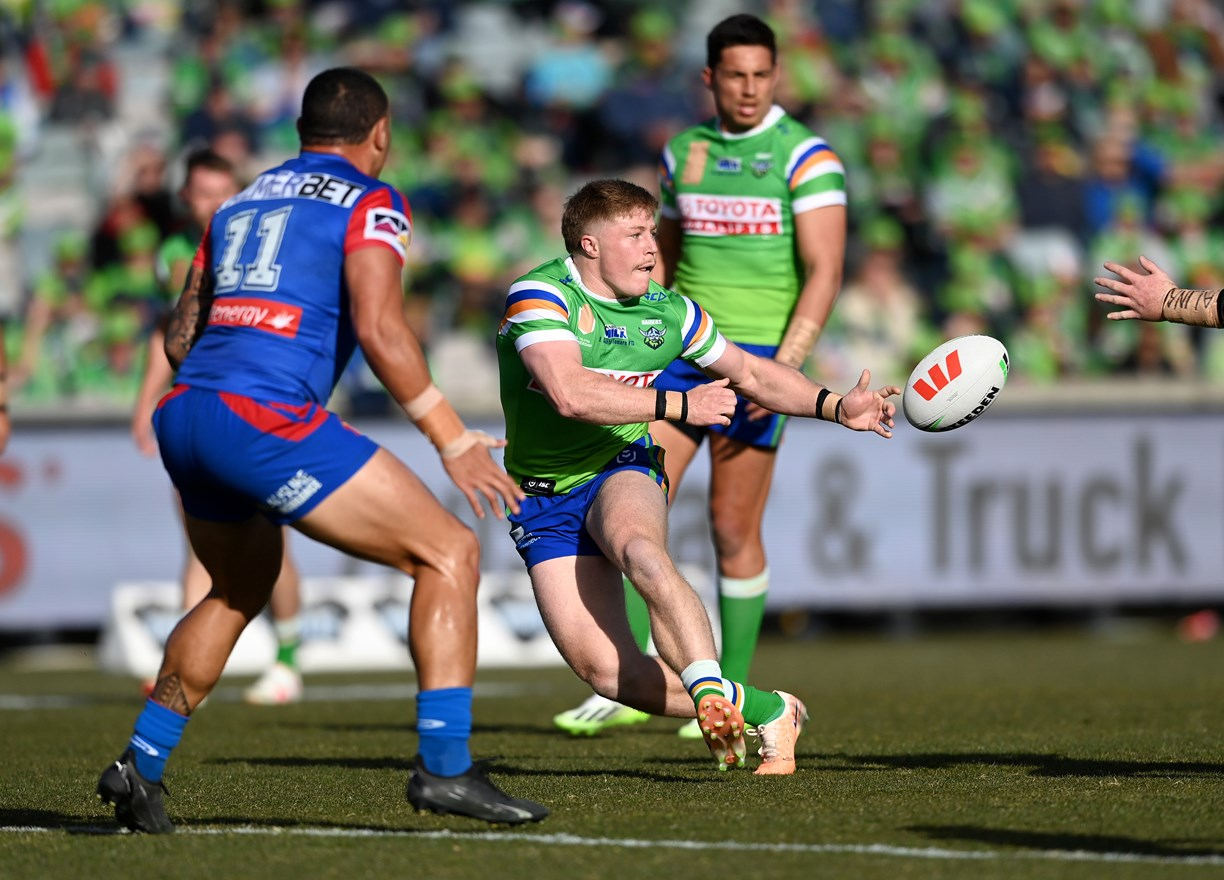 Give the players a week to lick their wounds, fire back up, and see where the 80-minutes takes them. Hopefully two more competition points. Otherwise I think my hands are going to be permanently glued to my face.
But enough about those losers, let's talk about the real winners - and that is, of course, the NRLW side. Who are also called the green machine, Canberra, and the Raiders. Is that confusing? Yes. Do I care? No. Buckle up, homestuck.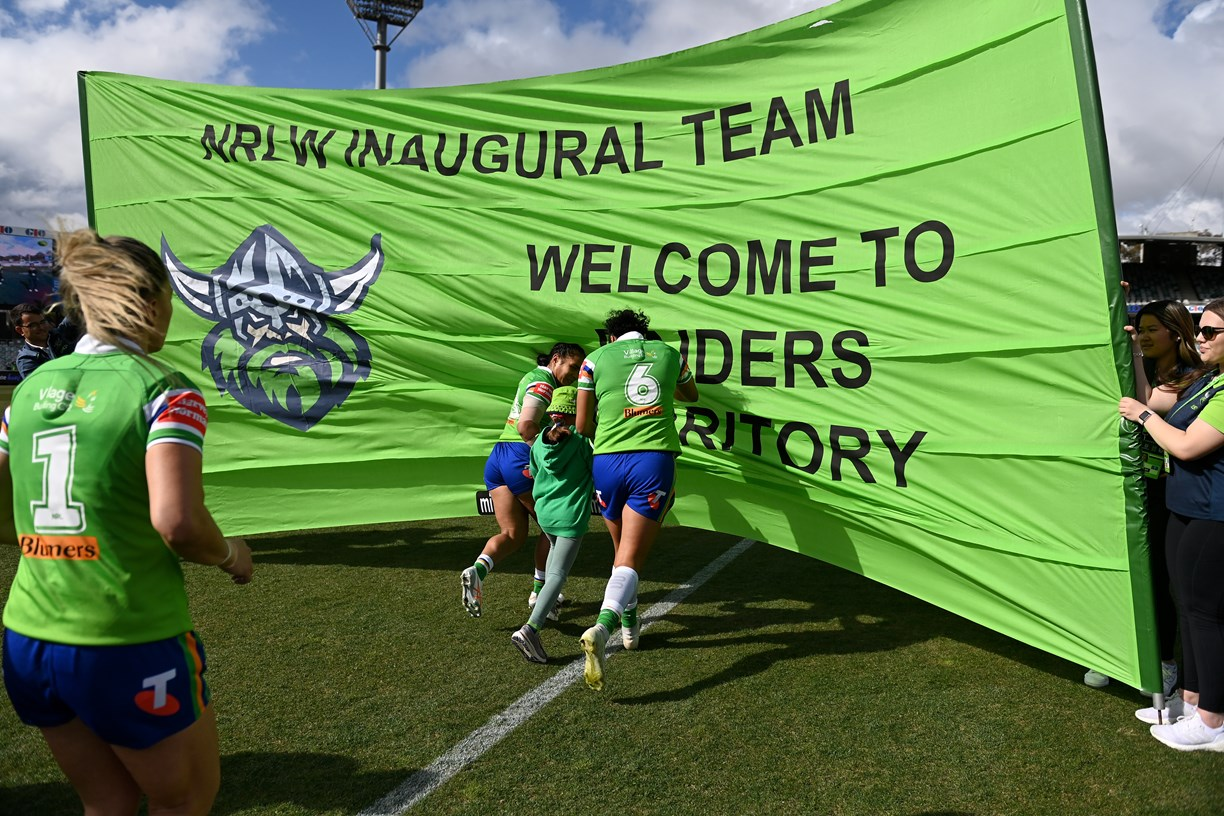 It was the first game for the women at home against a red hot Roosters side, with a host of superstars, experience in the game already, and designs on leaving Bruce stadium with two points. What they got instead is a one-two punch from Grace Kemp and Kere Matua, who were both happy to leave the Roosters seeing Green.
Both sides started slowly, but it was clear from the outset that Canberra were much improved from their first outing against Cronulla. They seemed crisper, the ball-movement was more effective, and once they got going, they were hard to stop.
Early signs were mixed, as the Raider outside backs hit high gear, then got immediately bounced into touch, gifting the Roosters multiple sets in Canberra's red zone. But the green wall was initially well built, a number of poorly-executed attacking kicks by the Rooster halves saw the Raiders avoid leaking points.
In the end, after Sydney had the blowtorch applied to them, they couldn't stop making errors, and "Amazing" Grace Kemp feasted on the cheap possession, charging over from close range and kicking down the rotting wooden door of chooktown.
Another gift error saw Canberra back again, and Apii Nicholls flashed through some paper-thin defence, before handing the ball off to Cheyelle Robins-Reti, taking Canberra to a 12-nil scoreline. Zahara Temara must've been getting pointers from Jarrod Croker during the week, because her boot was a laser - she would end the day 4/4.
The home side would scream for the green again after Simaima Taufa, with a cooked shoulder, found some space thanks to Ash Quinlan, and snuck over under the posts. Suddenly, the superstar Sydneysiders were staring at an 18-0 hole, and the 3,000 fans that had showed up to power the NRLW side were loving it.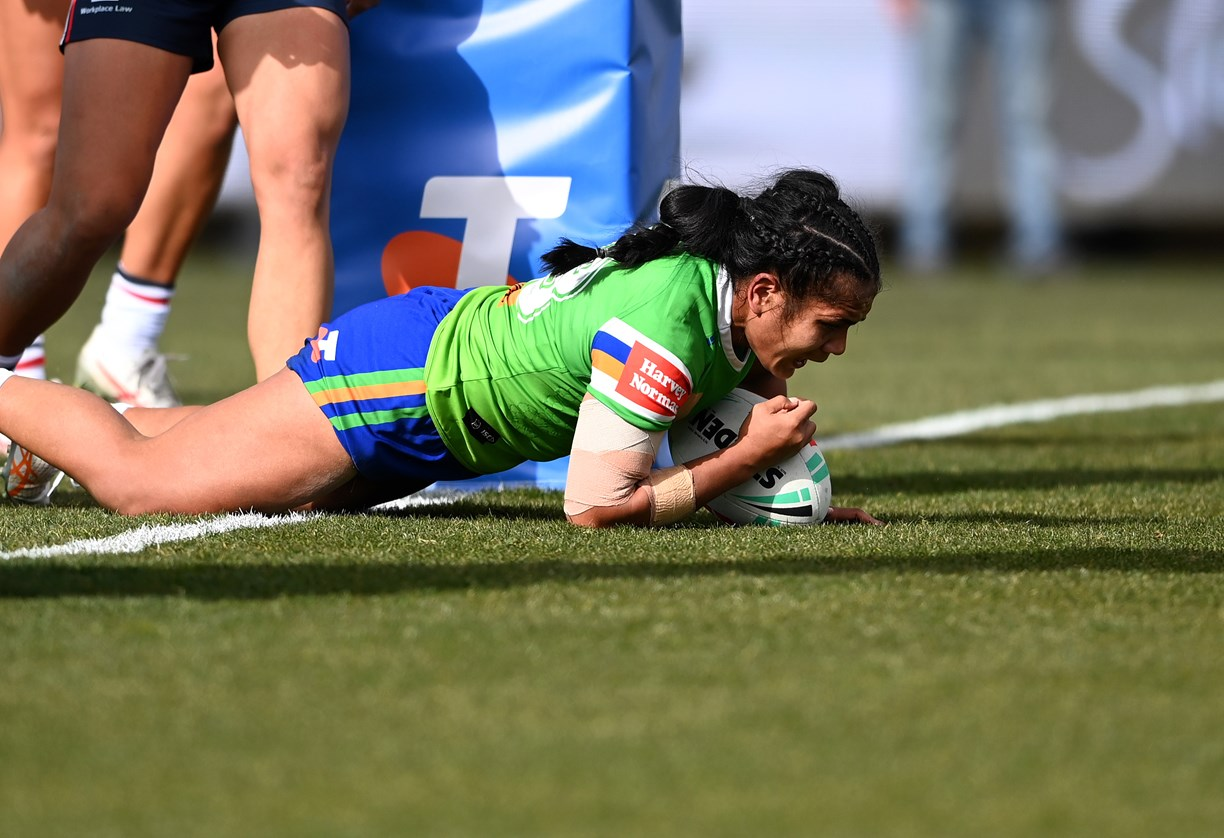 Then some pretty typical Canberra things happened. Firstly, Apii Nicholls had to depart with a HIA. Then, Simaima Taufa's shoulder pretty much gave in, but she didn't want to let the side down, so she hung about even as she struggled to make tackles.
There was a questionable cheap penalty on Kere, allowing the chooks to sneak home on the left-side of the field. Then, just as the Roosters were about to crack, a misfired grubber allowed Tarryn Aiken to scamper 90 meters against the run of play. Fortunately, the Roosters' Jocelyn Kelleher was in struggle city and couldn't kick for toffee, so despite the two scores, the Roosters were still down by 10 points.
Galvanised by that effort, Sydney lifted - this time Keeley Davis finessed her way through the tired middles to score under the posts. The extras weren't nightmarishly difficult to kick this time, and so the Roosters within four points. The comeback was well and truly on.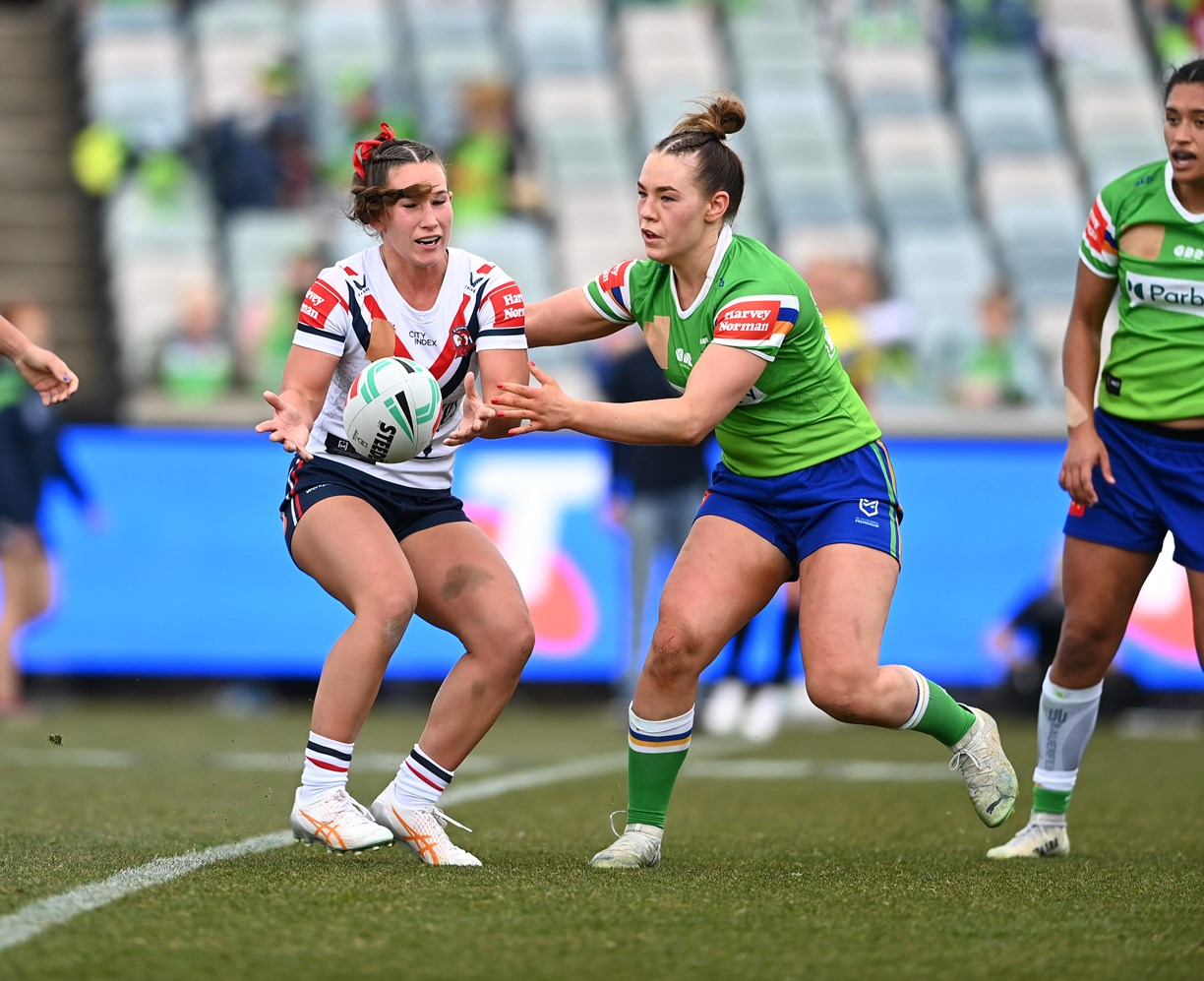 Then Roosters young gun Shawden Burton coughed up the ball. Canberra got rolling, the Temara sisters linked up like it was D plus one, and then it was time for a little family affair, as Monalisa Soliola - yes, that Soliola - charged over from short range at high speed, sealing the game.
The Roosters did what they could, but what that eventuated to was a series of errors and penalties that gifted the Raiders one of the easiest five-minute stretches of the game, where Grace, Kere and the rest of the forwards just had to chug up field, let Zahara Temara kick long, and there'd be nothing doing.
And just like that, our NRLW side had their first win. It was a truly magical moment, and absolutely softened the blow for the absolute trainwreck that followed it. In that moment, I was unbelievably proud.
Kere Matua did exactly what I thought she would, taking a run from the back fence and taking four Roosters for a thirty meter ride downfield. The spine moved with speed and efficiency - in particular, Apii Nicholls was a constant threat out the back, shredding Roosters defenders like powdered snow.
In short, I can't wait to see what Canberra has in store for the future.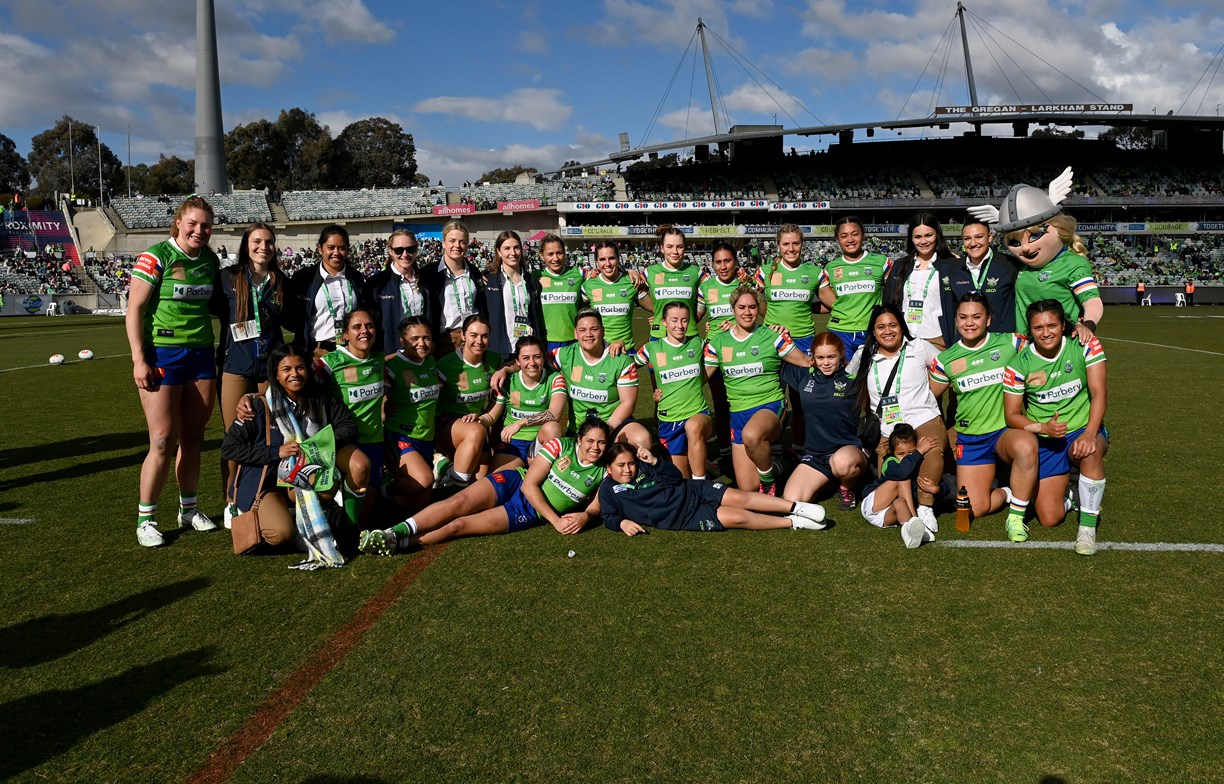 Next week is the big test for both sides, as the Tigers come to town. Can the men arrest the trend of embarassing pumellings at home? Will the women stand up to a ferociously stacked, competition leading Wests?
Only one way to know for sure.
Catch you next time,
Vulkan
Did you like this article? Did you hate it? Go over and keep the discussion going on the official Vulkan's Corner facebook page! - whilst you're at it, leave a like!