Yes yes, I know this video is late, but cut me some slack, I actually did a quarter of a good job in watching the press conference, reading post-game match reports, and trying to improve the 1000-word article I spit out each week. I say "trying", anyway.
The Raiders got on the board this week in a thriller against the Sharks. Which makes the rest of this article remarkably easy to write. Raiders yay, Sharks boo, everyone knock-off for late night supper due to how late this article is.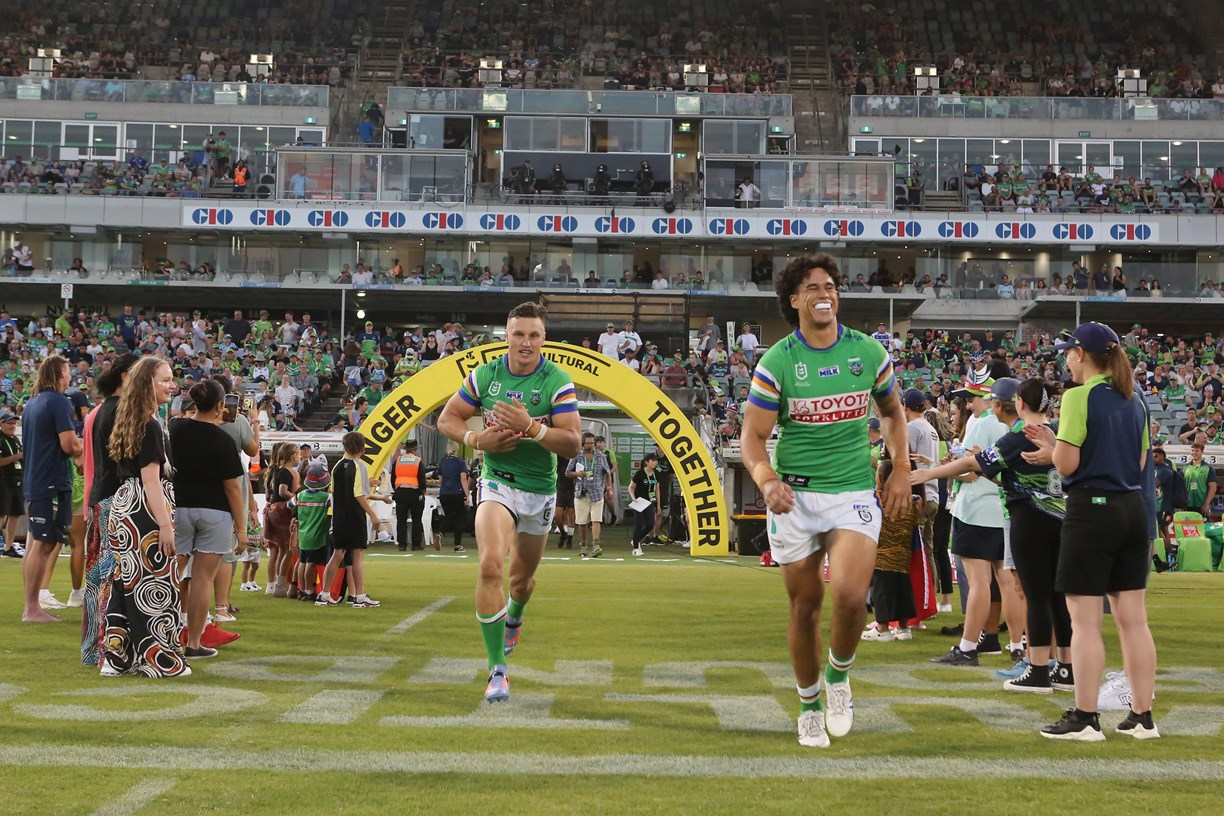 I didn't know this at the time, but after the game it was remarked that this win is the ninth in a row for the Green Machine against the ferals from Cronulla. It's particularly impressive if you consider the personnel that the Sharks have onboarded - granted, the crown jewel of recent signings, Nicho Hynes, did not take the field.
What impresses me most about Cronulla (because the Raiders won so I can pretend to be gracious by praising the men from the Shire) is the number of players they have grown into above-average talent. I still don't like Ronaldo Mulitalo, but you've got emerging stars like Siosifa Talakai (aka, Shark Man), Will Kennedy, Braydon Trindall, Blayke Brailey (i.e, the brother that took unders whilst brother Jayden is stuck in Rugby League hell in Newcastle) and Toby Rudolf.
On the subject of Toby Rudolf, I am led to believe he raised $40,000 for charity by shaving his disgusting mop of hair off of his head. Which I call a win-win.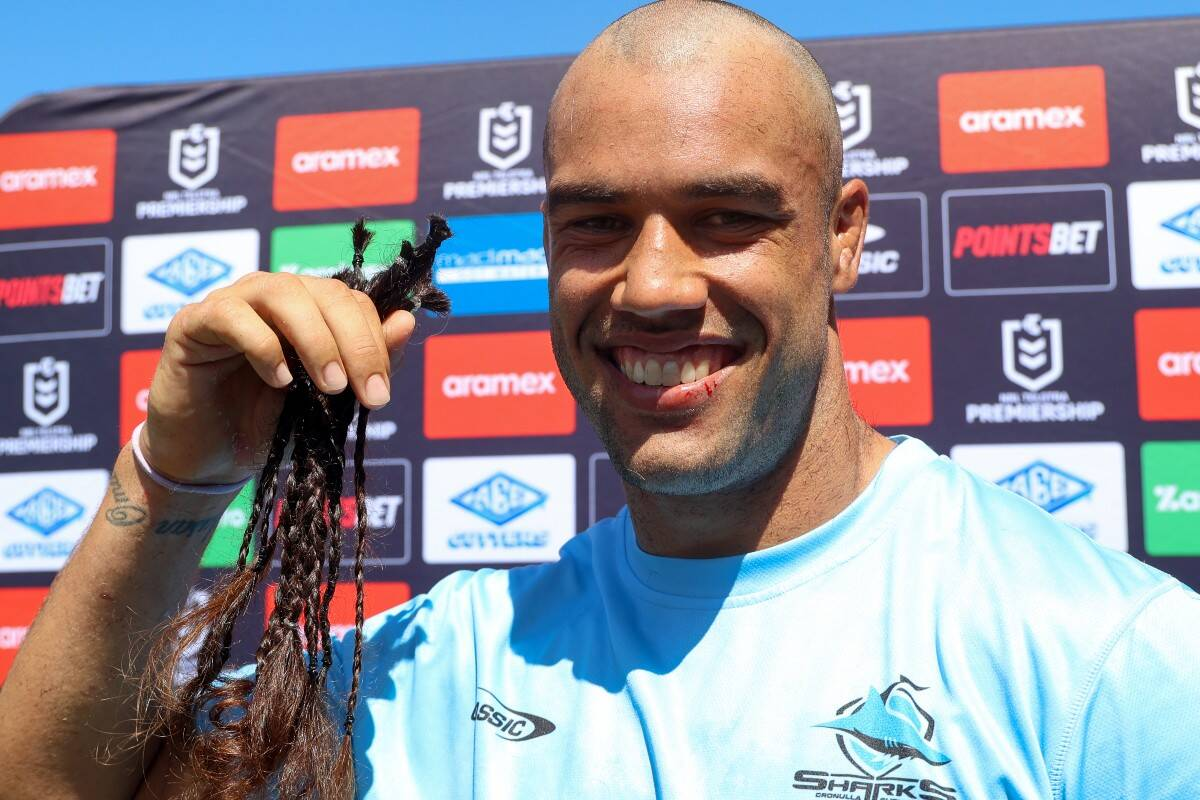 We're a long way from the dirty, grubby, nasty Cronulla of years past. Except for Ronaldo Mulitalo, who I hope stubs his pinky toe and the bone cracks.
I was at the game on Sunday - and apart from Royce Hunt losing his mind, there was very little grubby at all about Cronulla. They were a genuinely upbeat, up-tempo, positive side, which seemingly reflected in their football. They were very willing to run the ball hard, take their chances - and, luckily for the Raiders, one of the chances they took was making Siosifa Talakai kick for goal.
In fact, it looked like the Sharks were going to walk over the Raiders. In less than five minutes, Cronulla marched sixty meters in three tackles before Will Kennedy caught the Raiders on the retreat, burst through the line and scooted forty meters for what seemed a very soft try. It appeared it was going to be a very long night at Bruce Stadium.
But the Raiders, much like they did against the Cowboys (although not so much against the Dolphins) shook off the early jitters. With some fortunate penalties, Canberra answered back through Albert Hopoate, shifting the gamestate into a set-for-set grind. Strong defensive sets subsequently allowed the Raiders to steady the ship and go-ahead with the first of Cory Horsburgh's two tries - a thumping hit and spin close to the line.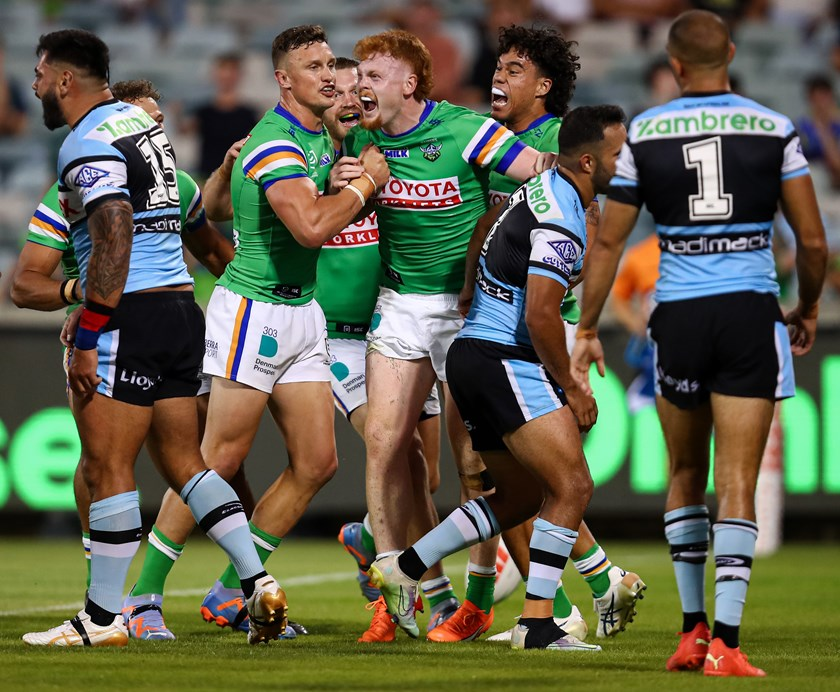 The lead would not change hands again.
It wasn't all sunshine and lollipops for the men in green. Danny Levi got annihilated early in the piece, having his jaw broken, along with having several teeth knocked out. I'm told at half time they had to send officials onto the ground to try and look for them after the incident.
I have been vocal on the subject of wanting Zac Woolford in ahead of Danny Levi. But, not like this. I hope his surgery goes well and his recovery is swift. It's a major roadblock for the journeyman, who may yet find himself seeking another club at the conclusion of the season. It's a very sad sight indeed.
Willie Mason, being interviewed for "Don't ask that", a television programme on the ABC, remarked that immediately after contact, and indeed the game, a person may feel satisfaction in physically "defeating" another player. But he noted that once the adrenaline fades, thoughts quickly shift to how it easily could've been them that had been injured.
Outside of that, again, there's a lot to like. Seb Kris is genuinely improving every week as a fullback. Positional play is still lacking, but his tough kick returns generally start our sets on the front foot. Where Xavier Savage is a finess player, that can move, duck and weave, it seems Sebastian is just a sledgehammer.
Again, I have to mention Matt Timoko. It seems the spirit of Jarrod Croker, like an aspect warrior, has been infused into his headgear (although he hasn't worn it recently.) Absurdly strong, his try in the second half was a potent concotion of speed, strength and skill. He'll go in the history books as another underrated Canberra center, but it's clear to me that Matt Timoko is destined for greatness.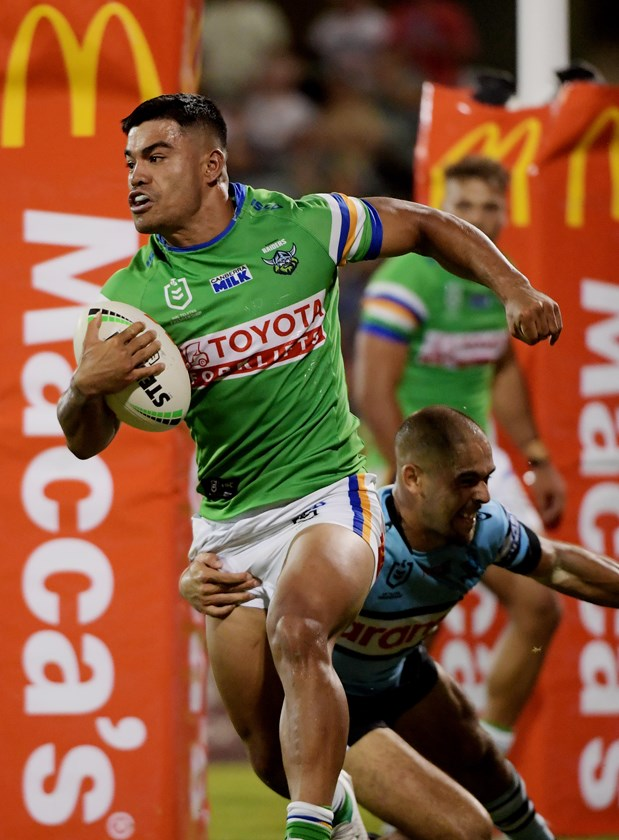 And you can't go past Tom "The Pocket Rocket" Starling putting in a 75+ minute effort knowing there wasn't going to be any respite, he'd have to make a million tackles and provide spark in attack. All in 35+ degree heat. Not all heroes wear capes, some of them wear green jerseys and give their boots away to children at (then) Bankwest Stadium.
So now the Raiders are on the board, along comes a trip to the steel city to take on Newcastle. Recent results have been mixed - but it would be nice to turn one solid performance into two, and use that momentum to have a string early-mid season. Preferably without a late fadeout.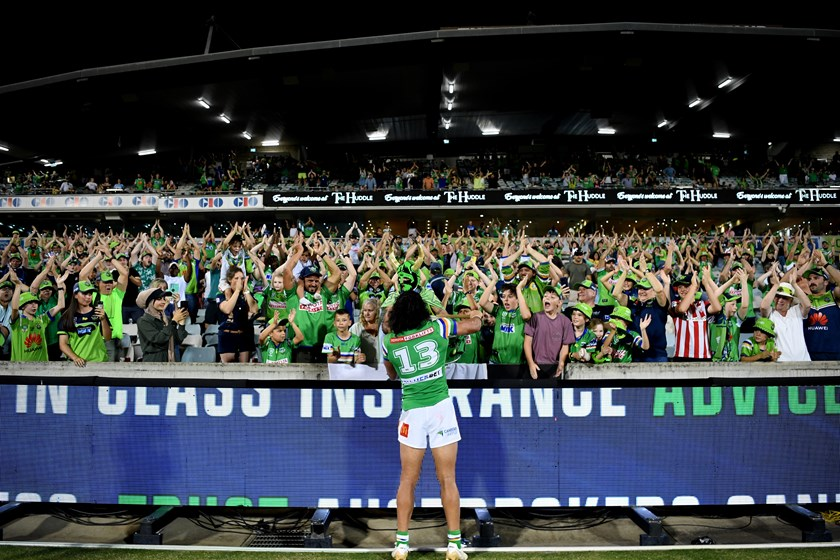 Catch you next time,
Vulkan
Did you like this article? Did you hate it? Go over and keep the discussion going on the official Vulkan's Corner facebook page! - whilst you're at it, leave a like!