One of the great things about football is that you can measure all sorts of things. You can use that to explain exactly why a player is good, or bad. If you're a robot. In fact, unique statistical combinations are often used to find diamonds in the rough. This is all explained through the filter of cinematography, in 'moneyball'.
But, in the least controversial take ever, not everything a footballer does can be measured. Which, in a roundabout way, brings me to Friday Night against the Panthers.
No, it wasn't an outcome I was happy with. But it's not my job to smash the Raiders on the internet. A legion of fans and media pundits will do that for me. It's my job to have one green eye open for the future. So even after the 'worst' loss of the young season, the one person who likes the Raiders and reads this blog who isn't me, can say "hey, yeah, good point."
I didn't see a lot of good football on Friday night. But I saw a lot of heart. I saw committed players in a side missing half their spine do their best until the 80-minute bell. They never stopped trying. And though Williams got punished with an intercept late which made the scoreline look worse than it is, they were at least prepared to take risks.
Beaten, but not unbowed.
Raiders Show Glimpses of Potential in First Half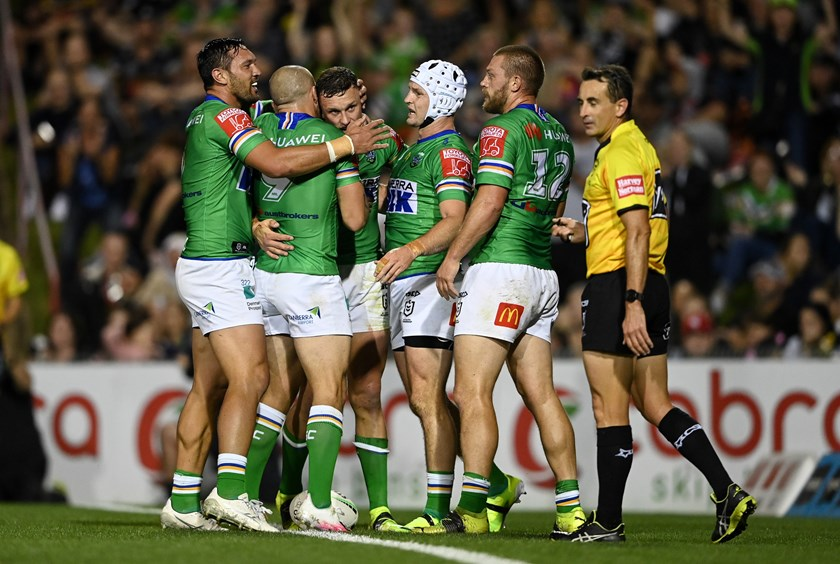 This week will feature lots of digging for some quite small potatoes. That's just how it goes when your footy team gets largely outclassed. But, one small potato was the initial twenty minutes of the Raiders. Until an unfortunate penalty swing the game and allowed Penrith to march up the other end and score their first four-pointer, the Raiders were right in the game.
They were frustrating the Panther forwards, putting the backline under pressure and at one stage were going to be 10-0 up until Croker was unable to put the ball down in the Penrith in-goal. Part of me does wonder if the game's momentum would've stayed with the Raiders if they went 10-0 or even 12-0 up.
For the first half of the first half (yeah, I know), Raiders fans were treated to the cogs of the green machine working smoothly and showing promise. There was even a moment fairly deep in the first half where I felt confident that Penrith's attack had been successfully stuffed by the Raiders and that there was an upset on the cards.
Sure it wasn't to be, but the potential is there - if Ricky and Cappy can unlock it, we might go all the way. A big prediction, but I saw what I saw.
Raiders Show Mettle Despite Injuries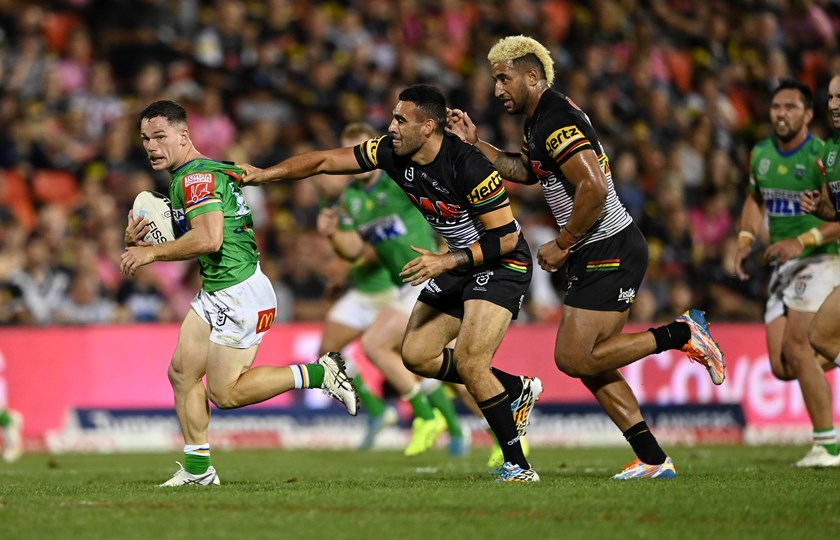 It's not a coincidence that up until CNK got his head smashed in by someone I will get to later in the piece, the Raiders were looking good. Once Charnze was out of the picture, the tide eventually turned. But even 6-18 down at the main break, the Raiders were absolutely still in the game up to their eyeballs.
It took another loss in the form of Josh Hodgson's hip, thus compromising the Raider spine, for Penrith to finally put the game beyond doubt. Up until then, the Raiders were getting to where they needed to go. Starling, showing he had lost none of what made him a fantastic rake last season, was starting to come into the game nicely. It wasn't a guarantee by any stretch, but there was something there.
The key thing I want to focus on here is that despite being down on troops again, players stepped up to fill the gaps. That's leadership and other intangible qualities that can't be measured in moneyball stats. Jordan Rapana in particular ran himself ragged trying to deputise.
It's clear that the side has heart, they just need to avoid having all of their key players die every week. If that's even possible.
Is It Time to Consider a Third Forward on the Bench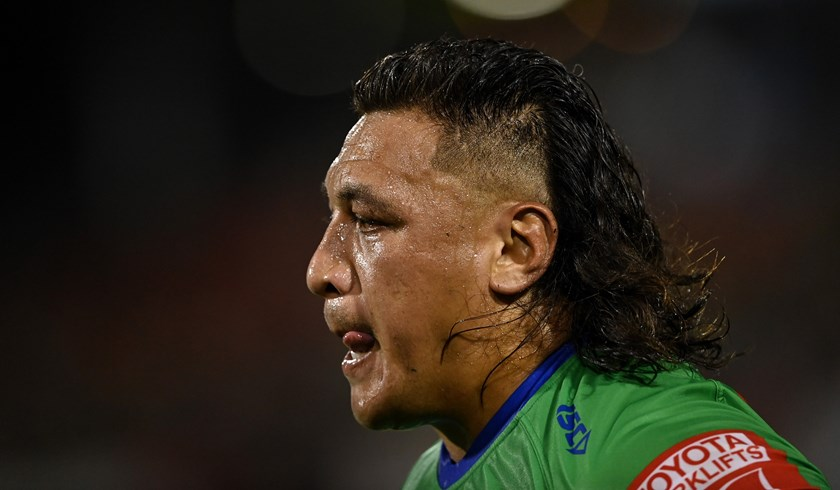 There's no doubt either Starling or Havili need to be in the side as a secondary rake. This doubles in allowing Hodgo to shift to rake in what Super Smash Brothers would call an 'offensive mixup'. But after more issues with injuries and the fatigue factor settling in over the rest of the forwards (not to mention the tremendous forward depth) I do wonder why the decision has not been taken to use three forwards.
Part of me does carry suspicions that it's a 400IQ play from the coaching staff and that later in the season (provided we win enough games to be in the frame) Ricky will revert to a three-forward rotation. But I'm not privy to details like that and I never will be. I'm merely a speculator. Also Siliva Havili can also play as an extra forward, so that may also figure into things.
The flip side of that is Ricky might not want to lose Havili and Starling to other clubs. Much like what happened with Sezer, Austin and Williams in the rotation, the attempt to keep them all happy has an overall negative outcome for the side. That being said, none of the players in the bench rotation are being used out of position, so the impact is lessened.
We'll have to see how the weeks play out.
The Parting Shot
I said I wouldn't complain about the referees and I won't. What happened to Rapana and CNK had very little, if anything, to do with the officiating on the night. Even if it did, blaming the officials would not soothe my impotent rage. It's mostly dissipated now anyway.
Instead I will direct my ire at someone who absolutely deserves it. Villiame Kikau.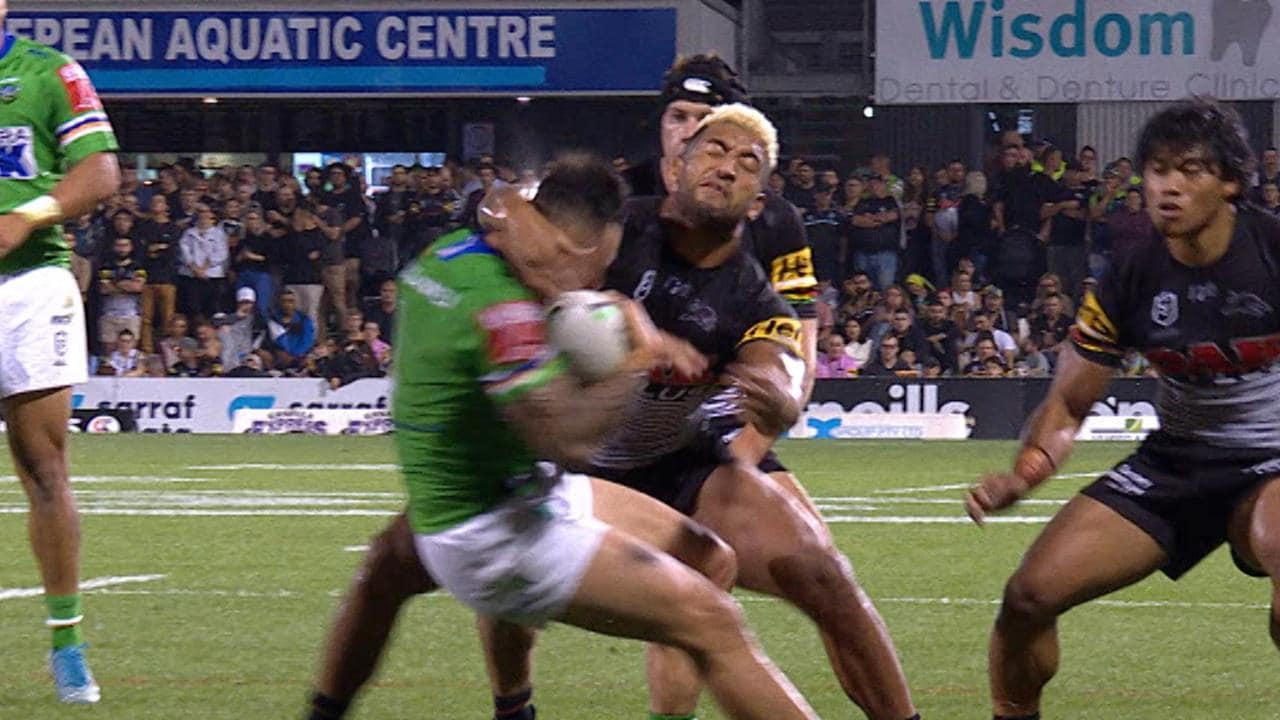 Of course, it's not all his fault. Fox Sports had a field day cheering on the Penrith enforcer as he knocked out CNK with a high, reckless swinging arm. The fact that the officials declined to penalise or sin-bin Kikau is beside the point. So, incidentally, is CNK's position at the time of the incident, which was at three-quarter height.
It was high and it was dirty. Even if it wasn't intentional, it's still dirty. His team-mates and the media cheered him for it. Disgusting.
If that wasn't bad enough, angry at being behind early in piece, Kikau put his shoulder into Jordan Rapana's head whilst he was on the ground. With no way to defend himself. It's tough to argue the swinging arm which knocked Charnze was intentional. But the action on Rapana was.
There was something else, too.
At the height of their powers (so, the last ten years), the Storm had a tendency to 'grub up' when losing. They let the facade of the professional team slip. Penrith appear to be following in those footsteps. Although this time the Panthers also displayed some tremendous arrogance once the game was in the bag. Stephen Crichton's niggle on Joe Tapine springs to mind.
I wonder how he'll feel when this current era of Penrith draws to a close and he finds himself the target of the next young gun with a cocksure attitude.
Vulkan Medal Points
Man of the Match - Jordan Rapana (2pts)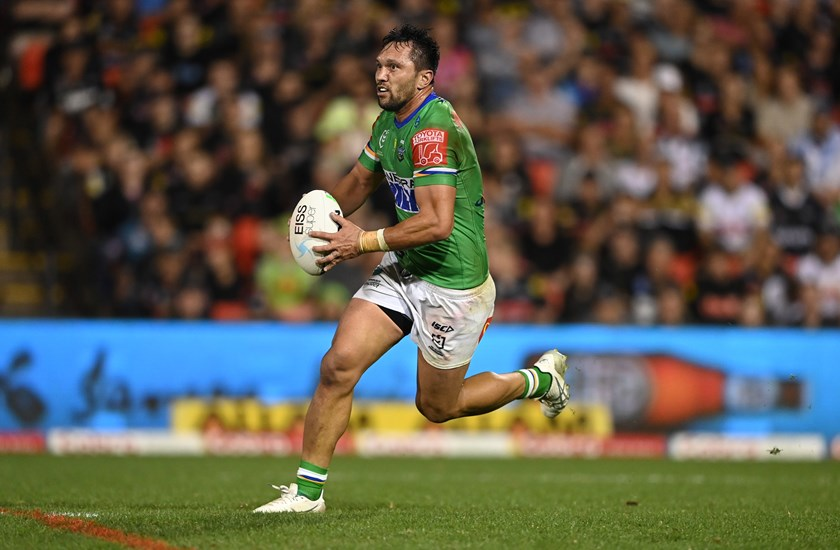 I talked about Jordan Rapana a little bit in the above column, but I want whoever reads this article to know the man who goes by so many nicknames was immense for the Raiders. His input wasn't just in meters gained, or tries scored, or whatever. He dug deep and inspired the rest of the side to keep going even as the odds became increasingly bleaker.
Even as it became increasingly clear he was totally cooked, Rappa never stopped trying. Much like Jarrod Croker, or Josh Papalii, Jordan Rapana is a figurehead for the side, who does so much more than just score tries and rack up run meters. Though he's pretty handy at that, too.
Le Hidden Gem - Tom Starling (1pt)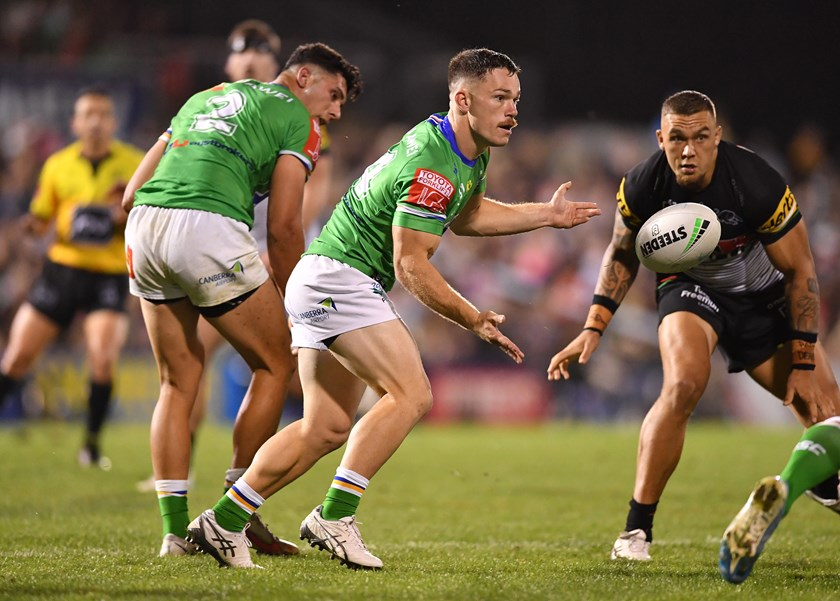 All hail the pocket rocket!
If there was going to be one man who was going to get the win for the Raiders on Friday, it was going to be Starling. Injected relatively late into the game, the tired Panther forwards struggled to keep him under control and on more than one occasion he was key in exploiting fatigue in the Panther defensive line to devastating effect.
Depending on what happens with Josh Hodgson this week, there's every chance he suits up and leads the Raider pack into battle again. Consider me excited for the possibility.
So, glass half full. Deliberately so, I'm aware, but still half full.
This week sees another big test against the Parramatta Eels at Bruce Stadium. I remain quietly hopeful after their performance against St. George at Western Sydney Stadium. A lot can change in a week, after all...
Catch you next time,
Vulkan
Did you like this article? Did you hate it? Go over and keep the discussion going on the official Vulkan's Corner facebook page! - whilst you're at it, leave a like!