I'm not a rugby league savant. I just like writing about my hobbies and interests. One of which is watching (and hoping) that the Raiders eventually get it together.
In the leadup to the game against the Broncos, it was looking grim. Four losses in five starts, including a 40-point pumphandling at the hands of the ferals from the foot of the mountains. If you told me that same team, a week later, would travel to Brisbane and knock off the ladder-leading Broncos - I would've called you a true believer. And some other things I'm not comfortable printing in this column.
There was one event which gave me hope. The Brumbies, Canberra's Rugby Union side, beat the Queensland Reds, in Queensland, at Suncorp, for the first time in eight games. I thought to myself, maybe, somehow, this would be the year for Canberra and the ACT to stand up and take the power back.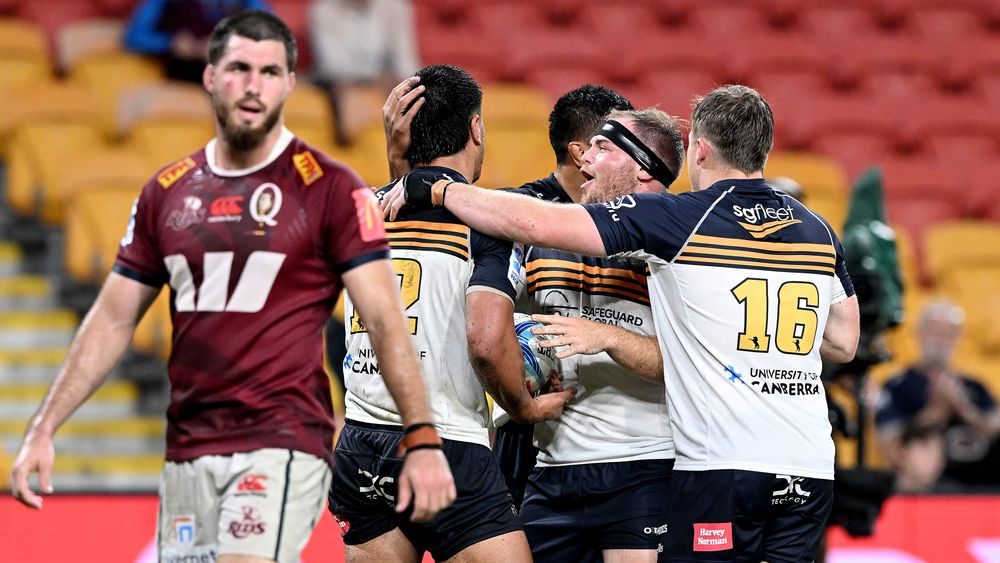 For this result to go the Raiders' way, it would be beyond a season 2023 boilover, however. The last time Canberra beat the Broncos at Suncorp Stadium (a.k.a Lang Park) I was still in college, and Melbourne were still in the midst of a salary cap scandal. Thirteen years is an eternity in football. I don't like to use betting odds, but the Raiders were paying $6. It was the surest thing in the world, that Brisbane would end the night 6-0, and put a cricket score on Canberra.
I was such a coward, I chose to listen to the game instead of watch it. Then, the Raiders scored first. And the flicker of hope I had, slowly grew.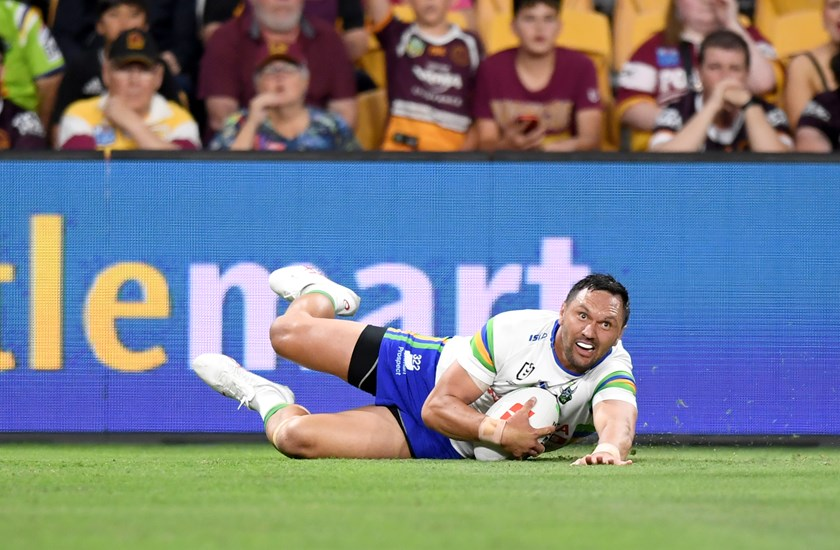 Something had to happen. It seemed inevtiable that the Raiders would fade out and surrender the lead in embarassing fashion. One of the Broncos' countless stars, such as Carrigan, Reynolds, or Walsh, would seize the moment.
But no-one did.
And as Martin Tapau accidentally killed Jordan Rapana (not literally, mind you) with a flying knee, conceding a crucial penalty, the hype reached fever pitch. The Raiders escaped their own end, and in the dying minutes, it was just too hard for Brisbane to get where they needed to go in order to nab that last four-pointer.
Raiders 20. Brisbane 14.
Lang Park was green for the first time in thirteen years.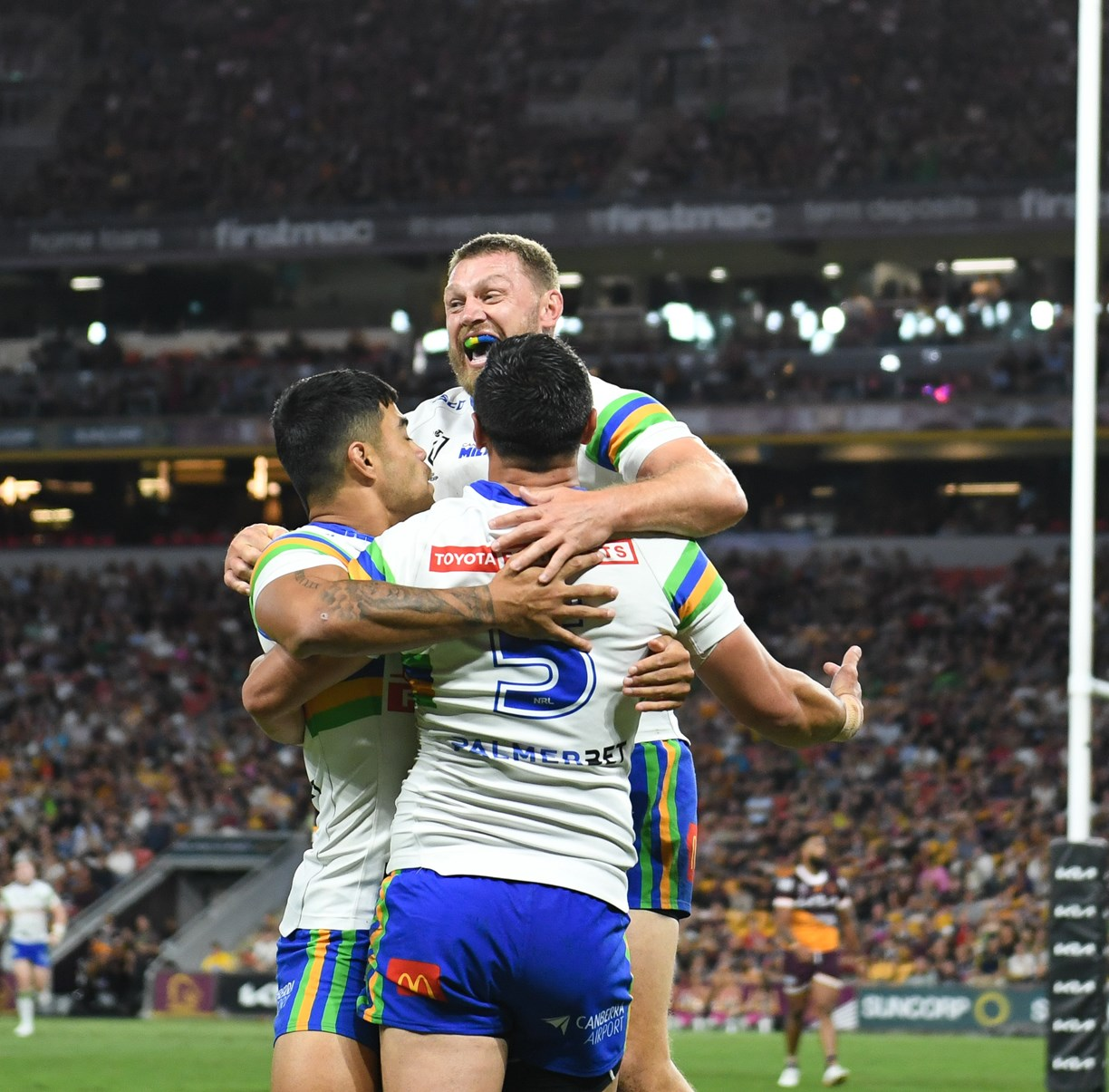 Even writing that sentence fills me with chills. Pure footballing magic. As it turns out, a week is a long time in football. From being humiliated at home by the ferals from Penrith, to producing one of the all-time great performances of any regular season.
At this point, again, a special mention must go to the supporters, who, knowing their club was likely to cop a pasting and they've be treated to the "hey hey hey, goodbye" song yet again, still showed up and cheered their team on. You are the people Ricky Stuart is referring to, when he says Canberra has the best fans in the world.
Keep up the good work.
Of course, it wasn't just the team result that sparked joy. Step forward, one J. Croker.
It has been more than a year since Jarrod Croker pulled on a green jersey in anger. He couldn't have said it better himself. All he wanted to do is work hard for eighty minutes, and help the man next to him. He did a lot more than that.
A very long time ago, I remarked that Paul Gallen was more than his individual performance when he played for the Blues. It was the intangible stuff that justified his inclusion. The force multiplication, the leadership - the veterancy.
In the ancient Roman army, before the marian reforms, the last line of a Roman army was made up of their most veteran soldiers - the Triarii. The saying "to go down to the Triarii" meant that the last decision in a battle was made, and the Triarii would need to save the day.
Jarrod Croker didn't get to 290 games by accident. It wasn't some fluke. In the post-match press conference, a journalist made the following observation:
"Jamal Fogarty told me on the field, that Jarrod Croker kept everyone calm and collected."
THAT is why he's in the side. He is a leader, and respected as one of Canberra's all-time great players. He might not be the explosive, tackle-busting strike weapon that makes headlines, but he'll keep players cool, calm and under control. He will lead from the front, he'll talk it out, and hopefully his performance on Saturday night, where he stopped Kotoni Staggs cold, will seal the deal on 300 games.
Not to mention, you know, 4/4 with the boot.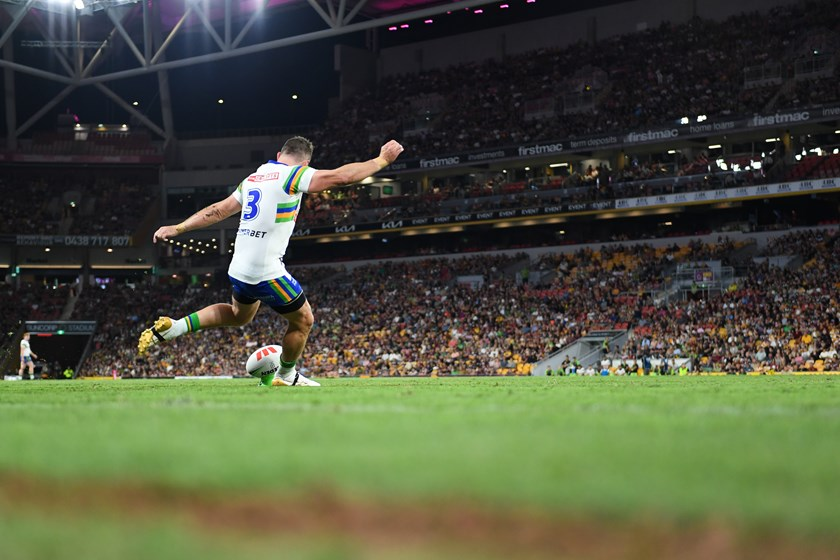 Welcome back, toots. Never tear us apart again.
From the headlines around the Canberra camp today, it seems he has transitioned into a living legend, judging by the playing group pushing for him to be picked. It's not just an individual desire anymore. It's the will of the playing group - and that's a powerful sentiment indeed. They're playing for Jarrod now, not just with him.
Of course, because I'm a spoilt fan, I'd like this result and this sentiment to drive the Raiders forward. It was an outstanding result, to be sure, but now's the time to aim up. There's another 20 weeks in the competition, and it's not going to get any easier.
You drew a line in the sand, and bit down into your mouthguard. Now you have to do it again. Every week.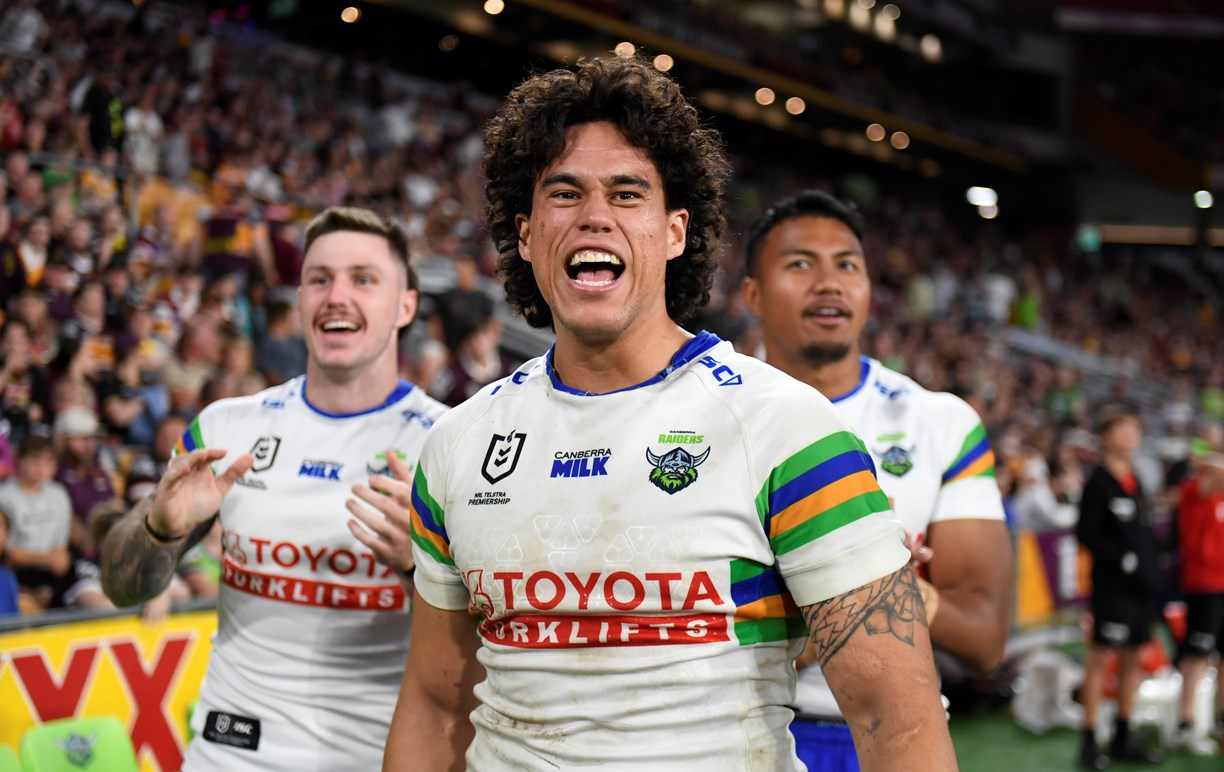 Before I go, because I'm spiteful, I'd like to fire two parting shots.
To the Brisbane ferals booing Jordan Rapana as he was carted from the field. Grow up. Martin Tapau led with his knees, he was lucky not to do more damage instead of the glancing hit, which led to a category one concussion. You can cope all you like about how the fans were "booing the decision", but let's be real. You thought he'd taken a dive, and so rather than applauding, as is traditional, you let your true colours shine. Let the vinegary taste of defeat linger in your mouth this week, "BronxNation", you truly deserve it.
And I wasn't sure if I wanted to include this one or not, but I've decided I will. Isiah Yeo and Brian Fletcher (no not that one) deciding to have a pity party in the media about a "Witch Hunt" being orchestrated by members of Fox Sports.
For a team that's supposedly so resilient and willing to give it back, you sure do have a glass jaw. If you'd like more favourable coverage in the media, perhaps you shouldn't behave like the ferals you are?
Ivan cleary deserted the Tigers. That's on record, it happened, he's a villain. Last week, he defended a continuation of a feud that got Ricky Stuart suspended - but suddenly it's fair for Jaeman Salmon to carry on? You want to defend him? Fine. But the media doesn't owe you, your club, or your players, a god-damn thing. You're not victims, you're not hard done by, you're public figures in the media being criticised. Take your lumps, just like everyone else.
Or don't, and boycott Fox. Saves me having to see any of your ugly mugs on the telly sooking about how we "do good things in the community".
Next up will be a afternoon game against St. George Illawarra. I'm hoping for some sunshine, good footy, a strong performance, and maybe, just maybe, back to back wins. Not just for me, but for Jarrod.
Catch you next time,
Vulkan
Did you like this article? Did you hate it? Go over and keep the discussion going on the official Vulkan's Corner facebook page! - whilst you're at it, leave a like!