That was definitely a football game.
It was not a good football game, by any stretch of the imagination. It was a slow, grindy, slugfest of a game, which was mostly durdle and do-nothing. Neither side looked like they wanted to win it, and in the end, it took some individual brilliance to seal the deal for the green machine.
And of course, after an unfortunate intercept which gifted the Dragons an extra four (but very importantly, not six) points, it seemed destined that the game would go to Golden Point, where the most likely outcomes would be a draw, or an agonising Ben Hunt field goal.
Fortunately, the above nightmare scenario did not come to pass. Small (green) mercies.
I very rarely feel bad for the Dragons, but I do have a soft spot for Ben Hunt. A man blamed for the 2015 grand final loss, who has been pursued relentlessly in the media. Only when it turned out he and his wife had suffered tremendous personal tragedy did the circling vultures finally back off, and only then, begrudgingly.
Unfortunately it seems he will be stranded on the island of St. George mediocrity for some time. If they don't sack Anthony Griffin, it is well established that "Hook" doesn't have the chops to be a good football coach. If they do sack Anthony Griffin, he has to give the Dragons a black eye and seek another club. He will not land at a marquee club, and will likely retire after several seasons.
Many such cases. Very sad.
The game itself was a bit of a snoozer. The speed of the ruck was positively glacial for both sides, stifling any sort of attacking momentum. Penalties and set restarts in the first half were generally rare, and the Raiders struggled for creativity in attack. Even with three set restarts on St. George's 10-meter line, the Raiders didn't so much as sniff the tryline.
Neither side looked likely for thirty-five minutes, before Tautau Moga finally broke the deadlock, barging over for a four-pointer that Zac Lomax couldn't convert. Spoiler alert, Zac Lomax would go on to miss 3 of his 4 shots at goal.
Jarrod kicked 4/4, though.
So Canberra had no points and nothing to show for forty minutes of football. If they had another slow, inspid second half, they would not be leaving Bruce stadium with 2 points.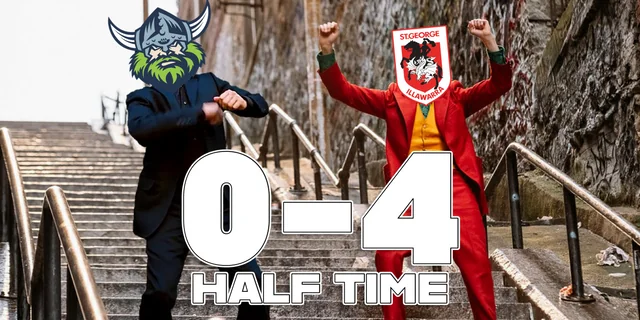 After a spray, or a dose of Ricky's Secret Stuff (which was just water), the Raiders came out and played better in the second half. Not much better, but better. It was a back to basics approach, with more direct running. None of Canberra's tries were fancy. A crash ball close to the line to Seb Kris, Matt Timoko doing his thing, and of course...
Hudson Young's strip and run.
On that cold, misty Canberra afternoon, in a rehearsed move, Hudson Young picked Zane Musgrove's pocket, and bolted before anyone from St. George knew what was happening. The Raider faithful willing him all the way home. It looked like Jaidn Su'a would mow him down, until the ankle tap missed, and a four pointer right under the sticks, belonged to Hudson and the Raiders.
It was a magic moment, for sure, and shattered the Dragons' nerve. All the defensive work St. George had done for the majority of the game, went out the window. Canberra started rolling, and it looked like another four-pointer was due. Which was true, it just didn't belong to the Raiders.
Then Seb Kris dropped a Ben Hunt bomb, giving St. George a handful of plays to level the scores. Fortunately, they didn't, but it would've been a classic Canberra moment to have lost after being 10 points up with seven to go.
Despite the slow, boring and frustrating football, there were some bright spots. Or, really a bright spot. Turns out Seb Kris is really good. Wing, Center, Fullback. Yes, he's not explosive like Xavier Savage, but he takes brutal carries in the back, and he's getting better at linking in the line. Not that it will matter soon, because X-man is nearly recovered, having played reserve grade this week. I can only hope it's not a backward step.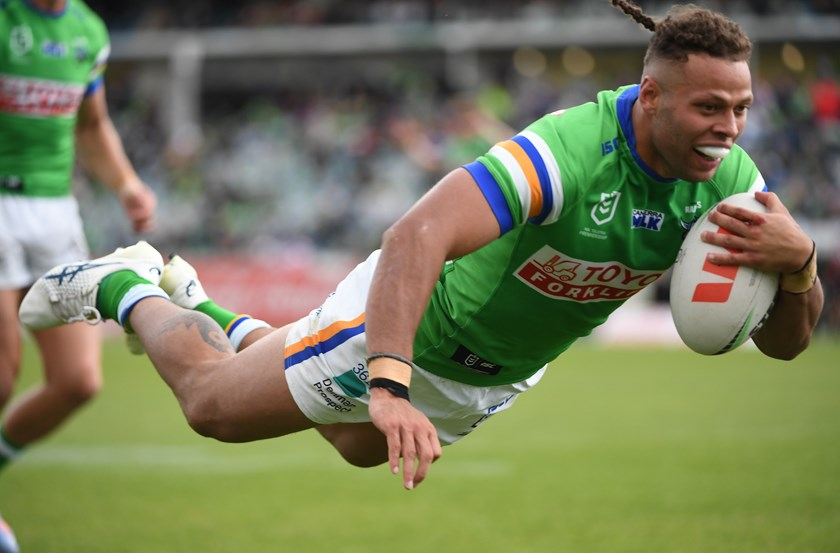 Otherwise, you had standout performances (again) from players like Matt Timoko, Albert Hopoate and Tom Starling. It goes to show that it takes a lot more than a single superstar for a team to function. But, speaking of our superstar...
...I don't know what's going wrong with Jack Wighton. He doesn't run well anymore, he doesn't pass well, he's flat and out of sorts. I don't know what to put it down to. We're a long way from 2019, or even his Dally M season in 2020. It sucks, because if Jack Wighton was in peak form, we'd be doing a lot better than we are right now.
The worse his form gets, the more I lean for him to try and get a fresh start in Redcliffe. Maybe the sunshine and easier access to party drugs will cheer him up and get him firing again. I'd like to see that. As it stands, he's just not there.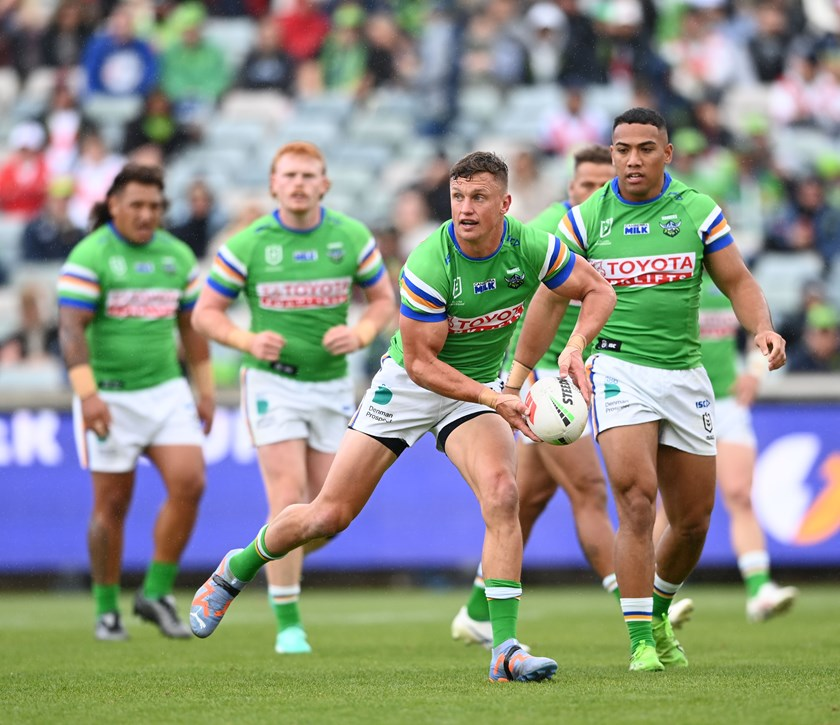 This week is the bye week, so I don't have to pump out a low-quality sportsball article - I might think of something else to put in its place.
Catch you next time,
Vulkan
Did you like this article? Did you hate it? Go over and keep the discussion going on the official Vulkan's Corner facebook page! - whilst you're at it, leave a like!