Before this was a world of warcraft blog, I covered all sorts of topics. Wargaming, video games - I even covered the Raiders' entire 2021 season. All 25 games of misery.
But with me officially giving world of warcraft the flick in order to focus on other projects, it's time to finally get around to giving the Raiders a report card for their 2022 season.
(Seriously, it is not possible to balance a little one with painting miniatures, wargaming, writing blog articles, and video gaming. Don't try, pick a lane.)
I cannot fail to notice that since I didn't cover the Raiders this season, they did... ok. That's my grand summary of six months of NRL football. They didn't do well, they didn't drop off of the face of the earth, they were about the middle of the road.
That wasn't to say there wasn't anything to like - in fact, there was plenty. We got to see the continued development of Joe Tapine. I can still remember when he was onboarded for "big money" in 2017 - and he has proven to be worth every cent of that investment. His combination with Josh Papalii has only grown, and the Raiders' props did their best to give the men at the back space and time to work with.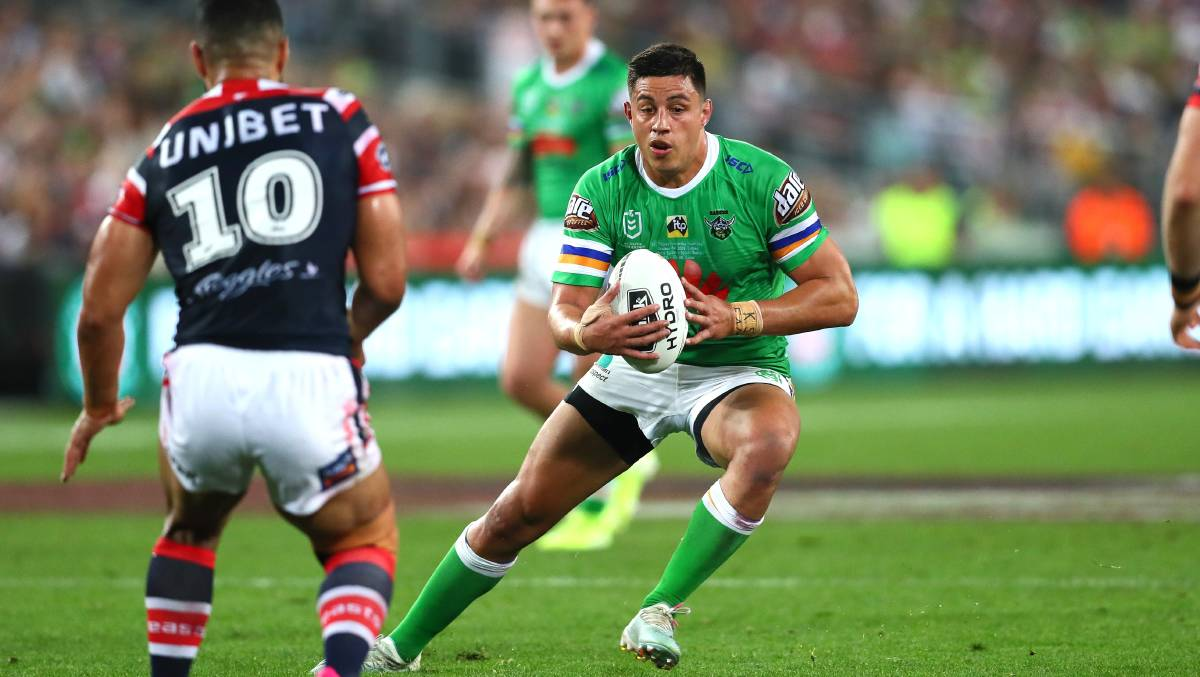 Brad Schneider got his time in the sun, and for awhile, it looked like he'd be a hidden gem. Unfortunately, in that same stretch, he endured a revitalized Cowboys outfit, twice, a coherent Manly side before the troubles with homophobia (never forget), Melbourne, and Penrith.
Yikes.
And of course, who can forget, Hudson Young. On his way out, John Bateman marked young Hudson (geddit) for greatness. He has come a long way since being rubbed out for nine games for eye gouging. He has cemented that spot in the second row, and became a proven matchwinner - not once, not twice, but thrice. Conveniently, he's also of Ukranian ancestry - which goes to show the power of eastern european genetics. Fox was sure to mention that in the promos.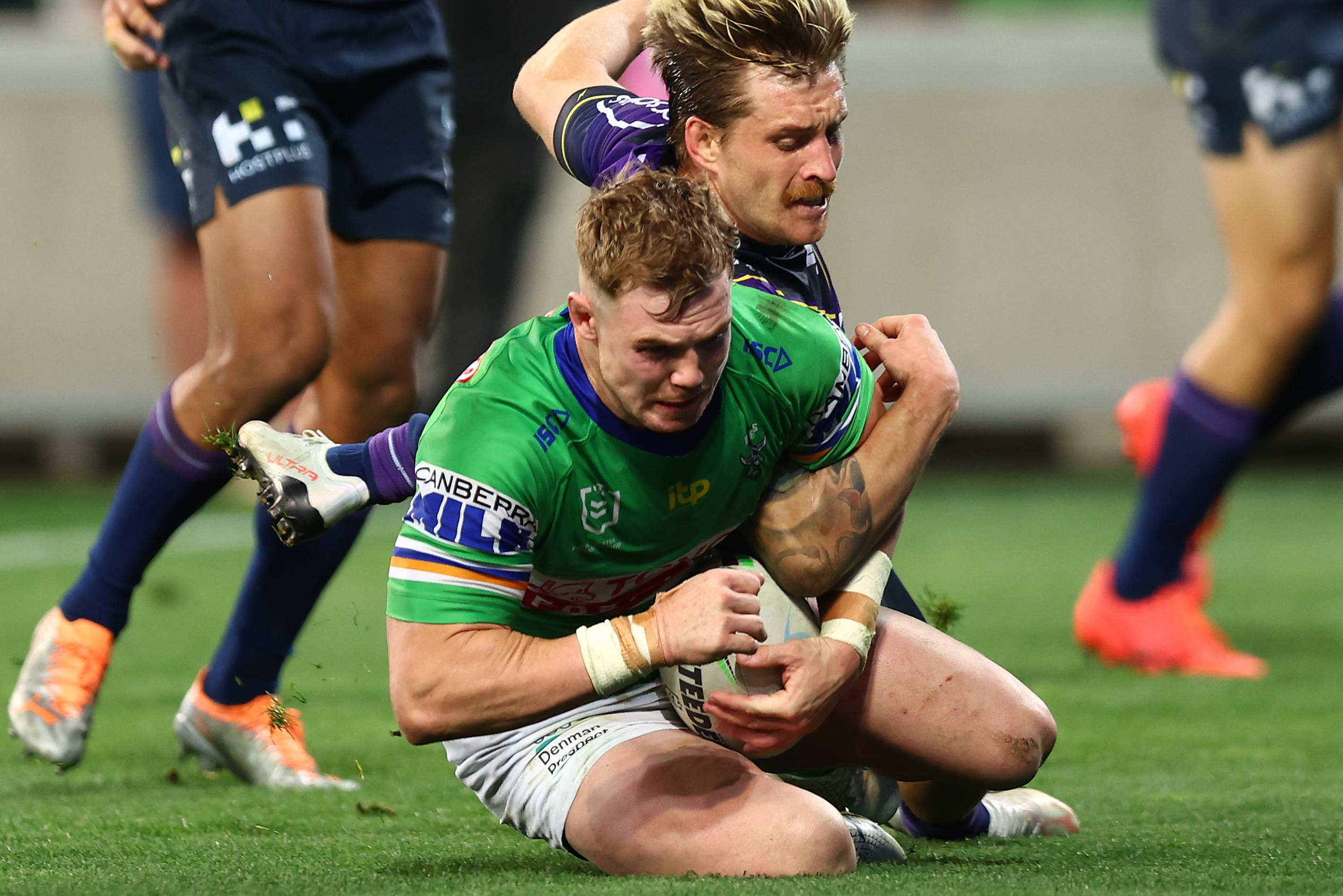 But, it wasn't all good news. Despite sweeping the resurgent Sharks (including a last-gasp win in round 1 which sent the crowd into raptures), Canberra proved incapable of standing up against the very top sides when it mattered. This recorded included two losses to Penrith (including a very depleted Panthers side in R21, that was absolutely winnable) the Cowboys and a loss to Parramatta, sporting an unfavorable 2-5 win/loss record against the top four.
Early injuries also arrested any chance of early season momentum being generated. This included a four-month layover for Jamal Fogarty, and injures in the first game for Josh Hodgson and Jarrod Croker. I don't care who you are, having two members of your spine, including an international representative, it'll hurt - and hurt it did.
The official "low ebb" of the season was a loss to the warriors (off the back of an excellent dive from known man of integrity, Matt Lodge) leaving the Raiders stuck in 14th. It seemed Ricky Stuart was out of answers, the playing group was fracturing, and Harry Rushton and Ryan Sutton both wished to return to merry old England.
And then, some magic happened.
First, seemingly out of nowhere, Zac Woolford returned home. Bulldogs fans, if you're reading this, your club has earned a place in the green book of grudges for denying him a spot in first grade for so long. He turned it on against Cronulla, and returned to Canberra the one two-punch at the rake position that had been stolen away in round one.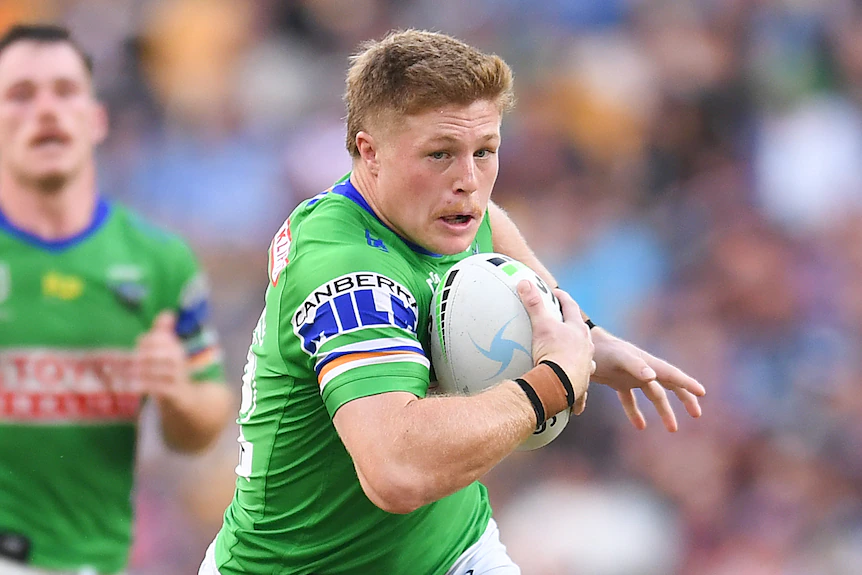 Canberra would assemble three more games on the trot, then Jamal Fogarty came back. Some teething problems, certainly - losses to Parramatta, Brisbane at Lang Park, and a fall to St. George in gale force conditions (which, as some pundits will remember, is how they lost to Ben Hunt and his magic boot in 2021.)
In between those games were terrific performances against other top eight sides. A slug-fest of a win against the Roosters, which gave me great catharsis and helped heal the scars of 2019. This was followed up by a nailbiting win against Melbourne in Melbourne, which was capped off by an absurd try to Raider rookie James Schiller.
Cruelly, James Schiller injured himself in that same game, and was not seen again.
With the troops healthy and match-fit, the Raiders piled on another seven wins, with only a dirty loss to Penrith souring affairs. The shackles had finally broken, and the Raiders evoked memories of the Green Juggernaut of 2019 as they put 48 points on a shattered Manly unit, before another 56 against sentient traffic cones the West Tigers - including 42 points in half an hour at Leichardt Oval. Better luck securing funding next time, Wests.
The Raiders' finest hour, however, was yet to come.
Much like the Bulldogs in 2014, the Green Machine and their fans marched to Melbourne in week one of the postseason. Considered rank outsiders, the fearsome men from the ACT stood tall and repeated their effort from earlier in the gear, grinding out the Storm in a nailbiting affair. After 24 months of black-eyes, player departures, injuries and an ugly press incident, the Raiders had given their fans a little ray of green sunshine.
Of course, it was a false dawn, and Parramatta handed Ricky and the Raiders their worst finals lost in franchise history. C'est la vie.
The trouble with the 2022 season, is that I don't know where the Raiders are right now. Are they still building? Perhaps they're in the middle of their power spike? Who knows. I think it's fair to say that the Raiders did well in recovering from a bad hand. The organisation as a whole, displayed tremendous resilience to avoid giving up when they sat at the bottom of the ladder. You cannot say the same of the Titans, Manly, Wests, or Newcastle.
Despite this resilience, the emerging talent discovered, and conitnued development of stars into superstars, I cannot help but feel the Raiders left something on the table in 2022.
There were some individual storylines to come out of the season, too - I'd like to present some of those now.
Ricky Stuart v Jaeman Salmon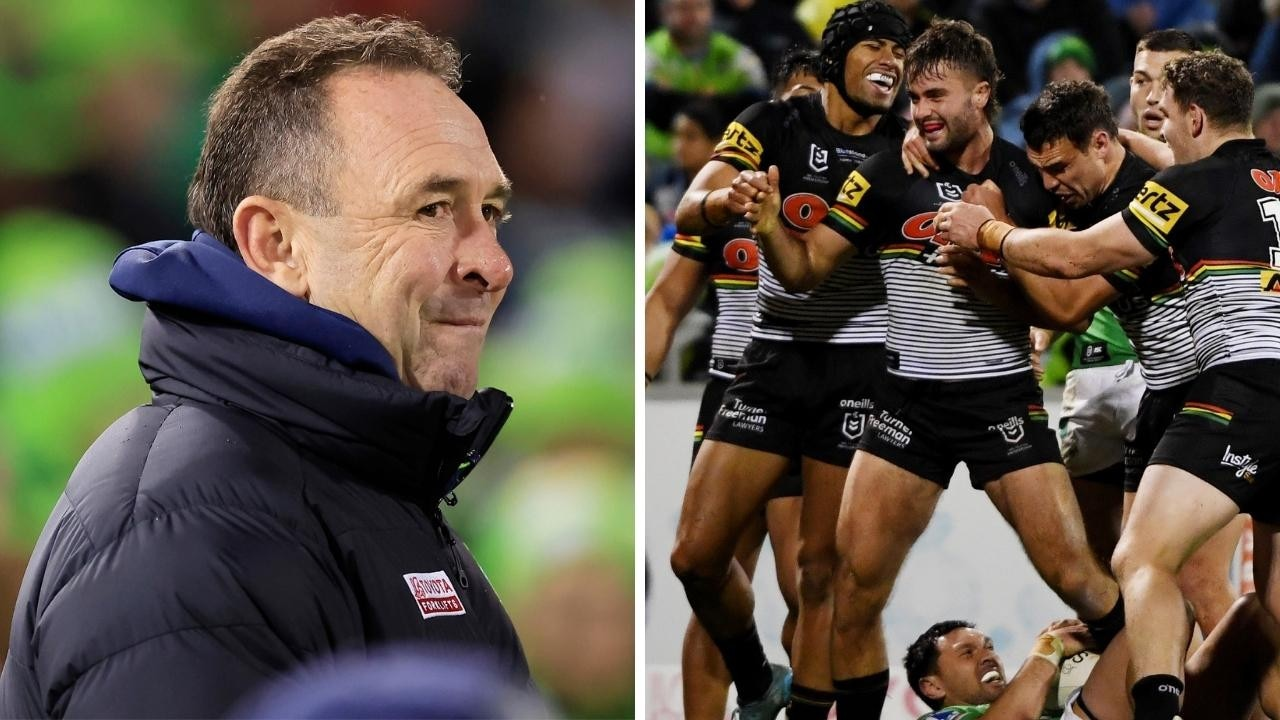 Understand that this is not going to be a fair evaluation of the matter. I dislike Penrith, the action that initiated this "feud", if you want to call it that, went unpunished, and thus I'm using my green eye here.
It's been covered to death - you all know what happened. Jaeman Salmon struck Tom Starling with his boot somewhere no man should be struck. Ricky Stuart, a man of passion, carries a residual dislike of Salmon, from an incident allegedly involving Stuart's son, and calls him a "weak-gutted dog".
Like hungry piranhas seeing a wounded animal in the water, the media closes in, blows everything out of proportion (including Andrew Voss asking for Ricky Stuart to be banned for a year...) and Ricky Stuart takes a one-game ban.
Ivan Cleary, with that smug grin on his face, takes the moral high ground like he didn't desert the Tigers to coach his once-in-a-generation halfback son, and Jaeman Salmon gets some free hits in the media like he's some sort of wunderkind who didn't get carried to a premiership, like known dirtbag Tyrone May in 2021.
Do I think Ricky Stuart should've been banned? No. Anecdotally, there have been plenty of headline making comments made about players (and coaches) in press conferences. Who can forget Nathan Brown telling Wayne Bennett to "think with his big head instead of his little head." Or Nathan Hindmarsh angrily declaring Michael Ennis a "grub" after a fiery encounter with the Bulldogs.
As for Jaeman Salmon, you had best get on your knees and thank Nathan Cleary and Jarome Luai every night for that premiership ring you posted on social media. Because it was a gift.
A decade from now, Ricky Stuart will still be remembered as one of New South Wales' greatest halfbacks. A three-time premiership winner with his hometown club, and an icon of the game. Whilst you will be a footnote in the pages of rugby league history - a journeyman who ended up in the right place, at the right time.
"CNK" returns home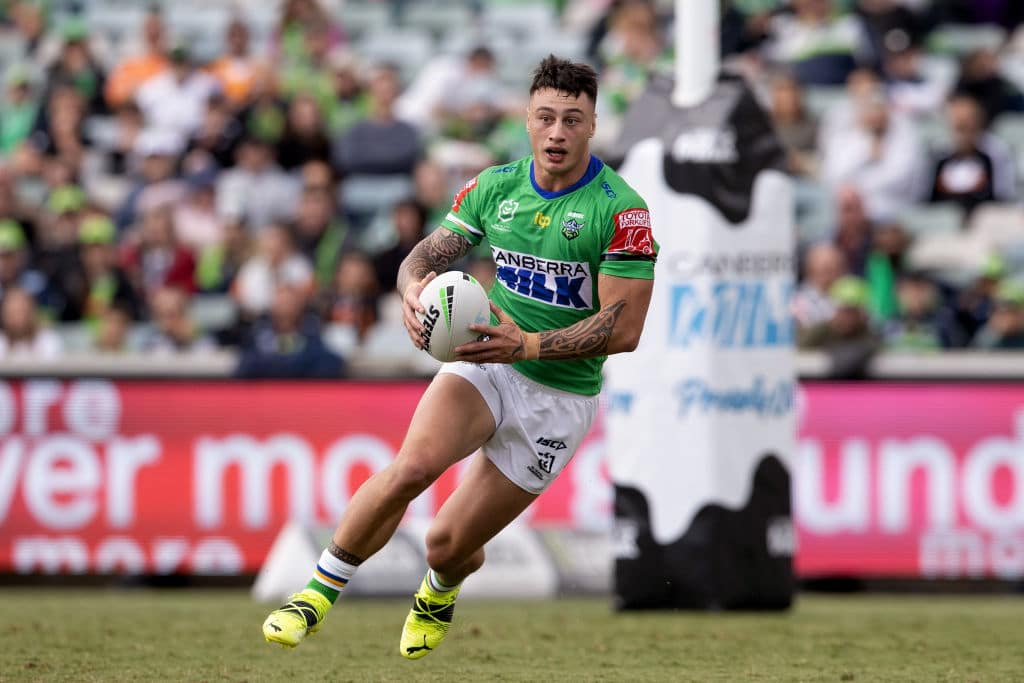 After three years in Canberra with his family, Charnze is finally doing what's best for his people, and moving home. Considering the number of people who have rinsed the Warriors for cash over the last 30 months and fled when faced with the prospect of actually going to New Zealand, I carry no malice in my heart for someone who has given his all when playing for the Raiders, and just wants to go home.
He came to Canberra as a relative unknown - he'd played well for the warriors, but nothing was certain. He grew into a star overnight - team first, never gave up, and an embodiment of the Raiders' culture shift. Canberra was for the Raiders, and the Raiders were for Canberra.
As one final, parting gift, CNK appeared out of nowhere to score the final, decisive try against the Titans in round 3, completing a record-equalling comeback of 22-0.
An integral part of the Raiders charge to the grand final in '19, CNK played 66 games for the green machine. Enjoy being home, and feel free to make the Warriors great again, just, not when they come to Bruce Stadium.
Josh Hodgson moves to Parramatta
If I covered every player that departed the Raiders, I'd be here all night. But Josh Hodgson is a special player, who deserves recognition.
If you can cast your mind back to the end of 2013 - David Furner had been sacked, Ricky Stuard had a hideous mess on his hands and declared in frustration that he could not attract international players. I don't know who in the organisation came to the realisation that England was Canberra, just without summer, but one of the players they attracted from across the ditch was one J. Hodgson.
Josh Hodgson was part of a new wave of Raiders who turned the boat around. 2015 stopped the rot, a finals appearance in 2016 - and back to back finals appearances in 2019 and 2020 - the first time in a long time. Eventually Canberra mishandled the contracts of John Bateman and George Williams, and after some very public spats in the media, it was clear Josh was looking elsewhere.
His final season ended after a single game, as he experienced his third ACL injury. I can only hope when he arrives in the west, the change in circumstances keeps him from falling into the same track again. I will always appreciate his service, and the role he played in restoring just a little bit of the city's pride.
In addition to the stories from this season, I wanted to hand out some end of season favourites.
Favourite Moment
This was a close run thing. Hudson Young's last-gasp try against the Sharks, Or his grubber from nowhere to seal the game against the Knights. But I have to give it to Semi Valemei's absolute monster of a hit to end the game on AJ Brimson.
Down 22-0, the Raiders fought all the way back to claim the lead late in the game. Just as the Titans were preparing another move down the left hand side, Semi flew out of the line, and smoked Brimson like a fine cigar, halting the play, turning the ball over, and sealing the deal for the Raiders.
Most Improved Player
The Raiders had a host of improved players in 2022. Joey Tapine, Hudson Young and Xavier Savage to name a few. All of those are worthy winners, but I like to be a touch more obscure in my tastes, and so I'm going to go with Zac Woolford.
Son of great Simon Woolford, Zac finished his tenure unable to reach first grade thanks to Tom Starling and Josh Hodgson sitting atop the pile, and so sought greener pastures in Canterbury, then Newcastle. When Josh Hodgson became injured, suddenly Zac Woolford found himself in the thick of the action - and boy howdy, did he give the Canberra faithful a treat.
It brings a smile to my face to think that the son of a Canberra legend has returned to the fold - and provided he can stay healthy, he and "pocket rocket" Tom Starling will only improve as time goes on.
Welcome home, favoured son.
Best Performance
A few choices to pick from. It is impossible to go past week one of the finals against Melbourne. The regular season game against Melbourne in Melbourne springs to mind, as well as the (current) archenemy in Sydney. Also two walkovers against Manly and Wests.
But week one of the post-season against Melbourne, in a matchup that is impossible to win, the Raiders gave the Storm a taste of green mettle. Even thinking about it brings a smile to my face. Accept no substitute - for this season, at least.
Try of the Year
To be clear, it's James Schiller's try against the Storm in round 18. But that's everyone's favourite try. It's a gamewinner, it's an individual effort from someone who had played all of sixty minutes in first grade. So what about... a second favourite try?
Lots of frontrunners for this one too - Hudson Young wins the game, twice. But for me, there's nothing like the sheer anger of watching Matt Timoko shake Cameron Munster like a leaf, before ploughing through two more Melbourne defenders to score the Raiders' first.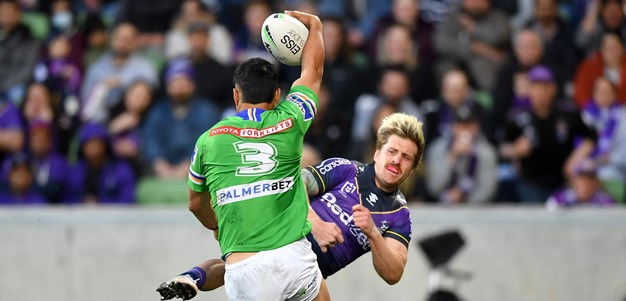 It's not the best, but it's a worthy second-place finisher.
Looking To Next Season
It wouldn't be a season review without thinking about what the Raiders need to do next season.
For me, it's a relatively simple goal. Ricky Stuart said without the injuries to his side in rounds 1 - 8, the Raiders would've made the top four.
You have a host of developing stars - Savage, Timoko, Young and Woolford - mixed with established superstars and veterans like Wighton, Papalii and Whitehead. Again, the Raiders look experienced, and despite being unheralded, on paper, they're an excellent side.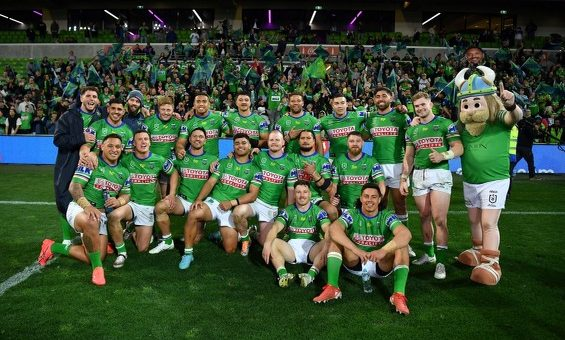 So do it, robot. Pray for no injuries, and show the rest of the NRL what the fearsome men from the ACT can do with a full grip.
I also hope for a better season from Jack Wighton. I would imagine he considered his 2022 campaign to be lackluster, and time will tell if he can lift with more consistent help in the number seven spot. He has very much earned superstar status, and will do so again.
Bring on 2023.

Catch you next time,
Vulkan
Did you like this article? Did you hate it? Go over and keep the discussion going on the official Vulkan's Corner facebook page! - whilst you're at it, leave a like!